Now that groceries are so obscenely expensive, I'm far less confident and creative in the kitchen. I follow recipes exactly as they're written because I'm too worried about something turning out bad and having to throw it out. I just can't afford that kind of waste when a sack of food costs $50.
So when I got a hankerin' for potato salad this past weekend I needed to find a recipe because I've never made it before. After a recommendation and research, I settled on "Myron Mixon's Killer Potato Salad." Apparently the guy is a famous chef and his potato salad is award-winning and stuff.
Anyway, as I was following the recipe to the letter, a number of questions popped up.
Like... the recipe says to boil the potatoes whole, then cut them up after cooking. This sounded silly to me. Potatoes are oddly-sized and cook unevenly. Wouldn't it be better to cut them into uniform pieces BEFORE boiling so they all cook at the same speed? But I didn't want to goof up so I did as the recipe instructed. The bigger ones ended up a bit tough in the center and the little ones were a bit mooshy, but whatever.
Like... the recipe says to add a tablespoon of salt to the dressing. This seemed excessive for two cups' worth of dressing. But, I didn't want to question an expert on how to season potato salad, so I did as the recipe instructed. My expensive potato salad ended up tasting like a salt lick, but whatever.
I spent a lot of money on the ingredients ($6.79 for a tiny bottle of dill alone!) so I didn't want to throw it out. But eating it was out of the question because my lips were burning from all the salt. My solution was to make another batch of salt-free potato salad and mix the two batches. But this time I cut the potatoes before boiling. And I seasoned to taste instead of by measure. Now it tastes great!
And now I've got a shit-load of potato salad in the refrigerator. I'm going to be eating the stuff every day for a month. And yet, I'm okay with that because I didn't have to throw anything in the garbage...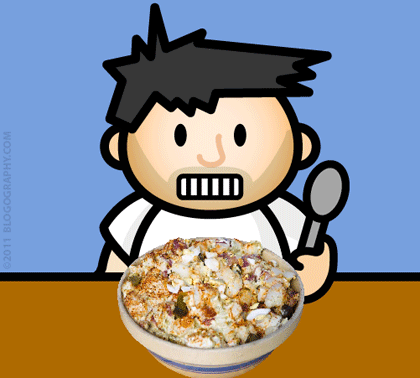 I guess sometimes when the ingredients are expensive, it pays to question the recipe.
I guess sometimes when the stakes are high, it pays to break the rules.
I guess sometimes when the situation is bad, you have to start over.
I guess sometimes I need to be reminded of that.