This morning after my daily toast and jam, I checked my email and saw a new one pop up with the subject line "How does it feel?" which came from an email address I didn't recognize. Naturally, I thought this was some kind of creepy spam that was advertising male "enhancement drugs" or some other crap, but I was also curious because usually one of my two spam filters manages to intercept stuff like this. So I opened it.
Much to my surprise, it wasn't spam. It was a reader(?) who was overjoyed to be telling me that "Your hero Steve Jobs is spying on you" and was asking "How does it feel to have your privacy raped by Apple?" Then there was a link to a website for an application called iPhone Tracker.
Apparently, your iPhone is constantly keeping track of everywhere you go and "secretly" saving this data. Then, when you sync your iPhone with your computer, iPhone transfers this information to your backup file. It also transfers the data when you migrate to a new iPhone or restore your data for some reason. Two guys names Alasdair Allan and Pete Warden stumbled across it and decided to write a program that allows you to display the data on a map, like so...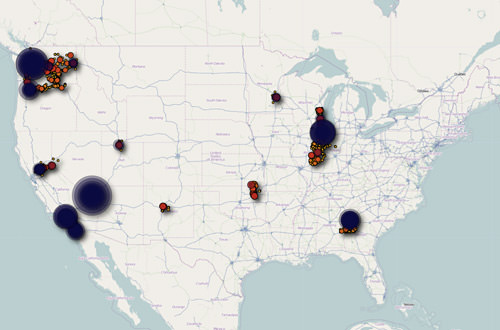 Everywhere in the USA I've been for the past ten months.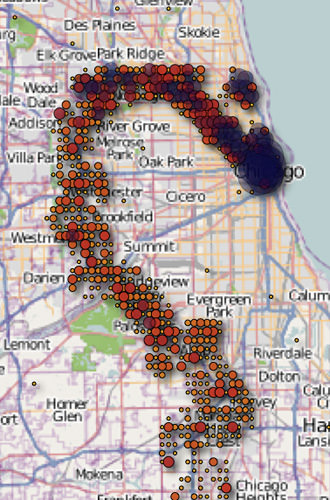 The tracking is surprisingly deep. This is a drive I made out of Chicago last July.

Three or four trips to Europe, all tracked!

The dots are obviously not actual locations in Corsica I visited... probably just cell towers iPhone signaled.

A drive down the Amalfi Coast in Italy.
Now, my first reaction when I opened the program on my Mac was THIS IS SO AWESOME!! I mean, heck, I actually bought an iPhone app called "Trip Journal" to track my travels... I could have saved some money if I had known the feature was built-in! My only disappointment was that the data only goes back to June 30th, 2010 and I wish it went back further.
But then the implications began to sink it.
The iPhone Tracker developers don't believe that this data is transmitted to Apple in any form, but that doesn't mean that Apple couldn't take a look at it in the future. This alone doesn't scare me much since AT&T already has a record of everywhere I go (they log call locations for billing purposes). What does concern me is that Apple doesn't disclose that this data is being collected. If somebody were to steal my laptop, they could potentially see everywhere I've been and I'd be none the wiser because nobody told me it was there when I bought my iPhone. Not that I really care... I always blog where I'm at and log my every move with Gowalla anyway, but still... this is not a good thing.
Mostly because this data could be used in devious ways now that everybody knows about it. Want to know if your wife is cheating on you? Pull up iPhone Tracker and you can see exactly where she's been at any point in time. Want to know what your kids are up to? Run iPhone Tracker and know everywhere they go. Want to stalk somebody? Break into their house and run iPhone Tracker on their computer so you can track their movement patterns. The list goes on and on.
Obviously I don't think there's any evil motive behind Apple logging this information. They're probably working on some cool new feature for iDevices which will use the data in an interesting way. But they really, really should have warned people that their location is being tracked and definitely give people the option to turn this "feature" off if they should so desire. At the very least they should be encrypting it so that it's not so ridiculously easy to view.
I'm not very paranoid by nature, but every time something like this pops up, I can't help but wonder what other aspects of my life are being analyzed and collected. Then I conclude there's probably no part of my life that isn't on a computer somewhere, and just accept the fact that very little of what we do or say is private.

If you want to spy on yourself, you can download the Mac app to view your iPhone tracking data here.