Annnnnd my suitcase was beat to shit this past trip... zippers busted off, a nice gash in the side, and a handle half-way torn off. So now I am faced with the unenviable task of buying new luggage. This rates somewhere between getting a root canal and having chronic diarrhea on my Fun-O-Meter, so I'm really not looking forward to it. There's just something awful about spending big money on something the airlines actively try to destroy that makes me want to scream. I've toyed with the idea of buying cheap-ass bags, but the idea of having them fall apart so I end up chasing my underwear and toothpaste around a luggage carousel scares me more than the high price tag of the good shit.
As I am not an overly-sentimental kind of guy, I am trying my best not to get too sad over losing my travel companion from the past seven years. My faithful Samsonite roller bag has been around the world with me a dozen times, has been lost and recovered way too often, and always seemed to hold more crap than what physics would seem to allow.
=sniff!=
Anyway... I have narrowed my choices to the folowing pieces...

Nickelodeon Spongebob Squarepants "Smile Face" Roller Tote...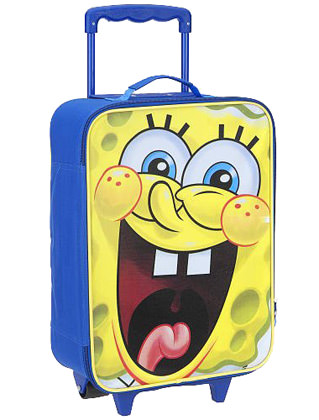 Disney's "Pop" Mickey Mouse Rolling Travel Bag...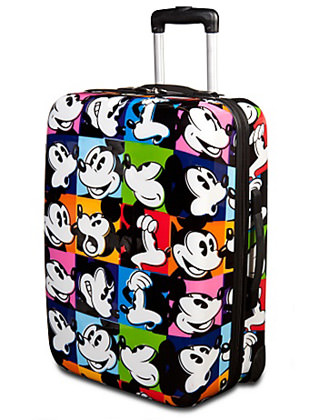 Sanrio Hello Kitty Pretty Pink Polkadots Wheely Suitcase...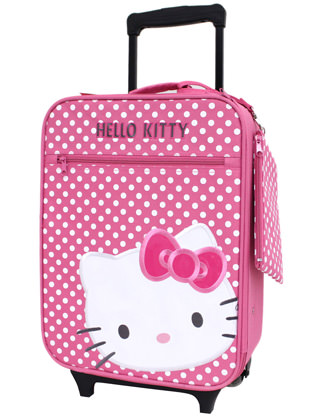 Briggs & Riley "Transcend" Expandable Upright Suitcase...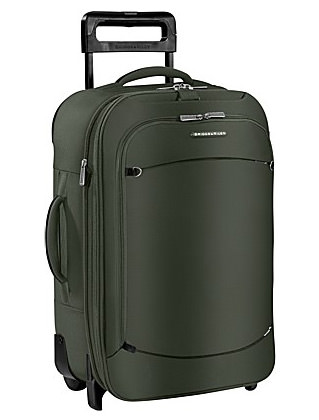 Right now I'm leaning towards the Briggs & Riley bag because it comes highly recommended as a tough and durable choice for the frequent traveler. A pity it doesn't come in a more exciting design, but I guess that's the trade-off you make for getting a suitcase that's going to last a while.
I've got a couple of weeks to decide, so my fingers remain crossed that I can find Batman luggage before I have to purchase. I'd imagine there's few things cooler than pulling a Batman suitcase through the airport.