At long last... PART THREE of the story of how my DaveToon blog mascots came to be! If you haven't read Part One yet, you'll probably want to do that first... and then Part Two is right here.
Okay. Okay. I know. I made a promise that yesterday I would reveal for the first time anywhere NEVER-BEFORE-SEEN images of Lil' Dave and Bad Monkey in 3-D. But, because of some kind of technical problems with a software upgrade, I couldn't render them into 2-D pictures. So last night I made a few phone calls to get that sorted, and here we are.

But before I reveal the images, you're probably wondering exactly WHY Lil' Dave and Bad Monkey would be rendered into 3-D in the first place. That's a very good question. There's actually two reasons...
I wanted to create vinyl dolls of Lil' Dave and Bad Monkey to sell at the Artificial Duck Co. store. The company in China I was working with needed a 3-D model of them in order to create the molds.
A guy who was in school studying video game programming wanted to make a game with my characters for his graduation project. If I could get him 3-D models of Lil' Dave and Bad Monkey and then design texture maps for all the backgrounds and in-game items, he would compile the game for Mac and Windows when he was done, then let me distribute it for free on Blogography.
Now, you have to admit that either of those reasons were awesome enough for me to want to get 3-D models made. Lil' Dave and Bad Monkey dolls? AWESOME! A Lil' Dave and Bad Monkey video game? AWESOME!
And so I paid a very talented computer animator a lot of money to make the models.
Unfortunately, neither of these awesome projects came to be. I'll explain what happened in a minute, but let's get to the 3-D renderings, shall we?

First up... BAD MONKEY! Note that his tail is sticking straight out. This is on purpose, because it would be animated bouncing up and down as he walked in the video game, and it was easier to do this if it were starting from a straight position. The animator would curl it when he defined how it would move in the walk cycle...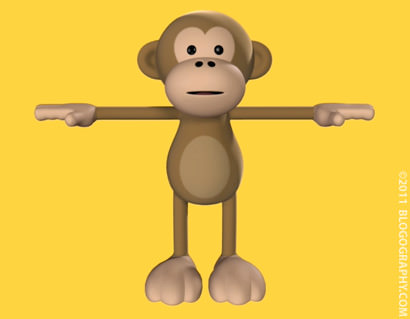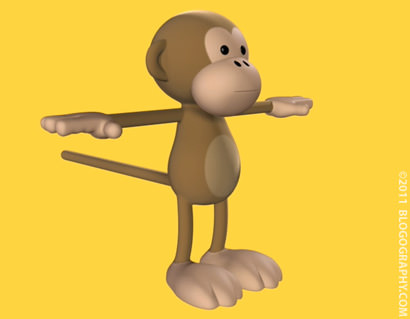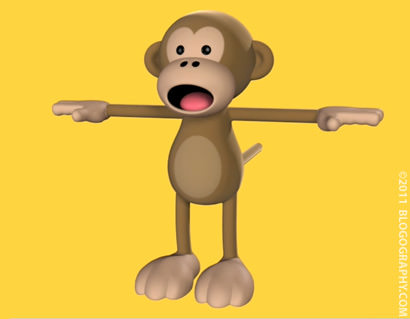 Pretty sweet, huh? It took a LOT of back-and-forth with the animator to translate a 2-D character into the third dimension, but I was very happy with the results. He looks exactly like Bad Monkey should look. And really cute too. I wanted a vinyl doll of him to sit on my desk really, really bad.
And then there's Lil' Dave. Who needed to start out naked with no hair for video game reasons I'll explain later...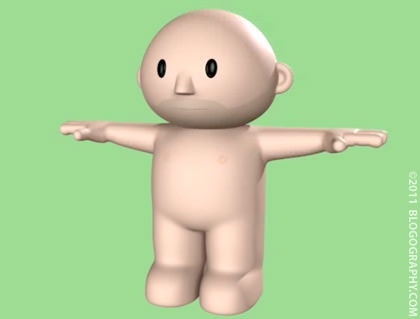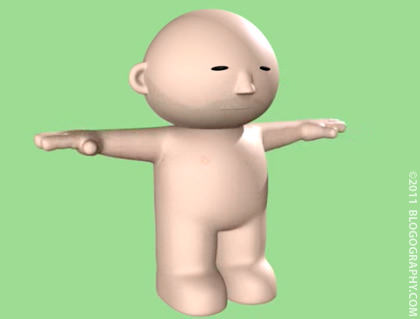 And here he is with clothes. The hair wasn't finished exactly right at this point, but it was getting close...
So the models look great, what's the story?
THE DOLLS.
The dolls were going to be very cool. VERY cool. Their arms and legs would move. They would have fun accessories. They would have awesome packaging. They would come in three versions (called "Colorways" in the biz)... 1) Classic Dolls, 2) ZOMBIE Dolls, and 3) Limited Edition BLANK "Paint Your Own" Dolls. Unfortunately, the company handling the job went out of business. My dream of having Lil' Dave and Bad Monkey vinyl dolls (along with an $800 deposit) vanished overnight.
THE VIDEO GAME.
If the loss of the vinyl dolls was tough on me, the loss of the video game was devastating. In addition to being out the money I invested in having the models made, I was out hundreds of hours in pesonal time. I wrote the game story. I helped design game levels. I designed the level maps. I drew hundreds of concept sketches. I painted hundreds of object textures. I invested time working on things like "walk cycles" and "cut scenes." Then one day I got The Call. The school was converting to some kind of learning internship agency. The theory was that this would be better for the students because they'd be getting hands-on experience at real gaming companies. The reality was that there wasn't enough internship positions to go around. So even if the guy working on my game could get an internship, he would then be working on the company's projects and not mine. Instead he lost his education financing and had to stop working on the DaveToon game so he could find a new school.
This was a real shame, because it would have been a pretty cool game. It was designed to be relatively easy, so young kids and adults with no gaming experience could play. But it was still funny enough that even a gamer would want to play to see what happened. The story revolved around Lil' Dave trying to avoid an invasion of robot monsters and solving puzzles so he could find his way home. Along the way, Bad Monkey would show up to help... and sometimes hinder... his progress. Lil' Dave replenished his health by finding chocolate pudding cups hidden around in the game. You couldn't really "die" while playing, but you could get thrown into "Zombie Mode" if your health ran out. If you couldn't get out of "Zombie Mode," you'd turn into a ghost (with no hair or clothes... just a glowing outline), fly back to the beginning of the level, grab a new body, then have to start over.
And there you have it. The NEVER-BEFORE-SEEN images of Lil' Dave and Bad Monkey in 3-D!
And the really sad story as to why you never saw them.
Maybe one day somebody will come along and want to work on the game again. Or maybe I'll get bored sometime and write a blog entry with the NEVER-BEFORE-SEEN sketches, paintings, bits and pieces that I spent a big chunk of my personal time working on in 2009. The good news is that you might finally understand what I was trying to say with this entry. And this entry.
So what's next for Lil' Dave and Bad Monkey?
Well... there are always possibilities. I definitely plan on new T-shirts. There will absolutely be more DaveToons on Blogography. And there are other things... secret things... I've got ideas for which may or may not happen.
When it comes to Lil' Dave and Bad Monkey, you just never know.