Here it is... PART TWO of the story of how my DaveToon blog mascots came to be! If you haven't read Part One yet, you'll probably want to do that first.
Right off the bat, I'm going to have to apologize for lying to you yesterday. I had promised that I'd be sharing NEVER-BEFORE-SEEN images of Lil' Dave and Bad Monkey in 3-D but, alas, I'm going to have to wait until tomorrow so I can get a few problems with the 3-D to 2-D rendering sorted. It will be worth the wait though, I promise!
Anyway, getting back to the story... Bad Monkey and Lil' Dave had been languishing on my Hard Rock fansite, DaveCafe, for just over a year. Then, in September of 2003, I was preparing for a trip to visit Hard Rock Cafes in Reykjavik and Stockholm. A fellow Hard Rocker in Japan had once given me his "Hard Rock business card" and I decided that was a handy thing to have. I could put my email and website address on it and hand it out to Hard Rock fans I meet. My cheap-o ink-jet printed cards ended up looking like this...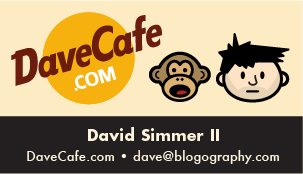 At this point, the DaveToons had (literally) become my calling card for DaveCafe. But it was this humble blog where most of my time and effort were going. Finally, inevitably, on February 11th, 2004, worlds collided. I had written a Blogography entry where I mentioned a monkey showing up at work with an ebola virus, and it occurred to me that I could make Bad Monkey be that monkey. But he and Toon-Dave were only heads, so I had to slap together some bodies for them. Since I thought it was important for people to know where they came from, I put the DaveCafe logo on Toon Dave's shirt...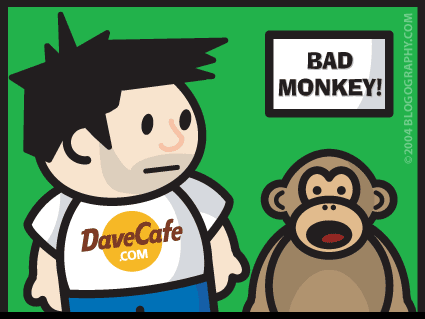 You'll also note that I had to figure out how to make Toon-Dave's head turn, which was a lot more complicated than you might guess. It took hours for me to figure out how that might work, since he's so firmly rooted in two dimensions. Eventually, I just slapped an ear on the side of his head where I thought it should go, then worked the hair around it.
Now that Lil' Dave and Bad Monkey had more than just heads, it was time to redesign my DaveCafe site. I announced the coming change around the end of February, 2004...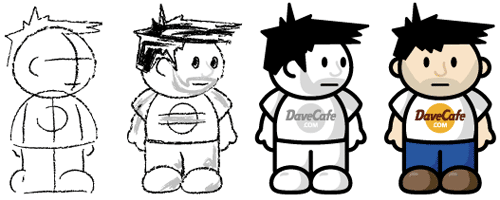 And the site went live in April with Toon Dave doing all kinds of interesting stuff...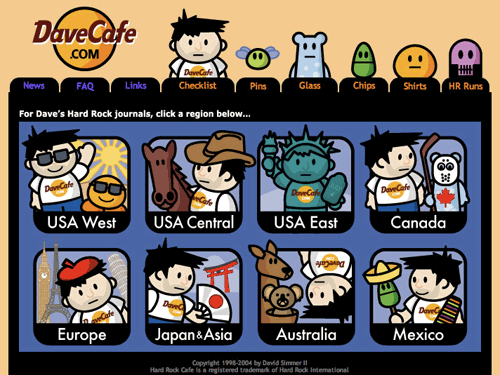 For the next couple of years, Toon Dave continued to make dozens of appearances at Blogography. Bad Monkey made zero appearances. He was meant to embody negativity over at DaveCafe, and I made a conscious effort to keep him there. About the only thing new to happen was that Toon Dave got a very important addition to his anatomy in January of 2005 (I thought it was pretty impressive, but Avitable would take it to an entirely new level a few years later)...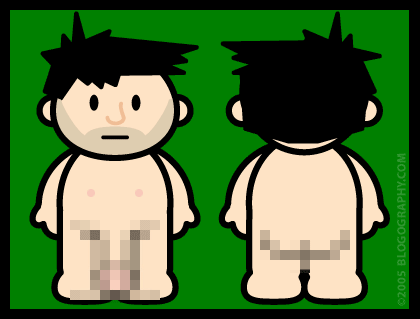 While not really "new," in June, 2005 I decided I wanted to try my hand at animating DaveToons. With absolutely no experience, I started studying what it would take to make them speak. The idea was to create a cartoon talk show called Dave's Bad-Ass Blogography Show...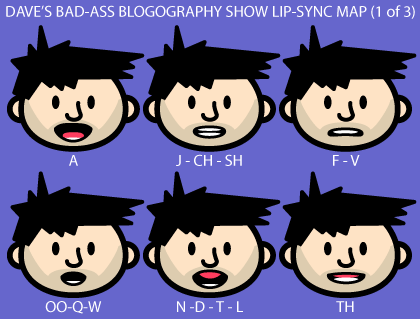 The following month I played around with the idea of making them move using Flash...
It was a fun experiment, but proved far too time-consuming for me to take seriously. Maybe one day I'll find the time to actually make a complete animation. Maybe.
2006 was the year things started changing. First of all, Bad Monkey made the first of many, many appearances in January. I finally found a use for him where he could be as bad as he wanted to be...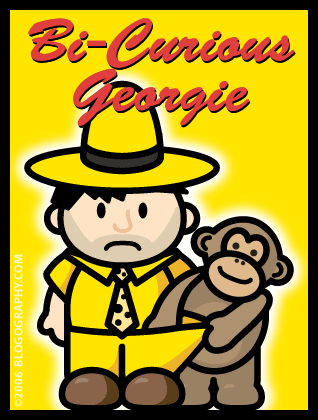 Granted, it was a pretty crappy appearance. Bad Monkey's body was just Toon Dave's body colored brown. Still, it was a start.
And then things really changed.
When DaveToons first started appearing in Blogography, they were specifically designed to be as fast and easy to draw as possible. Toon Dave didn't have hands, he had mittens. Fingers take time to draw. Bad Monkey didn't look like a monkey, he looked like a person dressed as a monkey. Lanky limbs and tails take time to draw. Everything was colored flat and boring. Shaded color takes time to draw. I was perfectly happy with all the DaveToons looking crappy because they took almost no time to slap together.
But eventually it started to reeeeaally bother me. The more appearances they made on my blog, the more upset I'd get that they didn't look as good as they should. So on May 6th, 2006, I spent a couple of hours and started over from scratch. With a DaveToon I titled Best Friends, Toon Dave and Bad Monkey were reborn...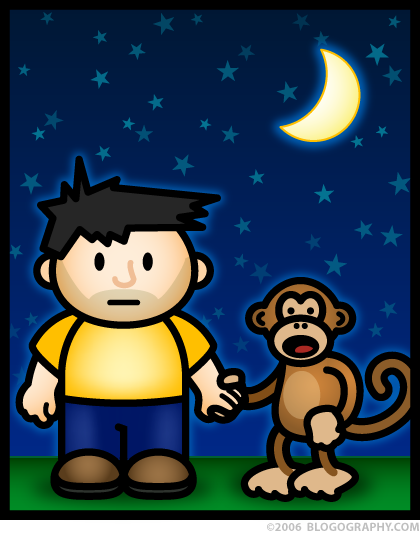 It took about a year for the transition to fully take effect, but the look had finally been fixed. Now that the look was fixed, it was the name "Toon Dave" that was bothering me. Toon Dave was no longer just a toon version of myself. He was an entirely different character with an entirely different life. Fortunately, when I guest-blogged over at Hilly's Snackiepoo blog in August of 2006, the solution was at hand. She called her mascot "Lil' Snackie" and so "Toon Dave" became "Lil' Dave" and the name stuck...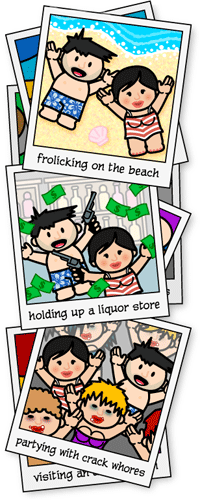 After that? Well, I briefly played around with animation again...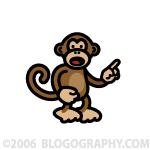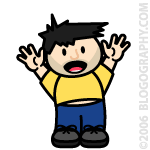 ...but Lil' Dave and Bad Monkey would stay pretty much the same throughout their many new adventures over the next two years.
The next "Big Thing" wouldn't happen until the end of 2008.
And it was SO big that nobody ever saw it. Until tomorrow. Tomorrow, at long last, NEVER-BEFORE-SEEN images of Lil' Dave and Bad Monkey in 3-D! And exactly WHY were Lil' Dave and Bad Monkey in 3-D two years ago? Well, that's a very good question. And I'll explain that tomorrow too!
I have to warn you though, it's a very sad (and very expensive) tale, so bring a hankerchief.