My Washington State Voter's Ballot arrived today!
So I spent my evening carefully researching the issues and candidates... right after I got back from yelling at an old lady. But don't worry, she totally deserved it. I was at the grocery store getting something for my grandmother and had to call my mom to make sure I was getting the right thing. A woman shopping near me was compelled to say "ALL THESE DAMN PEOPLE WITH THEIR DAMN CELLPHONES EVERYWHERE!" To which I instantly replied "ALL THESE BITTER OLD HAGS WITH THEIR FOUL MOUTHS EVERYWHERE!"
Most of the time I like having a smart mouth, but I probably should have let that one lay.
Oh well. Back to voting.
Here's my choices in the Washington State Senator race...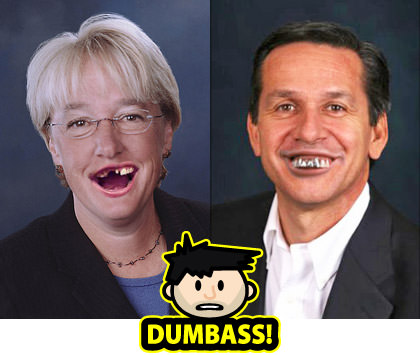 Of course, "choices" doesn't mean shit, because all I get to "choose" from are dumbass Democrat incumbent Patty Murray and dumbass Republican challenger Dino Rossi. And what can they do for my home state? What are their plans to help Washingtonians? Why should they get my vote? Who the fuck knows! All their ads are attacking each other with absolutely NO indication of how they're going to deal with the challenges facing Washington State. Ugly, disgusting, stupid fucking attack ads running day and night that tell me nothing. And yet, also telling me everything I need to know.
Fuck you both you stupid assholes. Neither one of you deserve my vote.
But Becky commented that I need to vote for somebody... and so I've decided to write-in Linnea Hirst...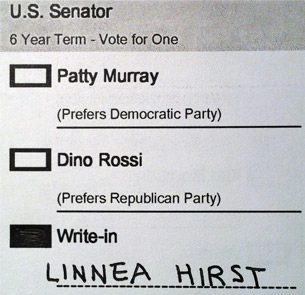 Linnea Hirst is the president of the Washington State League of Women Voters. This awesome organization has a terrific mission statement: "The League of Women Voters, a nonpartisan political organization, encourages informed and active participation in government, works to increase understanding of major public policy issues, and influences public policy through education and advocacy."
If, by association, Linnea Hirst has the same mission statement for her own political agenda, I can think of nobody I'd rather have as my Senator. Except Steve Jobs. But I think his California residency disqualifies him. Or maybe Elizabeth Hurley, but I think her lack of US citizenship disqualifies her.
Anyway...
I won't bore everybody with a rundown of how I'm voting on all the issues, but I will make one final comment concerning Initiative 1107...
I am 100% unequivocally in support of passing I-1107. It will repeal HOUSE BILL 2388 (the so-called "candy tax"), which I feel is hands-down one of the stupidest fucking pieces of legislation in Washington State history.
And this has absolutely nothing to do with my being opposed to tax on candy. It has everything to do with how asinine the bill's arbitrary language is, and how astoundingly stupid the people behind it are for ever ramming this crap down our throats...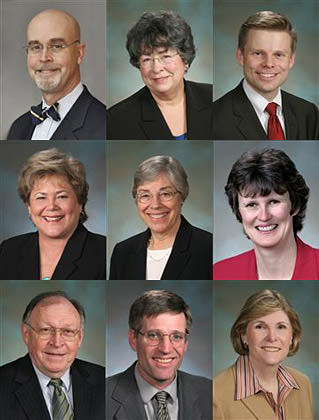 Looky! It's Representatives Jim Moeller along with his pack of dumbfucks Chase, Pedersen, Appleton, Kagi, Cody, Seaquist, Ormsby, and Roberts! Let's take a look at how they decided to balance the budget with their brilliant new tax...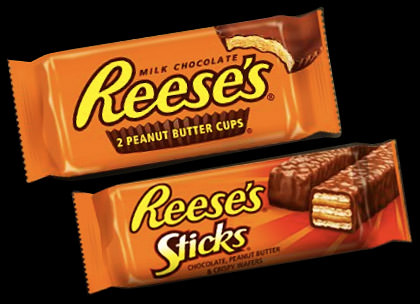 Here's two Reese's candy bars: Reese's Peanut Butter Cups and Reese's Sticks. Since candy is taxed in Washington State, both of these items are taxable. Except one of them isn't. The Reese's Sticks candy bar has flour as an ingredient, so it's not considered candy and is exempt.
Here's another one...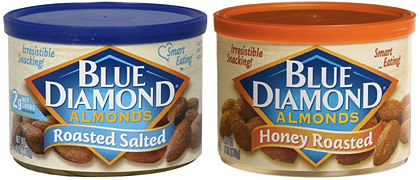 That's not candy, it's almonds! Except when you roast them in honey, because that makes them candies after all. So the can of almonds on the left is not taxed, but the can of candy on the right is taxed.
One more...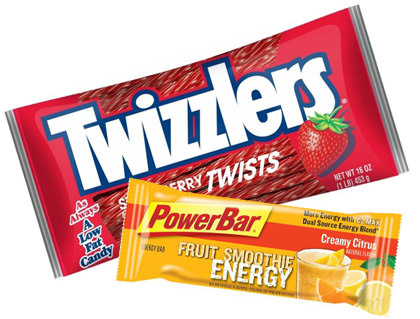 Twizzlers Strawberry Twists candy, TAXABLE! PowerBar Creamy Citrus Energy Bar, EXEMPT! Oh no... wait a second, I got that backwards... Twizzlers Strawberry Twists Candy is not really candy at all, so it's EXEMPT (even though it says "candy" RIGHT ON THE FUCKING PACKAGE! WTF?!?). But the PowerBar Creamy Citrus Energy Bar is classified as a candy bar and TAXED!
So. Fucking. Stupid.
Nobody likes paying taxes. But they are a necessary evil because they fund programs that (mostly) make life better for all of us, and so we pay them. But I have to draw the line when the taxes don't make sense. All nine of the dumbfuck politicians behind 2388 should be punched in the face and fired. All they knew was that they needed more money for their shit... and devised some idiotic scheme to tax arbitrary crap to pay for it. All because they were too damn stupid to come up with something that's not an inexplicable pile of FAIL!
Well fuck that.
Is it any wonder I hate politics, loathe politicians, and want a Reese's Peanut Butter Cup?