How can I be so exhausted yet not be able to sleep?
I went to bed at 9:30 and was relieved that I might actually catch up on some much-needed shuteye. But then I woke up at midnight, and haven't been able to get back to sleep all night. Insomnia sucks ass, but it did give me time to write the final Bullet Sunday of 2006... BLOGOGRAPHY'S BEST OF THE YEAR LIST!
• Best New Television Show... For nine glorious weeks, Project Catwalk featured Elizabeth Hurley being Elizabeth Hurley which makes it one of the greatest shows ever. At least it was, until this tragic event occurred.
• Best Returning Television Show... How does one choose between Veronica Mars and Battlestar Galactica? (if you are a guy, trust me... you want to follow those links!).
• Best Guest Appearance on a Television Show...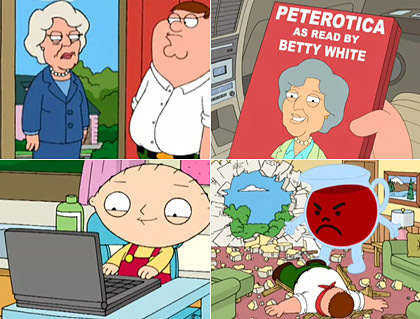 Betty White in "Peterotica" from The Family Guy.
• Best Movie... This is a tough call, but I was taken completely by surprise at how much I loved Little Miss Sunshine. A close second is The Prestige, which haunted me for weeks.
• Best Bad Movie Hype... I went to Brokeback Mountain because of all the hype and was so bored that I consider this to be one of the worst films ever. I prefer my remake, Bareback Monkey. "I wish I could quit you, Captain Crunch!"
• Best Video Game... Lego Star Wars 2: The Original Trilogy. I only wish I had time to play it.
• Best Funny... I never claimed that Blogography was a humor blog but, when I set my mind to it, this can be the funniest blog ever.
• Best Poetry... I hate to be tooting my own horn here, but my Seven Odes From My Day-Trip To Chicago kick ass! I should totally write a book of poetry!
• Best Charitable Cause... There is nothing more important right now than immortalizing my greatness. Give generously to the Dave Monument Fund.
• Best Explanation of Why I Am The Way I Am...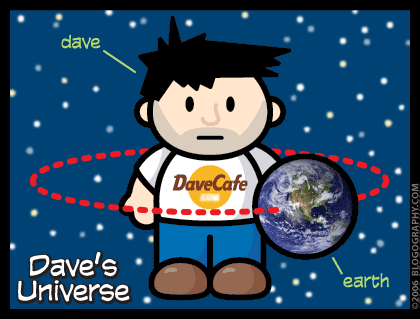 Yes, the world really does revolve around me.
• Best Reason to Have a Blog... Davecago was one of the year's biggest highlights for me.
• Best Shock... Randomly running into fellow blogger Timothy while in New York City just before he's off to Uganda. What are the odds? Considering he previously lived in American Samoa before moving to Africa, he would be voted the Blogger I'm Least Likely To Ever Meet, yet there he was in the middle of one of the biggest cities on earth.
• Best Non-Government Holiday... Yeah, it would be pretty hard to top Day of Slayer! (and getting to meet Mistress Eve and Dave3 a month later was icing on the cake).
• Best Garfield Strip in 25 Years... Well, it's not like Jim Davis was ever going to get around to doing it. You may think I'm joking here, but I'm totally not.
• Best Bad Influence... Bad Monkey really is bad... he's teaching kids to smoke cigarettes and then getting them into trouble at school.
• Best Blog Fan... Turns out that I'm not good-looking, not funny, and not nice, and somebody was kind enough to point it out to me.
• Best Identity Theft... And here I only thought I was joking about people wanting to be me...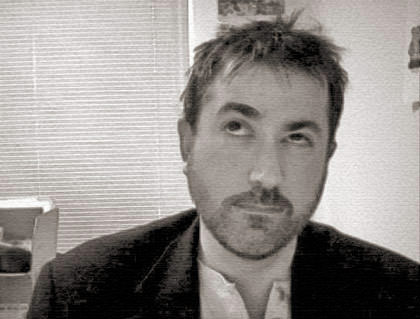 Who could possibly want to be me with hair like this?
• Best Bad Robert Story... Well, of those stories I was actually able to share without getting sued, I guess it would have to be Bad Robert's Blue Balls.
• Best Advice... How to make your blog be like every other blog (though some people hated me for this one).
• Best Way To Hide a Fart... Who knew a pack of gum would make the best odor eliminator ever?
• Best Lie... Bob is a psychopath.
• Best Lesson Learned... One thing at a time.
• Best Blogography Entry... How can I choose when they're all so good? I've narrowed it down to these ten...
• Best Reader... It's totally you! How could it be anybody but you? Thanks for stopping by, and we'll see you next year.