Oh how I dread the drive home from work each night. There's just too many idiots on the road. Last night was particularly nasty, because I ran across somebody in the ditch who apparently thought that his 4-wheel drive made him immune to sliding on ice. I stopped to make sure everything was okay, only to find out he had already called somebody with a winch to pull his truck out. "Heh heh... watch out, it's slippery out there" he says.
Uhhhh, yeah. That's what happens when water gets cold.
But before I drove home from work, I put on my gloves and wondered for the millionth time why glove manufacturers are so frickin' stupid that they consistently make the thumb and little finger too long. Every pair of gloves I've ever owned has had an extra inch of fabric flapping around on my "hang loose" digits. Very annoying. I mean, seriously, just LOOK at this lunacy (thanks to the "X-Ray" attachment on my Epson scanner)...

GAH! Dumbass glove manufacturers!! Surely I'm not the only one who notices this stuff?
Unless...
HOLY CRAP! It's me, isn't it? I'M A MUTANT!! Somehow my mutant super-power is to have a thumb and little finger shorter than everybody else! THAT'S why gloves never fit me...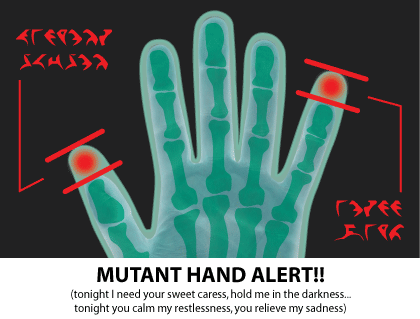 Or maybe it's my middle fingers that are longer. Who knows. I wonder if this is a good enough mutant super-power to get me into the X-Men? Probably not, but it might get me into a cheap horror movie...
Of course, Lil' Dave only has four fingers.
Not because he's a mutant, but because he's a cartoon.
Oh well. I try not to feel too badly for him... he can still flip-off people who irritate him. That's all that really matters, isn't it?