My chapped lips rub roughly against the blanket as I awake with too little sleep yet again. From under the covers my arm reaches out to the night-stand, groping blindly for Chapstick. In darkness the lip balm burns with a kiss of peppermint, but my eyes have yet to open. I lay there clutching the small tube because it's too cold to return it to the night-stand. My mind goes cloudy and I start to drift. It's warm under the blankets and I'm in no hurry to leave them...
RRRRRRRRING! RRRRRRRRING! RRRRRRRRING!
F#@%ing telemarketers.
While the number of calls I get have dropped drastically since the "National No-Call List" was enacted, they have not stopped completely. This time it was a travel club offer or some kind of crap like that. I don't really remember, because I was screaming "PUT ME ON YOUR DO-NOT CALL LIST AND NEVER, EVER CALL ME AGAIN!!" at the top of my lungs.
I spent the rest of my morning wishing that it were possible to shoot a gun into the phone and have an explosion come out the other end, just like in Bugs Bunny cartoons...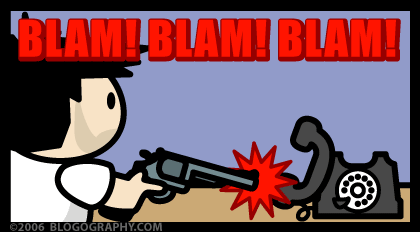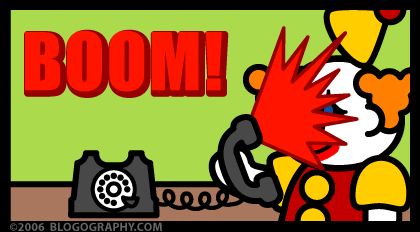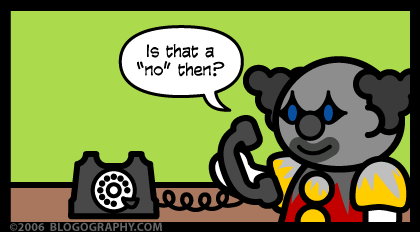 Maybe not a gun, that's kind of violent, but you should at least be able to bitch-slap somebody through the phone.
Although if you could shoot into your computer and have it come out and explode all over a spammer, I would definitely do that. The only thing I loathe more than telemarketers is spammers.
In better news, MRK over at Itch & Be Merry has finally figured out why I keep getting Google search referrals for "penis salad" out of the UK. Apparently the phrase was used in some kind of risque sitcom. At least I think it was a sitcom. The video clip MRK found was a bit vague, but I would certainly hope that any use of "penis salad" would be for comedic effect.
Eww... what if it was a reality TV show??