How is it that people can live as if they will never grow old?
I'm walking over to the bakery and end up crossing the street opposite an elderly lady who is having a bit of a tough time walking. But, to her credit, she's slowly making her way across the street with a smile on her face. I cannot help but admire her fortitude in bypassing a scooter cart in favor of walking when it's obviously difficult for her (though, given the criminal state of healthcare for the elderly, maybe she can't afford a scooter and has no choice but to walk).
Sadly, not everybody feels the same way.
There at the crosswalk inside a giant redneck pick-up truck is some ass-wipe revving his engine at her.
If it weren't so sad, it might be funny. I mean, she can barely walk... the only way she could possibly move any faster would be if the dumbass were to hop out of his truck and carry her across. But there he is, revving that engine up as if the old lady will suddenly start running to get out of his way.
Out of respect for the woman, I didn't scream obscenities at the f#@%er, toss a garbage can through his front windshield, then slash his tires... but I sure wanted to. A pity I didn't have a knife on me or I definitely would have thought twice about ruining his shit.
And because of all this, I've decided to embrace my Scottish Heritage and start wearing a kilt...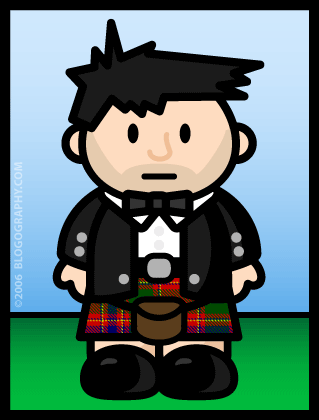 As a descendant from Clan Munro of the Scottish Highlands, I've got my own tartan pattern and even a bad-ass Clan Badge...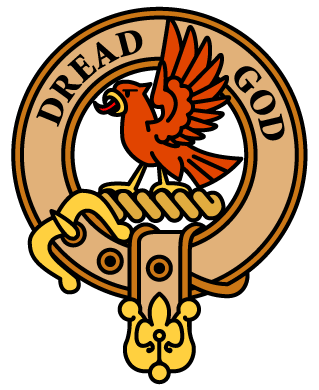 Look at that golden eagle... doesn't he look like he's about to kick some ass? And what about that motto... "Dread God"... that's pretty serious (meaning "Fear God"). Clan Munro has some hefty balls to be flashing that around!
But, back to the point, the reason I want to start wearing a kilt is that part of the ceremonial kilt dressing is what's called a "Sgian Dubh" which is Gaelic for "Black Knife." It's a totally sweet pointy dagger with a bitchin' black handle that you tuck in your sock. If I were to start packing that around, I'd always have something handy for slashing the tires of inconsiderate rednecks who rev their engines at old ladies.
As a side-benefit, you also get to have a "Sporran" hanging from your belt to put stuff in. Yeah, it's pretty much just a man-purse... but I figure if you're already wearing a skirt, what have you got to lose? It looks big enough to hold my Nintendo DS and a pack of smokes* along with my wallet!
* Okay, I don't smoke, but anybody who goes around slashing tires of rude bastards should probably at least act like they do. Being a bad-ass tire-slasher looks so much cooler when you have a cigarette hanging from your mouth.