Posted on December 8th, 2013

Don't be alarmed by what transpires below... because a Very Special PORTLANDIA edition of Bullet Sunday starts... now...

• Outage. I awoke at 4:30am to get some work done, only to have the power go out a half-hour later. Turns out that twenty square blocks lost power in Downtown Portland, and though they said they would have it on at 10:30am, it never happened. Sure it made taking a shower and using the toilet a challenge because there was no light... but I made it out alive, so I guess it's all good.

• Brunch. I am amazed at how many tiny restaurants there are in this city... and they all seem incapable of serving bad food. Vahid and Sarah took me to a frickin' TEA HOUSE where I had some of the best falafel ever... perfectly seasoned and flawlessly cooked. Kudos to Tea Zone for a quality that many much bigger restaurants can't touch. I also had Black Monkey Tea, which is pretty darn fine tea, despite not tasting anything like a monkey. Thanks to Vahid and Sarah for taking time out of your busy Sunday to hang out... and buy me donuts!

• Outage. Back to the hotel and still no power. Luckily, they got the back-up generator running so there are hall-lights and elevators and hot water... but still no light in the rooms, which makes peeing in darkness a bit hazardous. So, turning to The Fifth Element as inspiration, I used a clever arrangement of mirrors to reflect light from the window into the bathroom so that I no longer have to pee in complete darkness. "AZIZ, LIGHT!"*

• Engage! The main reason I detoured through Portland on the way home was so I could stop in at the wedding celebration for The Spirit of Saint Lewis and Blair's Corner... two long-time friends from my earliest days of blogging. They've been together for sixteen years and, thanks to Washington's surprisingly progressive views on marriage equality, can now... at long last... make honest men out of each other!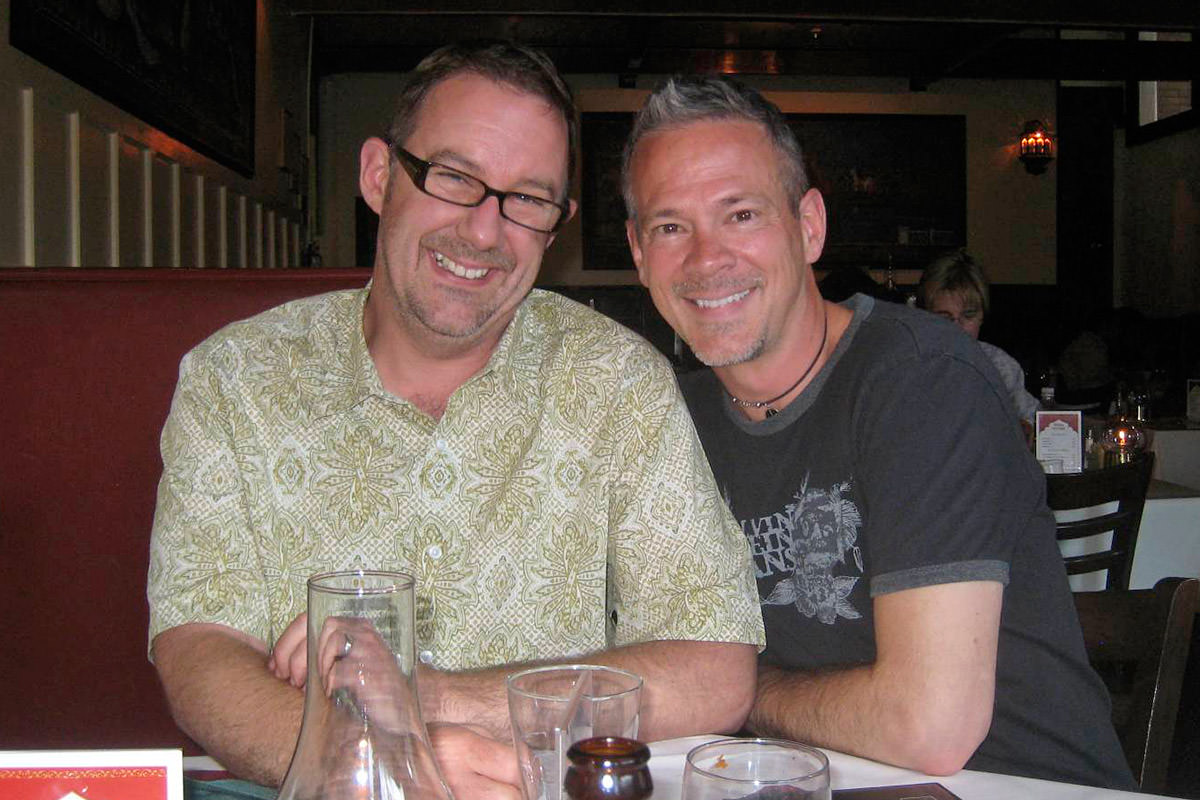 Seriously two of my favorite people! Thanks so much for letting me share in your celebration!

• Tri-Met. For the first time in my life, I wrote a letter (via email) to a public transportation company. Portland's Tri-Met has long been one of my favorites but, on my bus-ride back downtown, the driver we had went above and beyond when he assisted a woman in a wheelchair who had some difficulties communicating. He was exceedingly patient, kind, and respectful while assisting her, and it's rare to see this kind of caring now-a-days. I thought Tri-Met should know how much it's appreciated. Not only by the people their employees help out... but the people they inspire to do likewise.

• Powell's. I went to the amazing Powell's City of Books so I could buy the latest Jasper Fforde novel... only to find out he didn't release a new novel in 2013! What cheek! So I ended up buying Leviathan Wakes, which is the first book in a sci-fi space opera known as "The Expanse" novels. This was originally meant to be a trilogy, but now I've learned that not only are Daniel Abraham and Ty Franck (a.k.a. "James S. A. Corey") writing new "Expanse" books... they have also agreed to have it brought to television! I've heard good things about the series, so I want to get in on it before everything explodes...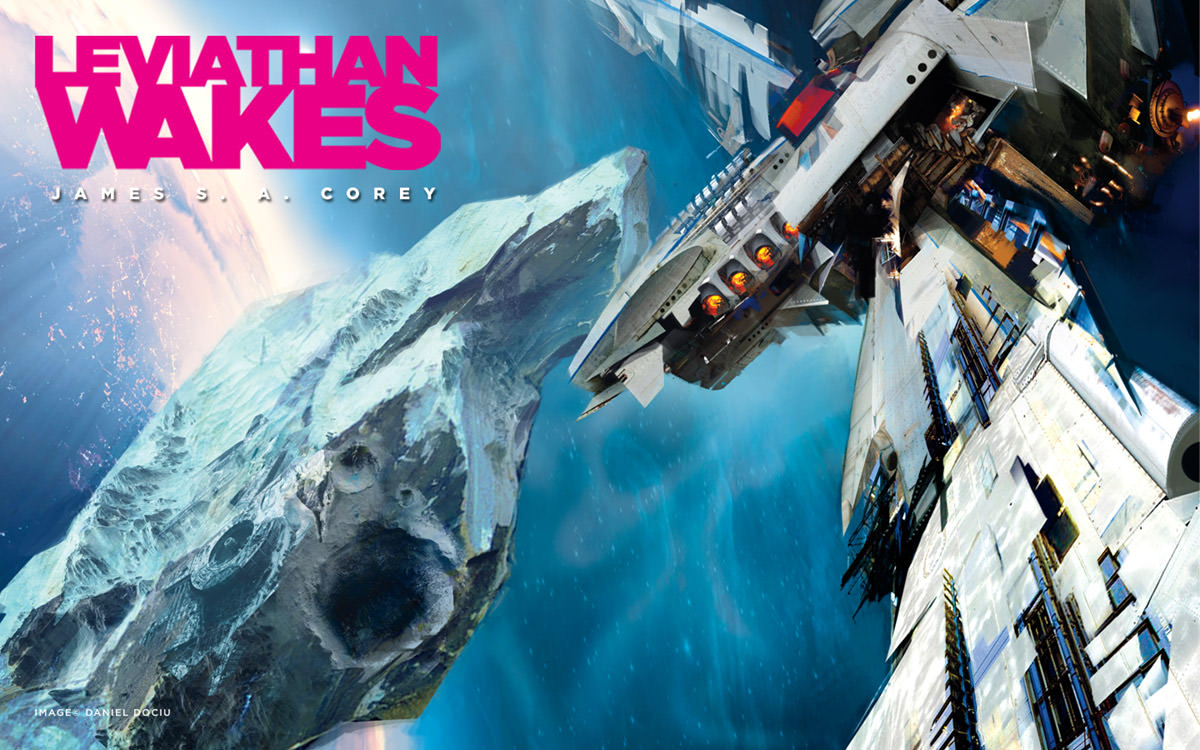 So far, I'm kinda digging it. I just wish I had more time to read.

• Houses. Vahid mentioned that The Benson hotel puts out a gingerbread house display every year, so I stopped by to see it on my way back from Powell's...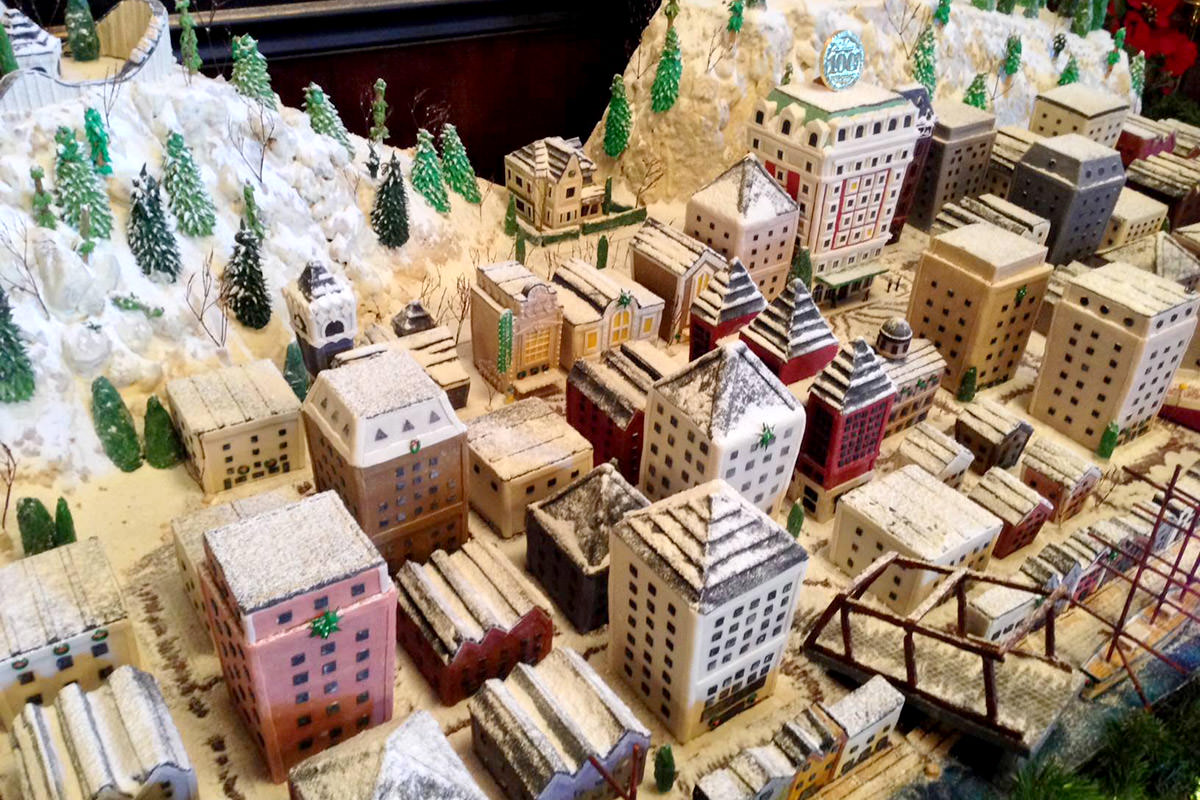 Pretty impressive! They say that it took 500 hours of work to create.

• Restored. Power finally came back on while I was goofing around at Powell's. My room was toasty warm when I returned, and I was able to get all my various electronic devices fully charged for my trip home tomorrow. Thanks, PGE!

• Flaming. Years ago I got a little lost heading back to my hotel from Powell's, and ended up running across a hole-in-the-wall Mexican restaurant called "Santeria." The music was thrashin' punk rock played at high volume, and I was served up a massively delicious, very spicy vegetarian burrito the size of your head. As if that weren't enough, their restroom is shared with the strip club next door, so going to the toilet comes with a side-order of naked ladies. Add it all up and, needless to say, I immediately fell in love with the place. After screaming with my server for a bit, I found out that the restaurant had been open less than a year. Which led me to think that a place this "unique" probably wouldn't last another six months. That was back in 2010. This being Portland where "unique" little places like this tend to thrive, it turns out I was (happily) dead-wrong, and Santeria is still around today. And since it is just a couple blocks from my hotel, I decided to pay a visit for dinner. This time I had the enchiladas, which were (as expected) very spicy-hot and delicious...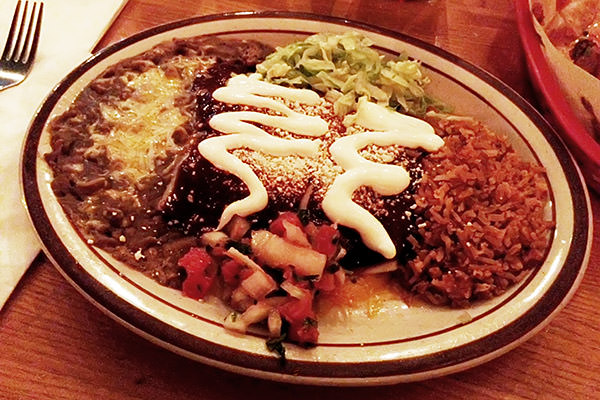 Just for fun, I tried a little bit of their "hot hot" sauce, which had delicious flavor... but makes you feel like your face is melting off. It also makes you worry that if you fart, the seat of your jeans is going to catch fire and blow out. But in a good way. So... if you're looking for excellent Mexican food with a little heat and a lot of noise while visiting Portland, this is the place.

And now, time for a long winter's nap in my warm hotel bed on a cold Portland night.
*Just to be clear, there is no young Egyptian boy named Aziz here watching me pee... I was just quoting a relevant passage from the film.**

**LEELOO DALLAS MULTI-PASS!
Posted on August 11th, 2012

My day started exactly the way every day should start... with perfect toast.
Vahid (from The Iron Fist and Sarah (from Sarah Joy took me to Milo's City Cafe where, I kid you not, they have a guy whose only job is making perfect toast. He has a pair of wooden tongs that he uses to check your toast, flip your toast, and make sure your toast is toasting evenly to just the right toastiness. It's amazing, and his dedication to awesome toast is epic. He's the Toast Master! And perfect toast is what he does. Given my love of toast, I couldn't have been more impressed. I wanted quite badly to go shake his hand after breakfast was over, but I was too star struck. If only every restaurant took toast this seriously.
And then I was off to the Portland Zine Symposium...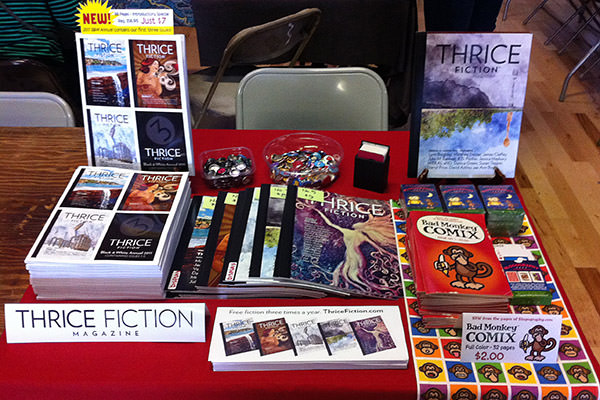 Overall, it was a very nice event... though I'm still not sure that THRICE Fiction was a good fit. The majority of the stuff there was DIY hand-crafted works, and that just isn't us. But, even so, we did pretty good for the day. I originally ordered 40 copies of our new 2011 Black and White Annual, 20 for each day... even though I never expected to actually sell that many. Since I was handing out flyers to let people know that we give our magazine away for free on our website, who would spend money to buy it? But, even after telling people how to get THRICE for free, I still ended up selling 14 copies and trading 7 more. So... worth it, I think.
The only real problem with the event was the heat. It was insanely warm at the venue. At the 2:00 half-way point, I had sold 12 copies. The two remaining copies were sold by 3:30. Which means I did nothing from 3:30 to 6:00. It was just too hot in the afternoon. You could see people coming inside... wandering for a bit... then leaving while fanning themselves before ever getting to my table. Only the most dedicated zine fans stuck it out, but they were the ones least likely to buy a book, as they were after the home-grown DIY stuff.
Stuff like tiny little hand-folded, hand-draw books that a guy was selling for 50¢ each. He made me one with monkeys that he traded for a copy of Bad Monkey Comix, and I love it...
And there was a lot of cool stuff at the show. One of my favorite zine tables was near me and called Everything Waffles, a monthly magazine dedicate to a guy who takes photos of himself with his cat, Waffles. Sounds boring, I know... but these aren't ordinary photos... they're costume photos that are really well done...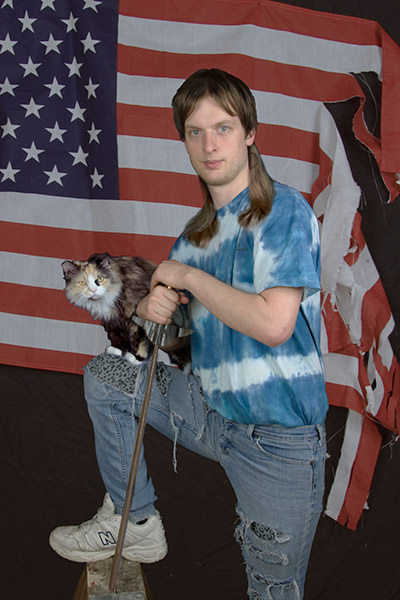 "American Pride" (with Waffles) by Justin Schwab
Genius. The guy has videos and a podcast too.
I ended up only booking a table for just the one day instead of two... for which I am now grateful. I don't know that I could survive a second day of non-stop sitting in 100° heat. But I am really glad I came, and seeing all the incredible creativity that people have in creating zines has me really, really interested in creating some of my own.
UPDATE: For everyone who has been asking, YES! I am happy to sell my extra copies of THRICE Fiction 2011 B&W Annual and Bad Monkey Comix. When I get home I'll find out the cheapest way to mail them, then let you know how much it costs. And, of course, I will honor the show prices for the THRICE annual ($7, which is just 5¢ more than I paid for them, so it's a pretty good deal!).
Posted on August 10th, 2012

Portland is a real toss-up when it comes to travel. Driving there from my home is about 5 hours. Flying there is also about 5 hours... once driving to the airport, getting through security, waiting for boarding, flight time, and layovers are factored in. So what to do? Usually it comes down to money. If it's cheaper to drive, I drive. If it turns out it's cheaper to fly, I fly.
This time it was not only cheaper to fly (thanks to a rocking' airfare I found with Alaska Airlines) but I honestly didn't feel like driving for five hours.
Unfortunately my flight was at 6:00am, which means I had to get up at 3:30am. This makes for a very long day.
But a good one.
Eventually.
Because it started off terrible. After checking in with my airport hotel, I took a shuttle to the MAX light rail station. After buying my ticket I went to look at the schedule and saw a poor little moth trapped behind the glass and unable to move...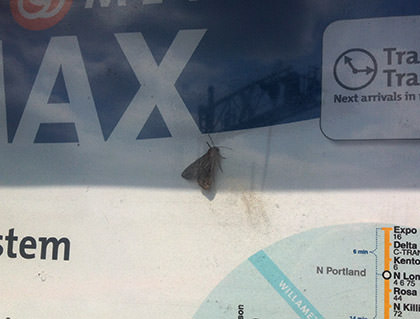 I tried tapping the glass to try and knock him loose but, even if I got him un-stuck, he'd probably just climb right back up again while trying to find a way out. I then contemplated smashing him to put the poor little guy out of his misery, but couldn't bring myself to do it. Calling the TriMet emergency line was my last option, but something told me they wouldn't rush right out to release a trapped moth. So I left the poor bugger to his fate.
From there I was off to meet fellow bloggers Vahid and Sarah for lunch. Which was at E-San, one of the best Thai restaurants I've eaten at outside of Thailand. I had fried pineapple rice (which they serve in a hollowed-out pineapple half...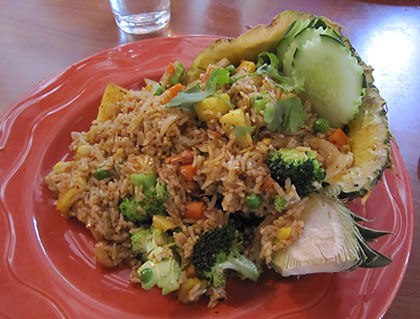 It. Was. Awesome.
Then my Portland hosts decided to show off by taking me to Salt and Straw, which is an ice cream parlor SO GOOD that Oprah has it on her "Favorite Things" list. The line ran all the way out the door, which only confirmed that Oprah knows her ice cream...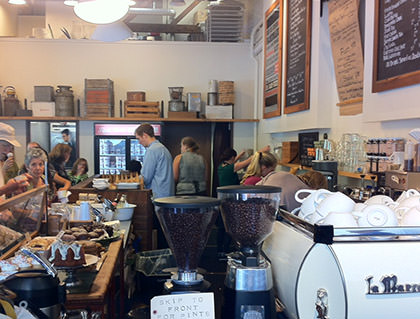 I had Almond Brittle with Salted Chocolate Ganache mixed with Sea Salt Ice Cream with a Caramel Ribbon. And, yes, you read that right... it's not "salted caramel in ice cream" it's actually SALT-FLAVORED ICE CREAM which happens to have caramel in it. Needless to say... it's pretty damn salty. But also pretty amazing. What's even more amazing than the flavors are the staff... you'd think serving all these rather pretentious and upscale flavors from a hugely popular parlor would give them attitude. But it absolutely doesn't. They are all as nice and fun as can be... happy to let you try flavors and make recommendations so that you're thrilled with your dessert. And I was.
And here's where our day takes an unbelievable turn...
Portland, Oregon is a city so filled with freedom and American spirit... THAT THEY HAVE CUTE GIRLS HANDING OUT FREE HUMMUS ON THE STREET CORNERS! Yes. You read that right. This is NOT a dream. This is NOT an imaginary story. Free. Hummus. FREE HUMMUS ON THE STREET!!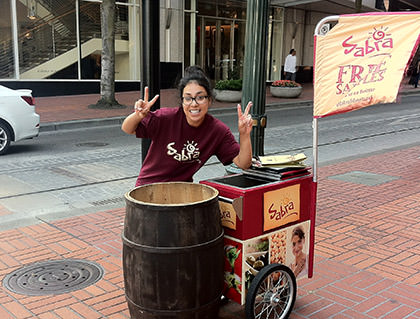 "Is this heaven?"
"No. It's Portland."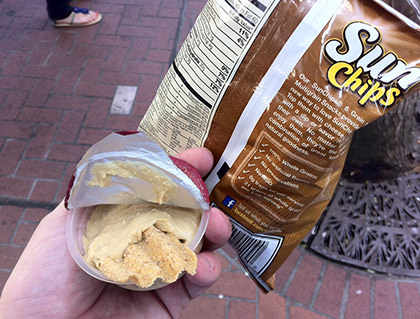 Unbelievable!
And then, because only Batman can top free hummus, Vahid and I went to see The Dark Knight Rises...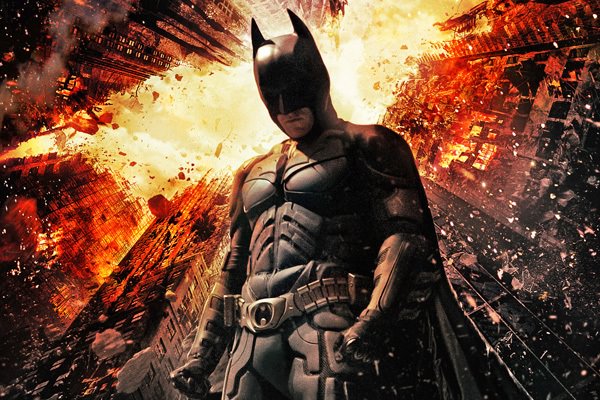 Loved it.
Not quite as much as The Dark Knight, but it was a very good end to the Nolan-directed Batman series of films. The only negative was that I had completely figured it all out well before the ending. Anybody who religiously follows the comic books would. But... it didn't diminish my enjoyment one bit. Anne Hathaway as Selina Kyle (an unnamed Catwoman) totally steals the show. Bane was a much better villain choice than I gave him credit for (thanks to an amazing performance by Tom Hardy)... and Christian Bale once again ruled the cowl in a way no other Batman has ever done. Genius. Here's hoping that whomever takes over the Batman movies will do even half as good a job as Christopher Nolan.
And now... I'm pretty much dead, and tomorrow is going to be a long day.
Posted on August 6th, 2012

Going to be in Portland, Oregon this Saturday?
If so, then be sure to drop by the THRICE Fiction table at the Portland Zine Symposium from 10:00am until 5:00pm at Refuge on 116 SE Yamhill. Admission is free, and I will be there representing the magazine and selling copies of our new THRICE Fiction 2011 Black & White Annual for just $7... over half-off the $14.95 retail.
It's pretty...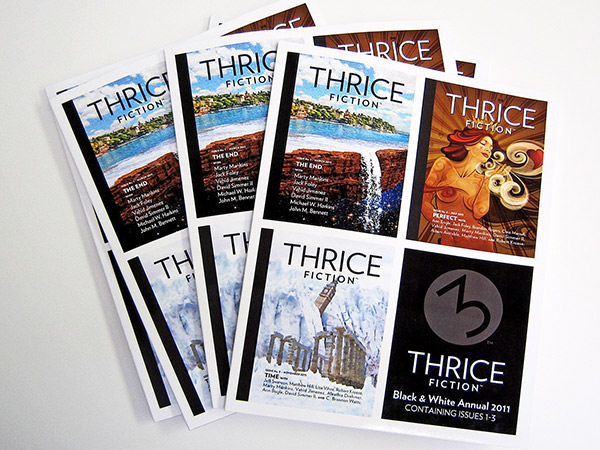 Copies are limited to how many I can fit in my backpack, so show up early if you want one!
Or just stop by and say "hi" to me even if you don't want one!
NOTE: I will be at the show SATURDAY ONLY! If you show up on Sunday, I won't be there. I'll be wandering aimlessly around Portland on a Voodoo Doughnut sugar high.
Posted on February 22nd, 2011

Last night I got -zero- sleep.
It seemed like all the horrors of the world just wouldn't let my mind slip into oblivion... instead I was endlessly occupied with the events in Libya, The USA, New Zealand, Yemen, Bahrain, and the rest. There seemed no way to let it all go. Instead I just laid there feeling restless and helpless all night long.
When all I really wanted to do was go home.
But I was slammed with work all day long and, when it was time to leave, I found out I couldn't. The passes were either closed or a hellacious mess, and the weather was just getting worse. After four people at work started Googling maps and pass reports, the general consensus was that my best option was to drive to Portland and make a run up the Columbia Basin tomorrow.
So here I am in Portland, feeling exhausted and destroyed...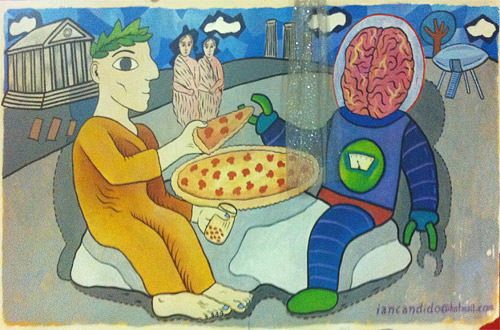 My hetero life-partner suggested I have pizza and beer at Rocco's... where philosophers & aliens meet!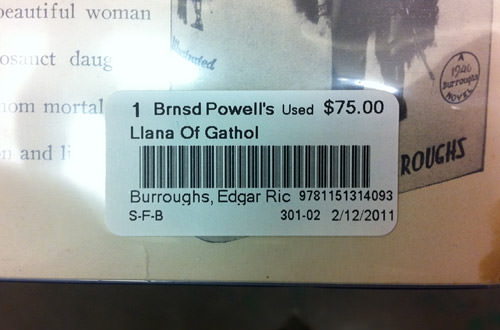 Then it was time for the awesomeness of Powell's City of Books, where I spent WAY too much money,
Not on this particular book... though I wanted to. Badly.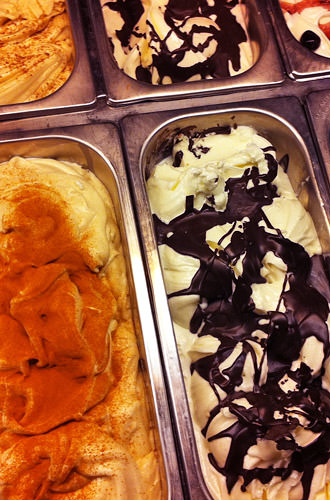 Then Vahid just had to remind me of Mio Gelato. The bastard.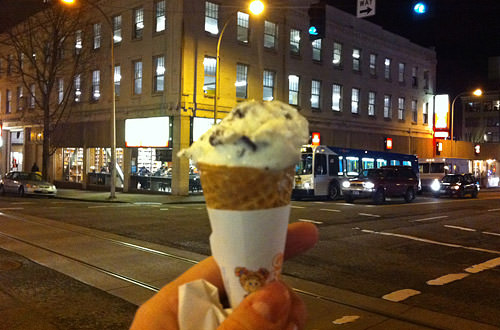 Stracciatella gelato and Powell's Books... the perfect combo.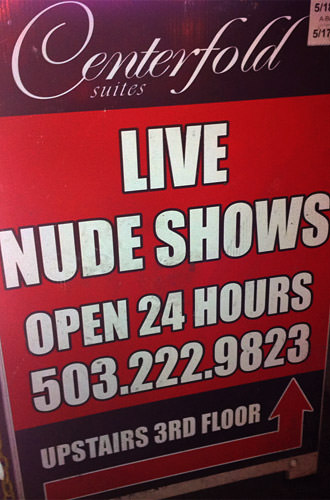 Classy third-floor entertainment for gentlemen!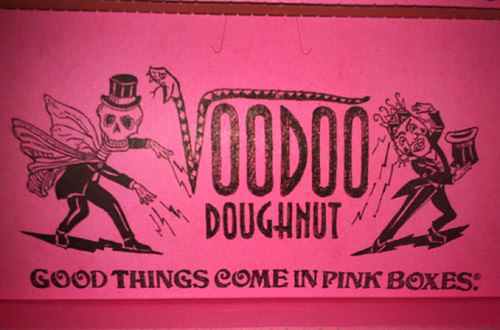 Time for... VOODOO DOUGHNUTS!! Where good things come in pink boxes.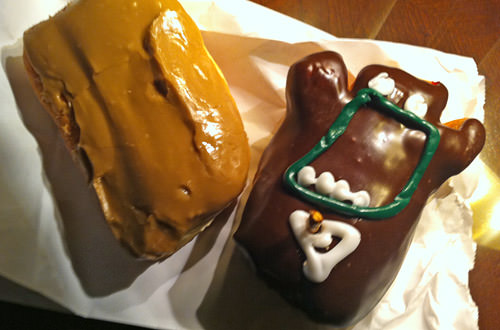 A maple bar and voodoo doll doughnut for dessert!

For those who have never had the orgasmic pleasure of eating at Voodoo Doughnuts, here is the carousel of awesomeness which awaits...

And so now I think I will take my aching head and tired body to bed even though it's only 8:30.
Please please please let me get home tomorrow...
Posted on August 21st, 2009

Today started at 3:30am when I awoke to get ready for my early-morning trip to Portland for a quick meeting. Much to my delight, I got finished three hours early, which meant I had three hours to kill in the city before having to return to the airport. This meant a trip to one of my favorite places: Powell's City of Books.
After an all-too-brief (but wholly unexpected and serendipitous) visit to the City of Roses, I headed back to the airport where I ran into Vahid and Sir, for another all-too-brief (but wholly unexpected and serendipitous) visit before flying out to Denver.
So here I am in The Mile High City, which I haven't been to in six long years. That's a darn shame, because I love it here and wish I had an excuse to visit more often. After wandering down to the 16th Street Mall for dinner I saw District 9, a movie that came out of nowhere to become my favorite film of 2009 so far...
South African filmmaker Neill Blomkamp has recreated the horrors of his country's apartheid days in a surprising way. Instead of white colonists subjecting black natives to racial segregation... human natives are subjecting alien refugees to species segregation. And what wonderful-looking aliens they are...
What's astounding here is how fully-realized the world of District 9 is. By the time the film takes place, the aliens have been around for decades and their presence is treated as commonplace. That the actors were able to inhabit this reality so believably is what makes the story so compelling. You simply believe it's happening as you watch it, even though there are these fantastical creatures wandering around.
The film is best experienced clean... with no spoilers or story points to ruin it... so run, don't walk, to a good theater and see it before all the talk about it diminishes the impact for you.