Portland is a real toss-up when it comes to travel. Driving there from my home is about 5 hours. Flying there is also about 5 hours... once driving to the airport, getting through security, waiting for boarding, flight time, and layovers are factored in. So what to do? Usually it comes down to money. If it's cheaper to drive, I drive. If it turns out it's cheaper to fly, I fly.
This time it was not only cheaper to fly (thanks to a rocking' airfare I found with Alaska Airlines) but I honestly didn't feel like driving for five hours.
Unfortunately my flight was at 6:00am, which means I had to get up at 3:30am. This makes for a very long day.
But a good one.
Eventually.
Because it started off terrible. After checking in with my airport hotel, I took a shuttle to the MAX light rail station. After buying my ticket I went to look at the schedule and saw a poor little moth trapped behind the glass and unable to move...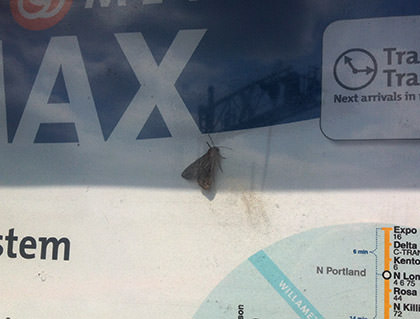 I tried tapping the glass to try and knock him loose but, even if I got him un-stuck, he'd probably just climb right back up again while trying to find a way out. I then contemplated smashing him to put the poor little guy out of his misery, but couldn't bring myself to do it. Calling the TriMet emergency line was my last option, but something told me they wouldn't rush right out to release a trapped moth. So I left the poor bugger to his fate.
From there I was off to meet fellow bloggers Vahid and Sarah for lunch. Which was at E-San, one of the best Thai restaurants I've eaten at outside of Thailand. I had fried pineapple rice (which they serve in a hollowed-out pineapple half...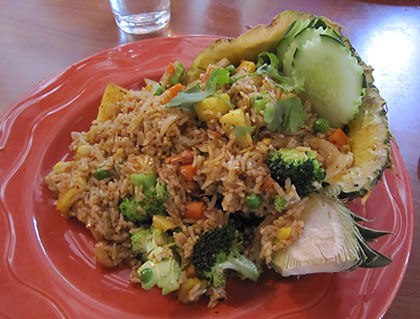 It. Was. Awesome.
Then my Portland hosts decided to show off by taking me to Salt and Straw, which is an ice cream parlor SO GOOD that Oprah has it on her "Favorite Things" list. The line ran all the way out the door, which only confirmed that Oprah knows her ice cream...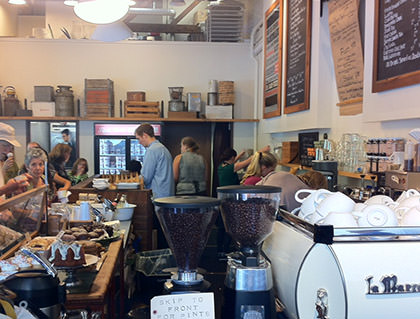 I had Almond Brittle with Salted Chocolate Ganache mixed with Sea Salt Ice Cream with a Caramel Ribbon. And, yes, you read that right... it's not "salted caramel in ice cream" it's actually SALT-FLAVORED ICE CREAM which happens to have caramel in it. Needless to say... it's pretty damn salty. But also pretty amazing. What's even more amazing than the flavors are the staff... you'd think serving all these rather pretentious and upscale flavors from a hugely popular parlor would give them attitude. But it absolutely doesn't. They are all as nice and fun as can be... happy to let you try flavors and make recommendations so that you're thrilled with your dessert. And I was.
And here's where our day takes an unbelievable turn...
Portland, Oregon is a city so filled with freedom and American spirit... THAT THEY HAVE CUTE GIRLS HANDING OUT FREE HUMMUS ON THE STREET CORNERS! Yes. You read that right. This is NOT a dream. This is NOT an imaginary story. Free. Hummus. FREE HUMMUS ON THE STREET!!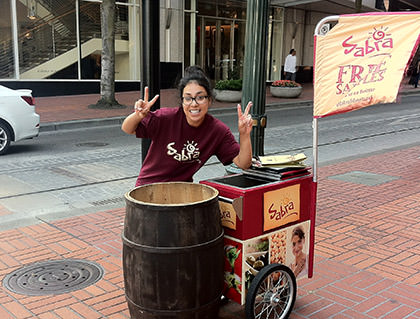 "Is this heaven?"
"No. It's Portland."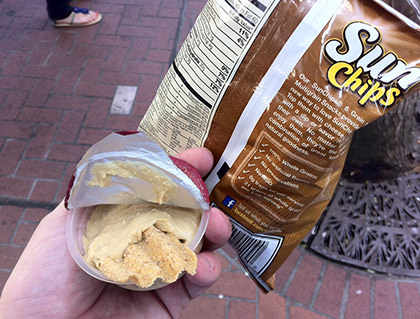 Unbelievable!
And then, because only Batman can top free hummus, Vahid and I went to see The Dark Knight Rises...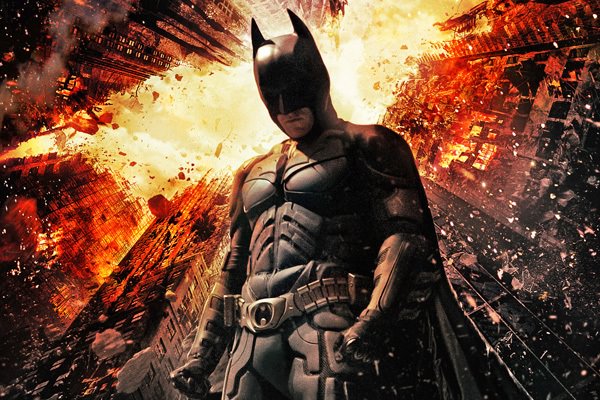 Loved it.
Not quite as much as The Dark Knight, but it was a very good end to the Nolan-directed Batman series of films. The only negative was that I had completely figured it all out well before the ending. Anybody who religiously follows the comic books would. But... it didn't diminish my enjoyment one bit. Anne Hathaway as Selina Kyle (an unnamed Catwoman) totally steals the show. Bane was a much better villain choice than I gave him credit for (thanks to an amazing performance by Tom Hardy)... and Christian Bale once again ruled the cowl in a way no other Batman has ever done. Genius. Here's hoping that whomever takes over the Batman movies will do even half as good a job as Christopher Nolan.
And now... I'm pretty much dead, and tomorrow is going to be a long day.