My day started exactly the way every day should start... with perfect toast.
Vahid (from The Iron Fist and Sarah (from Sarah Joy took me to Milo's City Cafe where, I kid you not, they have a guy whose only job is making perfect toast. He has a pair of wooden tongs that he uses to check your toast, flip your toast, and make sure your toast is toasting evenly to just the right toastiness. It's amazing, and his dedication to awesome toast is epic. He's the Toast Master! And perfect toast is what he does. Given my love of toast, I couldn't have been more impressed. I wanted quite badly to go shake his hand after breakfast was over, but I was too star struck. If only every restaurant took toast this seriously.
And then I was off to the Portland Zine Symposium...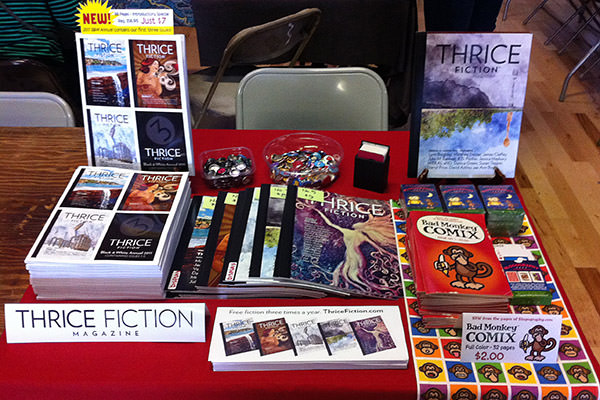 Overall, it was a very nice event... though I'm still not sure that THRICE Fiction was a good fit. The majority of the stuff there was DIY hand-crafted works, and that just isn't us. But, even so, we did pretty good for the day. I originally ordered 40 copies of our new 2011 Black and White Annual, 20 for each day... even though I never expected to actually sell that many. Since I was handing out flyers to let people know that we give our magazine away for free on our website, who would spend money to buy it? But, even after telling people how to get THRICE for free, I still ended up selling 14 copies and trading 7 more. So... worth it, I think.
The only real problem with the event was the heat. It was insanely warm at the venue. At the 2:00 half-way point, I had sold 12 copies. The two remaining copies were sold by 3:30. Which means I did nothing from 3:30 to 6:00. It was just too hot in the afternoon. You could see people coming inside... wandering for a bit... then leaving while fanning themselves before ever getting to my table. Only the most dedicated zine fans stuck it out, but they were the ones least likely to buy a book, as they were after the home-grown DIY stuff.
Stuff like tiny little hand-folded, hand-draw books that a guy was selling for 50¢ each. He made me one with monkeys that he traded for a copy of Bad Monkey Comix, and I love it...
And there was a lot of cool stuff at the show. One of my favorite zine tables was near me and called Everything Waffles, a monthly magazine dedicate to a guy who takes photos of himself with his cat, Waffles. Sounds boring, I know... but these aren't ordinary photos... they're costume photos that are really well done...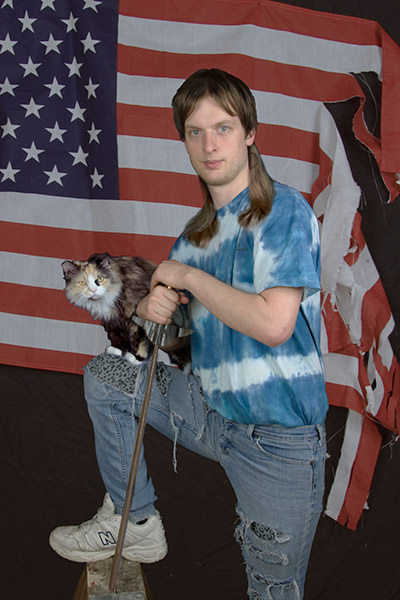 "American Pride" (with Waffles) by Justin Schwab
Genius. The guy has videos and a podcast too.
I ended up only booking a table for just the one day instead of two... for which I am now grateful. I don't know that I could survive a second day of non-stop sitting in 100° heat. But I am really glad I came, and seeing all the incredible creativity that people have in creating zines has me really, really interested in creating some of my own.
UPDATE: For everyone who has been asking, YES! I am happy to sell my extra copies of THRICE Fiction 2011 B&W Annual and Bad Monkey Comix. When I get home I'll find out the cheapest way to mail them, then let you know how much it costs. And, of course, I will honor the show prices for the THRICE annual ($7, which is just 5¢ more than I paid for them, so it's a pretty good deal!).