Hooray! It's Pi Day! I love Pi! Of course I love all irrational and transcendental numbers, so that shouldn't surprise anybody. I will click the "publish" button on this entry at exactly 3.14.1:59 and see if a magic portal opens up to Flatland or something.

• Irritation Pi. As anybody who follows me on Twitter can attest, I am an irritable traveler. In my defense, it's hardly my fault. I honestly think that people are at their worst behavior when they're on a trip, so I have a valid excuse here. It's probably because travel has become so miserable now-a-days that people feel the need to do their part and become rude maniacs who are intent on making everybody else miserable too. It's a vicious circle. I travel a lot, so I've kind of broken the circle and just try to get through it all with as little drama as possible. With that in mind, I am freaking out over the idea that airplanes may soon be offering MOBILE PHONE SERVICE ON THEIR FLIGHTS. Holy crap. The idea of having to sit next to some loud asshole screaming away on their phone during a flight fills me with dread and homicidal rage...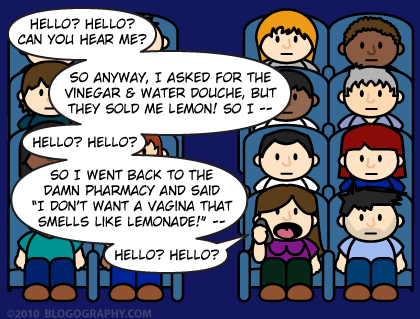 I mean, seriously? Aren't airplanes horrible enough? Can you imagine how horrendously shitty flights will be if people can make phone calls? This is bullshit! I am willing to bet some serious cash that the murder rate on airplanes increases 2700% if some airline is actually fucking stupid enough to do this. What's next? Are the flight attendants just going to punch you in the face and smear you with horse shit as you board?

• Stupid Pi. I've written about how much I hate Daylight Saving Time so many times on my blog that I sometimes wonder if I should just write about it exclusively. But oh well... I HATE DAYLIGHT SAVINGS TIME!! Messing with the clocks is so damn antiquated and absurd that I just can't help myself. Just split the difference by a half hour then LEAVE OUR CLOCKS THE FUCK ALONE!

• Denial Pi. Last night I saw an article on yet another disaster in our military's "Don't Ask Don't Tell" policy, where a woman was discharged for being a lesbian... even though she adhered to the rules she was given. Now, I've never been in the military, so those who are in the military (or are a military veteran) can feel free to dismiss my opinion... but who in this day and age really cares if anybody is gay? What's the point? It's as if people who support DADT think that if nobody says they're gay, then the entire military is suddenly straight and homosexuality doesn't exist there. It's like DADT is some kind of magical "denial cloak" idea that somebody took from a Harry Potter novel.
The truth is that you're either a good soldier or a bad soldier, and where consenting adults like to stick their penis and what they choose to do with their vagina isn't going to change that. Fortunately, this is an attitude that's finally starting to stick, as I see when I run across inspirational people, positive stories, and videos like this bouncing around the blogosphere...
The thing that always amuses me is the idea that a gay guy would join the military not to serve his country or earn an education, but so he could look at naked guys in the shower and hook up. It's absurd, but apparently that's what geriatric politicians like John McCain seem to think will happen if gays are allowed to serve openly (despite opinions of military leaders like Colin Powell who thinks DADT should be repealed). If anything, you'd think that homophobes in the military would welcome repealing Don't Ask Don't Tell, because then they'd know to say "no thanks, please leave me to die" if they were shot on the battlefield and some "homo pervert" comes to their aid.
People can deny it all they want but the Gay Menace is out there. They're standing next to you at the urinal in the bathroom. They're showering with you at the gym. And they're serving with honor in our military. They're everywhere. Pretending that gays don't exist isn't going to magically make it come true. Why people are so insecure in their sexuality that they think being exposed to "teh ghey" will somehow turn them gay is beyond me. Why they think that gays are any less capable of leaving their sex life in the bedroom is even more of a mystery.
Personally, I'm more afraid of people who watch The Hills than I am of any homosexual. Where's an ineffectual and asinine government policy to protect me from that?

• Apple Pi. I'm ordering an Apple iPad because of a project I'm working on, even though I probably won't use it for much else since I've always got an iPhone and MacBook with me. Don't hate me because I am now 196% cooler and Steve Jobs loves me. At least he should love me now. Heaven only knows I love me more now...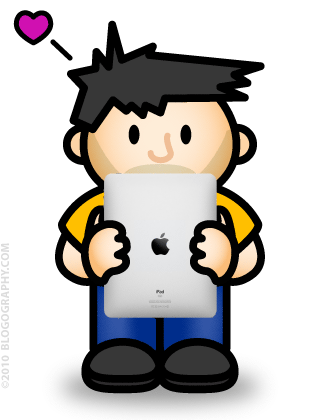 • Humble Pi. I just thought I'd throw this out there for those people who think I'm being a narcissistic ass in my previous bullet... I am just not worthy of being this damn awesome. Sorry to burst your bubble, haters.

And thus ends another amazing installment of Bullet Sunday.