Posted on June 21st, 2018

My cats have been stalking each other as I sit here trying to figure out how to not say what I can't talk about. Every once in a while, one of them will make a break and a chase ensues. Then they are all over the house. The living room. The dining room. The kitchen. The stairs. My bedroom. Their bedroom. The guest bedroom. The catio. Then the tables will turn and the chase will reverse itself.
Truly the best entertainment that a can of sardines can buy...
And the best therapy.
I don't think there's anything that makes me smile quite so much as kitty claws on hardwood floors.
Posted on August 12th, 2014

If you've never suffered from severe depression... if you've never stood by helplessly as somebody you care about battles depression... if you've never made an effort to understand what depression is or what it does to you... then please, for the love of God, shut the fuck up about it. Your ignorant commentary adds nothing to the conversation and only serves to make things worse for people living with this drastically misunderstood mental disorder.
Because if I hear one more asshole like Shep Smith (who obviously knows jack-shit about depression) call Robin Williams "a coward" for killing himself, I'm going to lose it.
With depression you don't kill yourself because you're selfish or weak or a coward... you kill yourself because a non-stop feeling of utter desolation means you can't muster any self-worth and feel as if everybody you care about would be better off without you. That's the opposite of selfishness... the opposite of weakness... the opposite of cowardice. It's having the strength to choose ending your life in order to give those you love a better one.
Which is crap, of course, but that's the way your brain works when you have severe depression.
So comparing this disorder to "being sad" is ludicrous. It's not sad. Everybody gets sad from time to time because they're given a reason to feel sad. Depression is feeling sad to the point of despair for no reason and every reason with no end in sight. It's feeling completely lost without knowing why. It's feeling utterly alone when surrounded by people who care about you. It's the agonizing feeling of not being able to justify your very existence. And it is unrelenting. It simply does not stop. It overwhelms your every thought every minute of every damn day.
And unless you've been through it... or had to watch somebody endure it... your mind just can't comprehend what it's like. So stop it. Stop acting like you have a fucking clue.
"How could Robin Williams be depressed when he had millions of dollars?" — Money can't buy your way out of depression when nothing you can buy will bring you happiness.
"How could Robin Williams be depressed when everybody loved him?" — All the love in the world can't make you feel loved if you don't feel deserving of it.
"How could Robin Williams commit suicide and make his family suffer like this?" — When you feel that your depression is a burden to ones you love, suicide seems like the greatest kindness you can offer them.
Again. This is a mental disorder... you can't apply logic or rational thinking to explain it away.
And if you don't want to sound like a complete and total bastard, you'll stop trying.
Posted on February 8th, 2011

I have an absurd amount of things to be thankful for. I've been so blessed in life that it seems as though I should be on my hands and knees thanking whatever gods there be every minute of every day for my abundance of awesomeness. Even the days that suck are still a paradise compared to those endured by scores of people less fortunate. Truly I am one of the luckiest people on earth.
Which is why it always catches me by surprise when the waves of depression wash upon my shore.
This morning I awoke with such a massive feeling of dread and despair that it was all I could do to climb out of bed. "What an asshole!" I tell myself. "You haven't got anything to be depressed about! You were just in frickin' SPAIN a few days ago for heaven's sake!"
Didn't matter. No amount of rationalization could make me feel better. No amount of self-analysis could reveal what had me feeling so down. No amount of chocolate pudding could erase the depression that swamped my every thought. I'm sure there's all kinds of pills available to fix stuff like this... but, alas, I don't have any of them, so all I could do was force myself to face the day.
Which sucked, of course, because the despair never truly went away. All I wanted was for the day to finally end in the hopes that I wake up feeling better tomorrow. And so I'm taking a couple of sleeping pills and going to bed at 7:00pm to speed up the process. I'll probably wake up at midnight, but no matter.

This past Sunday evening as I was flying home there was a beautiful sunset in The Cascades...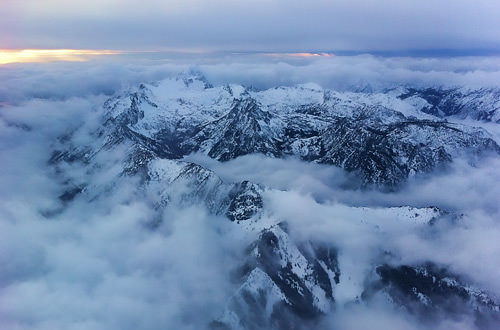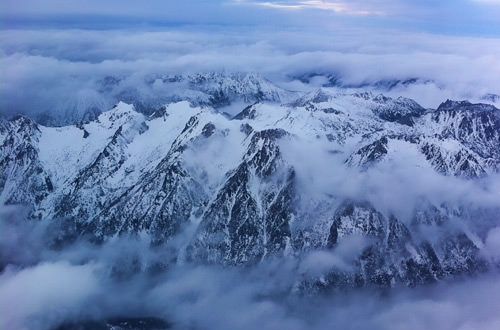 I keep thinking that if I stare at these photos long enough the world will come into focus, but the forecast remains cloudy.