I have an absurd amount of things to be thankful for. I've been so blessed in life that it seems as though I should be on my hands and knees thanking whatever gods there be every minute of every day for my abundance of awesomeness. Even the days that suck are still a paradise compared to those endured by scores of people less fortunate. Truly I am one of the luckiest people on earth.
Which is why it always catches me by surprise when the waves of depression wash upon my shore.
This morning I awoke with such a massive feeling of dread and despair that it was all I could do to climb out of bed. "What an asshole!" I tell myself. "You haven't got anything to be depressed about! You were just in frickin' SPAIN a few days ago for heaven's sake!"
Didn't matter. No amount of rationalization could make me feel better. No amount of self-analysis could reveal what had me feeling so down. No amount of chocolate pudding could erase the depression that swamped my every thought. I'm sure there's all kinds of pills available to fix stuff like this... but, alas, I don't have any of them, so all I could do was force myself to face the day.
Which sucked, of course, because the despair never truly went away. All I wanted was for the day to finally end in the hopes that I wake up feeling better tomorrow. And so I'm taking a couple of sleeping pills and going to bed at 7:00pm to speed up the process. I'll probably wake up at midnight, but no matter.

This past Sunday evening as I was flying home there was a beautiful sunset in The Cascades...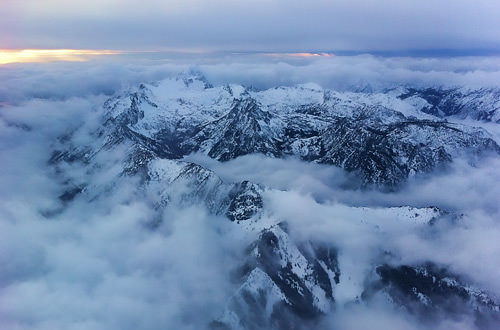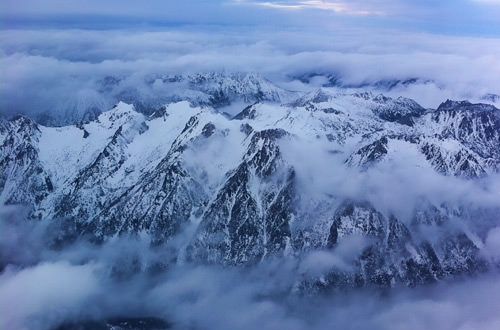 I keep thinking that if I stare at these photos long enough the world will come into focus, but the forecast remains cloudy.