My neighbor seems to spend most of his free time detailing his car. Every time I see him he's washing it... waxing it... buffing it... touching it up... polishing it... or otherwise taking care of it. And it's not like it's a vintage Corvette or anything. It's just a Ford Explorer. But he takes real pride in making sure it's kept in the best shape possible. Even if he doesn't drive it very much.
And then there's my car.
I would just as soon set the piece of shit on fire than wash it.
In fact, I have no idea when the last time I washed it even was. It's been years, I'm sure. The only time it ever gets clean is when it rains. Or it snows and the snow melts. All other times it's dusty and dirty and looks like it's been abandoned. Which it pretty much has.
Oh sure... I think about driving through the car wash every once in a while. Usually after just having seen my neighbor working on his rig. But the thought is fleeting and I've forgotten all about it the minute I turn out of the driveway. What's the point, after all? It's just going to get dirty again.
When it comes down to it, I don't care about my car. I never have. So long as it gets me from place to place, I don't care what it looks like or how it runs or what people think about it. If I believed that material possessions defined me in any way, this would be a major point of embarrassment. But, well, ya know... attachment leads to suffering and all that.
And then I saw a review of the 2012 Porsche 911 Carrera S Cabriolet cross my feed reader today...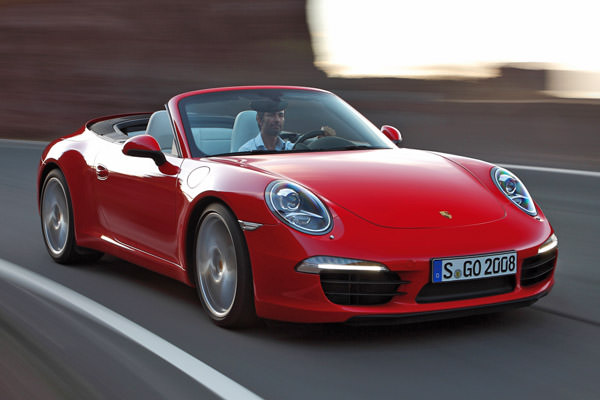 Gorgeous photo by Porsche, taken from Motor Trend
Dream car.
Some possessions possess you. I know this one would certainly possess me.
Which is why I'm glad I don't have $108,950 burning a hole in my pocket. There are so many more things I'd rather do with my time than to rub my Porsche with a diaper every waking hour of every day that I wasn't driving it.
Unless, you know, somebody wanted to give me one.
I can buy my own diaper.