Posted on August 2nd, 2009

It's Bullet Sunday from a rain-soaked location somewhere in Central Georgia!
• Heat. I'd rather be too hot than too cold. So you'd think that Georgia in the middle of summer would be like a dream come true for me. But it's not. I am getting really tired of sweating my ass off every time I have to go outside. In that respect, Central Georgia is no different than Central Washington, because we've been breaking 100° on a regular basis there. It's just that when I work here I have to go outside a lot more often than I do back home. Back home I sit in an air-conditioned office all day long and my ass stays intact. Which begs the question... why has nobody invented air-conditioned underwear? I find it sad that we can put a man on the moon, but can't solve the sweaty ass dilemma. Apparently, science is dead.
• Davelanta 3. As I had mentioned last night, the latest installment of the annual Davelanta blogger meet was a lot of fun, and everybody seemed to have a good time. Still can't believe that I get to meet such amazing people everywhere I go...
Just like I promised, here's a roll call of the fine people who were kind enough to spend their valuable time hanging out with me (taken from my DaveEvents Page)...
I've marked all Davelanta 2008 Alumni with an asterisk. If Mentally Rehearsed hadn't already made plans for the weekend, we would have been at a 100% repeat from last year, which speaks volumes as to how much fun a blogger meet can be. If you ever have the opportunity to go to one, I encourage you to drop everything and do so!
• Magic. Tonight while I was eating dinner, my waiter cleared the table next to mine and was taking a pile of dirty dishes back to the kitchen. As he was walking, a napkin blew off the top of the stack and slowly started to float to the floor behind his back. When the waiter noticed this, he stopped and lifted his left leg up behind him... caught the napkin on his foot... rotated his foot around front with the napkin still sitting on it... reached down and grabbed the napkin... then put his foot back down on the ground and continued walking to the kitchen as if nothing had happened. It was like a magic trick of some kind, and I felt like breaking out in applause after witnessing such beautiful visual poetry in motion. After paying my check and exiting the restaurant, I tripped over my own feet and very nearly came crashing down in the parking lot. Irony... it's what's for dinner.
• Classy. Language evolves. As an example, "awful" used to mean "full of awe" and was used much like how we use the word "awesome" in modern times. But the word evolved until it now means "something bad or unpleasant." In other words, "awful" currently has the exact opposite meaning that it used to have. This is a rather drastic example, but you get the point. ANYWAY... the word "classy" used to mean "wealthy and educated." Over time it came to mean "stylish in looks." Then it evolved further until it could also meant "stylish in behavior." In other words, you no longer need to be wealthy or educated in order to be considered "classy." And while I am sure that being wealthy makes it easier to be classy, it's certainly no guarantee. From my experience, it's just the opposite. My favorite example is flying First Class, which is filled with self-important, self-entitled, embarrassingly abusive assholes who have zero class... vs. flying Coach, which is less comfortable, but filled with a better class of people (probably because you're all bonding over mutual suffering?). I don't really have a point here, it's just something I felt like blathering on about as I confirmed my First Class upgrade for my flight home on Tuesday.
And, on that happy note, I think I will try to take a power-nap so I will have the strength to go back to work in an hour. Staying up for 20 hours straight after four hours sleep has done nothing for my mental health.
Posted on August 1st, 2009

Well today was certainly a big bucket-full of awesome win.
I spent the afternoon with Beth and Kevin, who were kind enough to go to lunch with me, then wander around MODA for a while. But the real treat was when they took me out to Stone Mountain Park. It's a pretty impressive place, featuring the world's largest piece of exposed granite. What makes it truly amazing is what you don't see... because most of this mammoth rock is buried underground. Hard to believe when you can't even fit the small exposed part into your field of vision from the parking lot...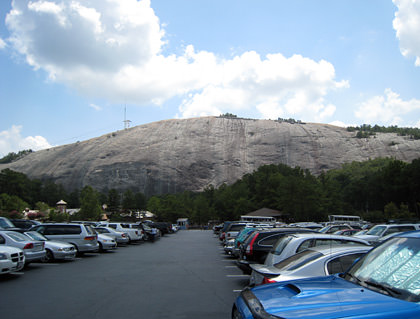 You can take a gondola to the top, which is pretty sweet considering there was no way I was climbing the thing in billion-degree heat!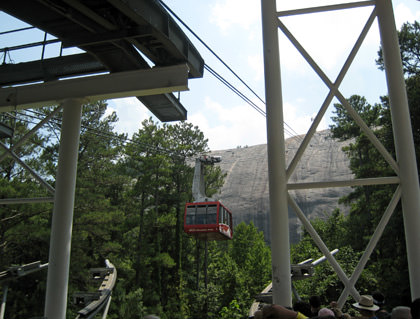 From the gondola, people look like ants crawling over the mountain...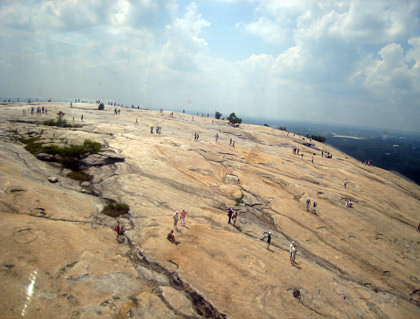 Out on top of the rock is quite a view...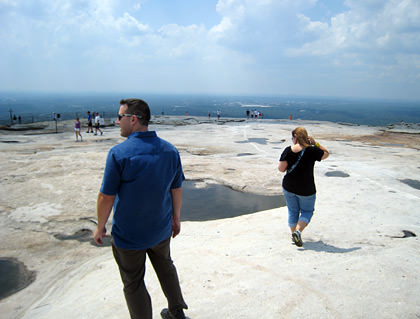 From there we went back towards Atlanta for Davelanta3 at The Cheesecake Factory where an amazing time was had by all...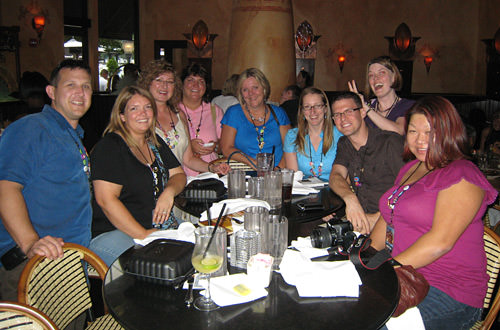 Kevin, Beth, Diana, Kim, Val, Mr. & Mrs. Muskrat, Heather, and Anissa...
not pictured is Julie, who ditched our sorry asses so she could go to
a much better party with a group of much classier people!
I have to get up for work in four hours, so I'll post my recap, photos, and links tomorrow. But I do want to take a minute to thank everybody for coming. I can't believe what amazing people show up at these things, and it means the world to me that I get to hang out with y'all. How lucky am I to have made such good friends through this silly little blog?
I just hope that I didn't smell too funny after sweating off ten pounds on top of Stone Mountain.
Posted on June 13th, 2009

Originally, I wasn't going to be able to attend ConFab in beautiful Lexington, Kentucky because I had previous plans. But eventually everything came together and I flew out of Seattle last night at 10:30pm, arriving at LEX around 10:30am this morning (via Detroit). It was a very, very long night with practically no sleep (which is why I am so very grateful to Mr. Shiny for picking me up at the airport!).
But it was all worth it, because Brad and Turnbaby truly outdid themselves, and a fantastic group of fun people turned up for the party. I had a great time, and once again was amazed at the kind, funny, generous, entertaining, wonderful people you can meet in the blogosphere.
I decided to wear my pirate shirt, which was accompanied by hair styling from Miss Britt and eye makeup from Hilly-Sue. Being a pirate kicked up my innate* hotness up to eleven, and my customized drinking cup completed the ensemble...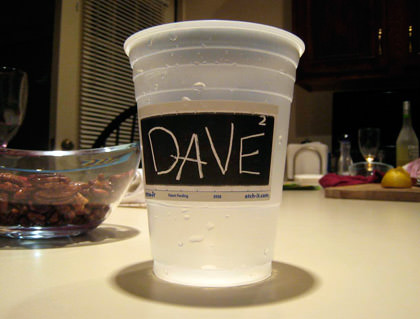 Now, according to Twitter, I had sex with everybody at the party and snorted heroin off of Karl's ass. This is a bit of an exaggeration.
So far as I know, the only person who got any pussy tonight was Hilly-Sue...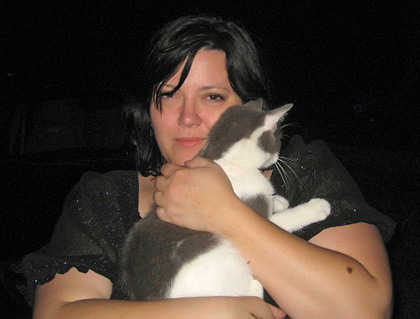 And now, since I have to fly back home in the morning and it's already 2:30am, I suppose I should get some sleep.
Or at least try to.
*And by "innate" I obviously mean "nonexistent."