Avitable has announced this year's theme for his annual Halloween bash, and it's a good one: INVADED!
Like last year, Adam asked me to create a T-shirt design to help raise money for the party, and with an awesome theme like "alien invasion," I could hardly say no. The challenge would be to find a new way of having fun with the DaveToon characters so that I wouldn't be bored. After a little thought, I decided to try an old "Sci-Fi Comic Book" design and see if I could make that work. All the best alien invasion stuff could be found in the pulp comics and films of yesteryear, so it seemed like a good fit.
After an hour of goofing around, this is what I came up with...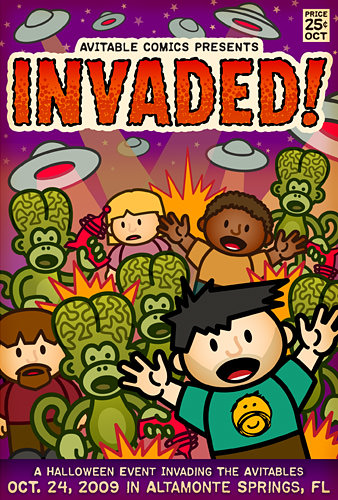 If you want to support the Avitaween party (or just want to look really cool), you can buy the shirt at Adam's Zazzle Shop.
If you want a behind-the-scenes peek at how the design was created, I've got that in an extended entry...
→ Click here to continue reading this entry...