Nobody can see every movie ever released, so when they declare a film to be "the worst movie ever," what they are actually saying is that it's "the worst movie I've ever seen." Still, given the number of movies out there, this is still a pretty bold statement.
To me, the worst movie ever used to be a Renny Harlin flick called Born American. The tagline on the posters was "Freedom is just a word...until you lose it." It was a Reagan-era flag-waver about three college students vacationing in Finland who decide to cross the Russian border as a joke. Unfortunately for them, they are spotted by the Russian army. They then get captured and tortured as suspected spies... something they consider unjust because they're Americans, dammit! Eventually they escape and, in the process, kill people and destroy a Russian town. The movie was utter shit and made no sense. It was meant to portray Soviet Russia as a nation of monsters, but the only monsters in the film were the Americans. Can you imagine if the situation were reversed and it was the Russians who were caught on American soil blowing up towns and killing people circa 1986? But movie audiences are stupid, so it was easy to cover massive gaps of logic with patriotic "Russia is evil" rhetoric. Born Americans was so bad it made me embarrassed to be American.
But that was then.
Now a new movie has taken its place... Rolland Emmerich's 2012.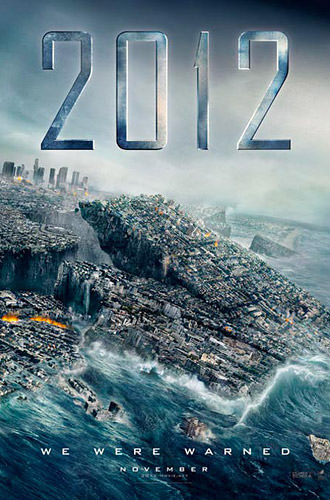 Worst. Movie. Ever. Truly excrement on just about every level. First of all, it's a film made for idiots. This is not necessarily a bad thing, because even intelligent people can have great fun turning off their brain and enjoying a stupid flick. Heck, there are a lot of stupid movies I really like. But 2012 goes so far beneath stupid that it's fucking insane.
Heaven only knows I wasn't expecting much, but I was hopeful. Sure Emmerich unleashed such turds as 10,000 BC and Universal Soldier and The Day After Tomorrow and that shitty Godzilla remake. But he also did Stargate, which I liked quite a lot.
And yet nothing could prepare me for just how awful this film could be.
Yes, the special effects were stunning in places... breathtaking even... but the story and events were positively asinine. Oh noes! The earth's core is heating up and the world is going to end! Let's pile up catastrophic spectacles and wild-ass coincidences and see if anybody notices that it's all window dressing bullshit!
What's truly perplexing is that 2012 managed to attract some real talent... actors like John Cusack, Chiwetel Ejiofor, Amanda Peet, Thandie Newton, Oliver Platt, Danny Glover, and even Dr. Phlox(!). But it doesn't matter. Even the best actors on earth couldn't save this steamer. Events are so contrived and manipulative, that it feels like you're being force-fed a load of bullshit. And while I could give a dozen examples to illustrate this, the most offensive is the cracks that open up as the earth goes into spasm. They always... always crack across that "perfect spot." Like EXACTLY BETWEEN the fingers of God and Adam in Michelangelo's famous painting in the Sistine Chapel ..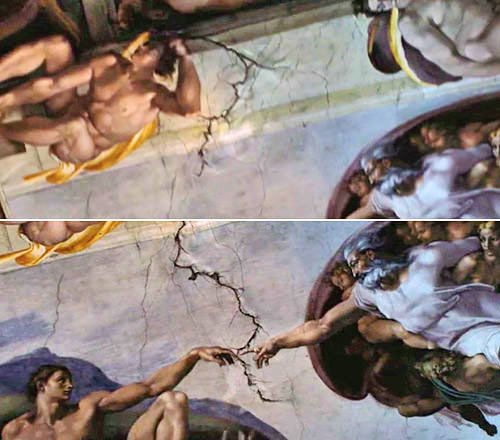 In some films, this might be interpreted in a number of ways. The original painting has God giving life to man. So maybe this is symbolic of man's abandonment of God, creating a rift between them. Or maybe it's meant to be ironic... the painting depicts God giving life to man, now all mankind is facing extinction. Or perhaps it's allegory for religion in general, illustrating that even God can't help you when the world ends. Etc. Etc.
But attributing such deep thought to anything in 2012 would be absurd.
I know this because earlier in the film, Amanda Peet is shopping with her boyfriend when he says something cheesy and ridiculous like "I don't know honey... I feel like there's something pulling us apart..." just before a crack opens up directly between them...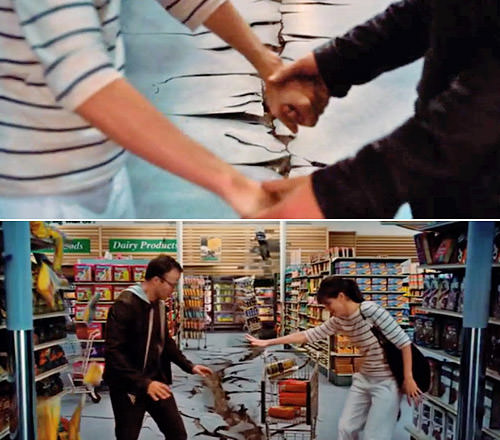 Yes. This movie is that fucking stupid.
But even that's not the reason I loathe the film so vehemently.
As I said, this film was made for idiots. And because idiots don't have the intelligence to think for themselves or figure things out on their own, filmmakers like Roland Emmerich have to design their films to appeal to the lowest common denominator. They insert obvious clues in order to tell the audience how they should think, feel, and react. More often than not, these clues come in the form of a character. Somebody in the film whose only purpose is to help an audience of idiots know when to laugh, cry, get mad, or be scared. A douchebag moron to spell it all out.
In the case of 2012, we get this piece of shit...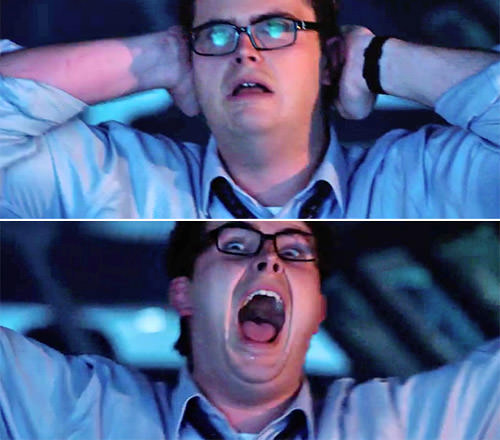 First it's the "Oh no, we're doomed!" look. Then the "Hooray, we're saved!" elation. It's so pathetic and absurd that seeing it makes me want to punch somebody in the face. Starting with this asshole...
I hate characters like this. Fucking HATE THEM!
And yet they're becoming more and more common in movies... and more and more blatant in their manipulations. It's getting so bad that pretty soon movie directors will just add subtitles which say things like "THIS IS SAD SO YOU SHOULD CRY NOW" and "THIS SCENE IS WHERE YOU GET ANGRY" and "THIS CHARACTER IS A BAD GUY."
Which is pretty much what 2012 is all about. Telegraphing audience instructions with blatant eye candy and shameless manipulation for no practical purpose... including entertainment.
The Blogography Movie Rating System...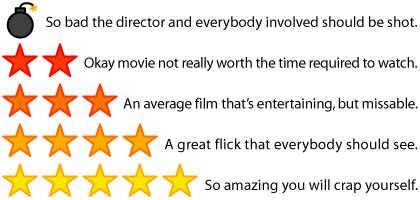 Which brings us to...
Dave2 rating for 2012 (2009) —