Every year I do a little more to make my home my own. I figure I might as well because, more likely than not, it won't be my home forever.
Most of the things I do are on the inside. That's where I live. That's what I see the most. That's where my experience is. I didn't have to do much on the outside because the woman who lived here before me did a really lovely job so I left as much of it alone as I could. The only thing I really had to do... and do most reluctantly... was tear things out. Because of my travel schedule, I am not always home to water and weed and take care of the things that require that kind of time and attention.
The first thing to go were the flowers out front, most of which were in planters that had to be manually watered. I wasn't here to do it and so they died. When I planned out what would replace them, I had two things in mind...
I had to use the drip-line that was already in place for automated watering.
Nothing would grow too close to the house (spiders) or too close to the lawn (maintenance).
And so I wanted two flower beds. A large one where most of the drip-lines were, and a second smaller bed on the corner where there was less water available.
The large flower bed I created back in 2018...
My mom died twenty days after I completed it. I couldn't find the motivation to care about flowers after that.
Nearly two years later, and I finally decided to finish what I started...
It's hard work for an old guy like me... shoveling rock and digging up dirt! Especially when my job is to sit at a computer all day.
It turned out okay though...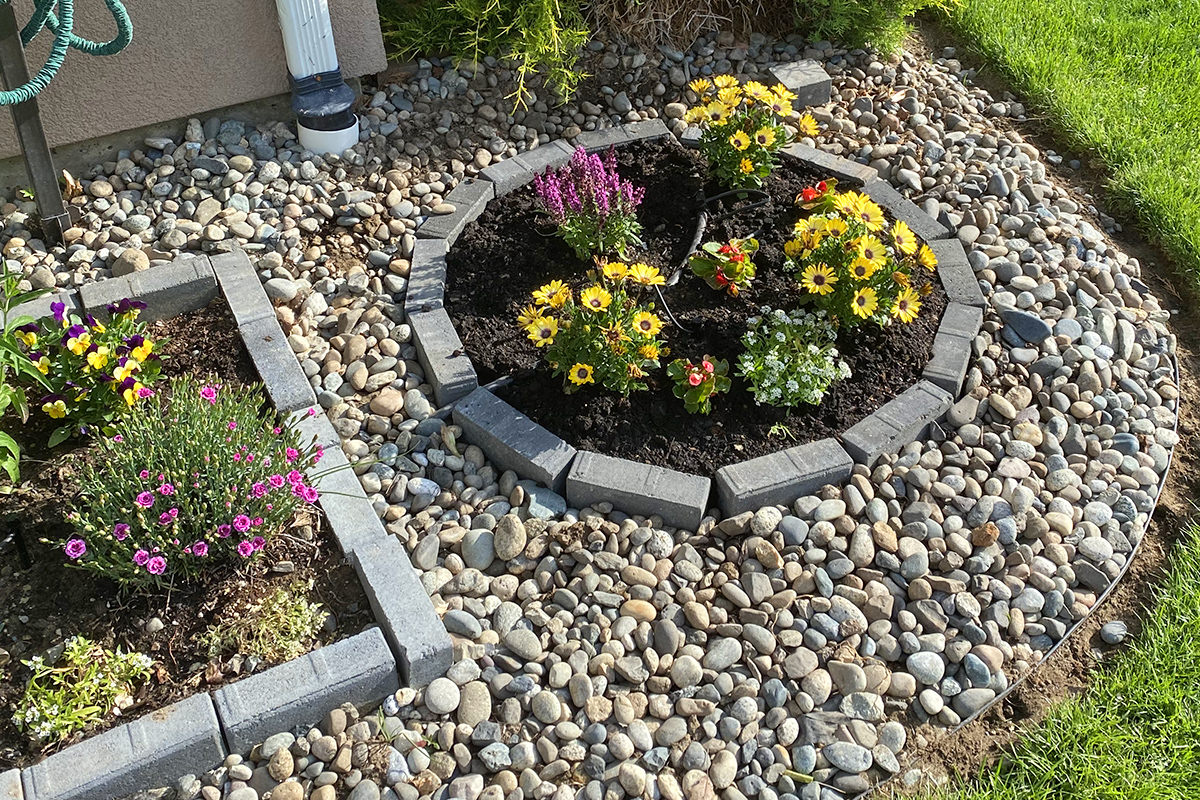 It will take a week or two of watering before I can tap the border bricks level and get them positioned correctly.
The purple thing in the back is supposed to get three feet tall, and so I tried to give it a little more space to grow. You can't tell from this photo because the lens is distorting things, but the rock border is equal in the front and the sides.
And so... I am done with flowers for the year.
Well, mostly done with flowers for the year. There are two of the plants that don't look to be surviving their relocation, so I'll probably have to replace them.
And then...
One of my favorite tech vloggers is Marques Brownlee. He has a clarity of focus and some really good insights which he presents flawlessly. In a time where there is just so much video out there, I regularly make the time to watch Brownlee's videos twice. Like this video on Apple's $700 wheels, which I just watched again before adding it here...
The more I delve into theories as to how Apple works, the more I can't help but appreciate how genius they are. Look at all the press and exposure they're getting... OVER WHEELS!
Serious genius.