I've finally reached my potato salad nirvana.
It's been a long road to get here. I've experimented with dozens of recipes and married that to the way my mom and grandma used to make it. My biggest breakthrough occurred when I didn't have any eggs so I decided to add small cubes of Dubliner Cheese as a substitute.
It was sublime.
Hard boiled eggs are squidgy and don't add any flavor that isn't already well-represented by the mayo. They also add a stink to the salad that's a bit off-putting.
This is my current recipe, and I think I'm done now because it's exactly where I want it to be and I've reproduced it a half-dozen times now...
1/2 cup Mayonnaise
1/2 cup Sour Cream
1/2 cup Purple Onion or Sweet Onion (chopped)
1/2 cup Dill Pickle Chips (chopped)
1/2 cup Dubliner or Sharp Cheddar Cheese (cubed small)
1 Tbs. Yellow Mustard
1 tsp. White Wine Vinegar
1 tsp. Ground Black Pepper
1/2 tsp. Johnny's Seasoning Salt
1/2 tsp. Celery Seed
Chopped Fresh Dill or Green Onion and Paprika (optional for garnish)
Mix above together and put in refrigerator to chill. Cook 1 package of Simply Potatoes dices in a mesh basket in an Instant Pot with 1-1/4 cup of water for 6 minutes, then quick-release. Put potatoes in the refrigerator to cool for 10-15 minutes. Fold potatoes into dressing mixture, then chill for 20 minutes or more before serving (I usually can't wait and end up eating it while still a bit warm, and it's delicious). Garnish with paprika (or, if you have it, smoked paprika) and chopped fresh dill or green onions sliced thin. Because I can't help myself I always add more little cubes of Dubliner on top. Sometimes I like crushed potato chips on top too!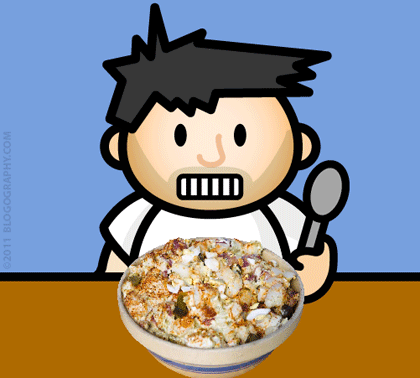 After refrigeration, the potatoes soak up a bit of the mayo and sour cream so things can get a little dry, I just stir in a tablespoon of mayo and everything is good again!
Enjoy!