I bought a SONOS One smart speaker with Alexa integration for my bedroom. I watch quite a bit of television while working in bed, and the poor speakers on my cheap Sony television make it difficult to hear some conversations unless I crank the volume way too high. The SONOS with its superb sound quality provided the perfect listening environment right out of the box.
When it worked.
The problem with the SONOS One is that there is no "line in" jack... so I had to connect my AppleTV to it via Apple's "AirPlay 2" technology. I have no idea who is at fault, but this was glitchy as hell, and I had all kinds of drop-outs and sound sync errors most every time I watched television. Even worse, at least twice a week I'd turn on the television and AppleTV would "forget" to play through the SONOS One, meaning I had to stop my show, go to the settings menu, switch the audio to AirPlay 2, then start my show again. Incredibly frustrating. Half the time I found myself just leaving it because I didn't want to be bothered with all the futzing around.
And so... I decided to investigate wired speakers. I could probably get a cheap one that was "good enough" for around $30, which seemed a small price to pay.
Around the time I was looking, Amazon released their 3rd Generation "Echo" device which, unlike the old Echo 1st Generation I have in my bathroom, has a 3.5mm line-in jack. This is in addition to improved speakers and sound. Problem was? It was $100. $70 more than I had to spend. Except... Amazon always puts their Echo devices on sale for Black Friday at really good prices. So I added it to my list of stuff to buy... then waited.
Sure enough, the price plummeted to $60. Double what I wanted to spend. But then I saw where I could trade-in my old Echo for $25... plus get a $15 discount for purchasing a new Echo with an Echo trade-in... bringing the net price of the Echo 3rd Gen. to $20? That's under my budget! SOLD!
The new speaker arrived yesterday and I set it up when I got home from work.
Or at least I tried to.
The speaker has a single 3.5mm audio jack that's both line-in and line-out... configurable via the Alexa app. But every time I tapped on the Audio AUX setting I got an error telling me that the page was unavailable...
I went to the Alexa web interface, but the one setting you can't configure from there? The audio AUX setting, of course! I wrote to Amazon for support and they eventually got back to me with an email when, naturally, the page then popped right up for me. And so... I now have an Alexa-enabled speaker for my television. Just like I always wanted!
The sound is pretty darn good for such a small speaker. Not SONOS-level good... not by a longshot... but better than I needed it to be, that's for sure. The cutaway render that Amazon provides shows how the speaker array is fitted in such a compact size (smaller than the SONOS, which means it's short enough to fit under my TV)...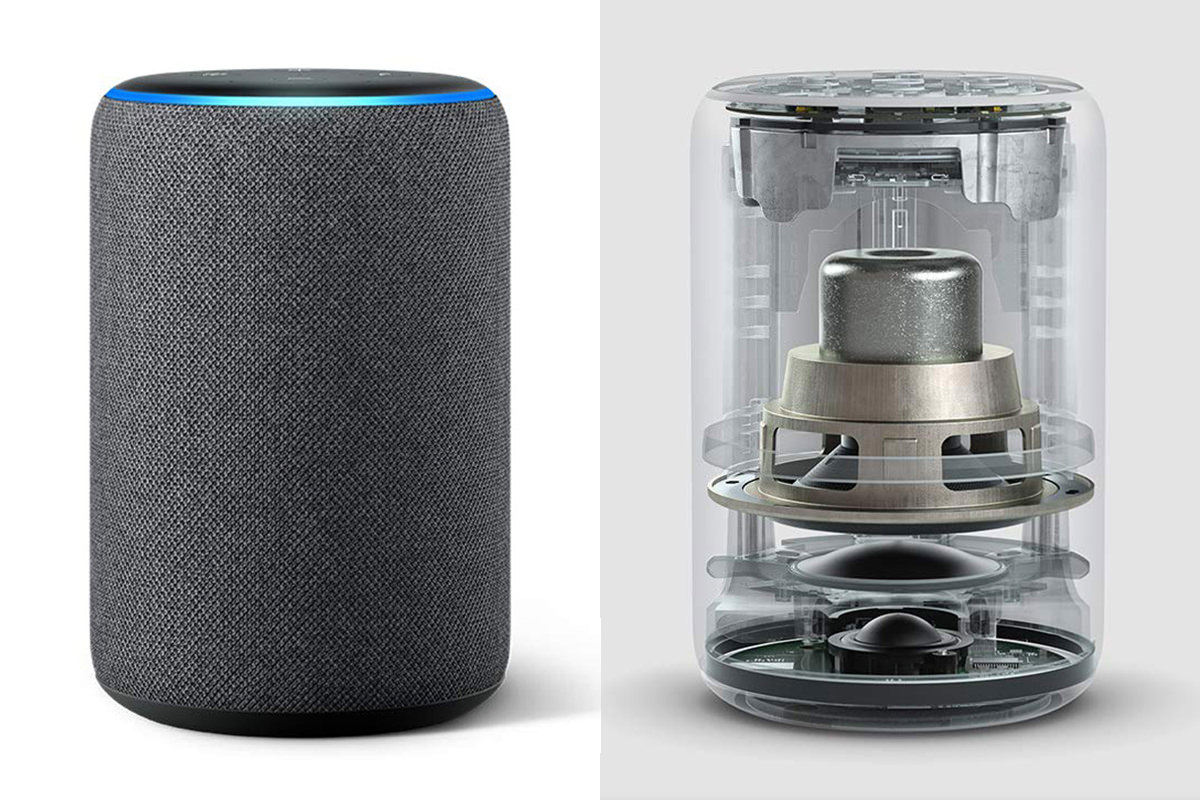 In the default, I found the midrange to be lacking. Fortunately that's an easy fix from the Alexa app. For television show conversations I got the best sound compromise from boosting the midrange a lot, the treble a little, and decreasing the bass a touch..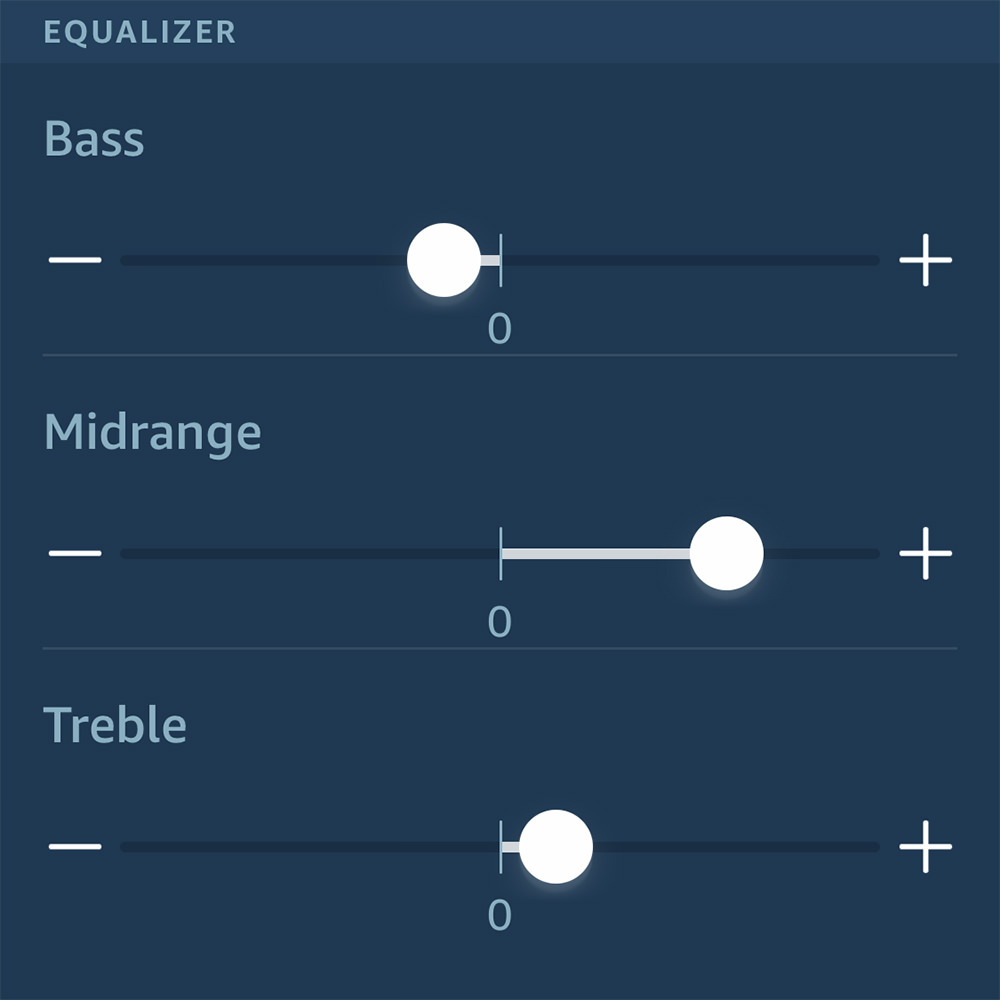 The sound is a bit "artificial"... I guess is the word I'm looking for? The SONOS unit has a warmth, brilliance and overall cohesiveness that just sounds better to me. This is not a big deal for television, but I absolutely prefer the sound of music on the SONOS as opposed to the Echo 3rd Gen. — No contest there at all. And yet, the Echo is perfectly good for music when viewed in its own right instead of comparing it to a speaker that's considerably more expensive (especially when I got it for $20 compared to the SONOS One $200!).
My SONOS One is now happily set up in my bathroom (where the original Echo was) so I can listen to a couple songs while I get ready in the morning. That's a huge bit of overkill in a small bathroom like mine, so I might relocate it to the upstairs hall where it can be enjoyed in the stairwell and guest bedroom as well.
So... overall, I'm pleased. $20 well-spent!
The new $38 AKASO dash cam Black Friday deal I ordered arrived as well (regular $66). Installation was tough compared to my original $20 dash cam because the cord was thicker. I had to dismantle panels instead of just poking the cable in a seam. Also? The cord was shorter as well. I barely had enough to get to my console cigarette lighter port (no idea how somebody with a big rig like a truck can have enough cord). This is a far cry from the extra two feet I had coiled in my glove box last time! And speaking of the cigarette lighter port, the plug on this camera was far nicer than the old one. Guess that's what the extra $18 gets you. Fits snug instead of wobbling and breaking connection like the old one. After installing I turned on the ignition and... IT MAKES THE EXACT SAME STARTUP SOUND AS MY CHEAP OLD UNIT! I can only guess this is because they are made by the same company, then a bunch of different manufacturers use the same component in each of their designs...
But the big deal here is the WiFi connectivity, meaning I can download footage directly to my iPhone instead of having to remove the tiny SD card, find the adapter for it, find the USB stick for that, then import through the photos app.
And yet... the WiFi connectivity is far from ideal.
First you have to push a button on the unit... then you have to switch the WiFi source on your iPhone to the WiFi for the unit... then start the app... then download. Ugh. I guess the truly easy connectivity options are in much pricier cameras.
Image quality is not stellar. But it's not tragic either. A little better than my old camera... though both were 1080p, so that could be a lens issue not a sensor issue. This unit has GPS but it's not as accurate as my phone and the satellite acquisition is sometimes longer than it should be.
My new dash cam is not nearly the bargain that my new Amazon Echo 3rd Gen. is... but at least I have something in my car. Thanks to distracted drivers, I'm terrified to drive out of my garage without a camera to prove that some idiot drifted into my lane and nailed me because they were playing Candy Crush or eating spaghetti or texting their kids or whatever. Thanks to today's idiot culture, they would likely blame me for their mistake if I didn't have proof.
Until Black Friday 2020, stay frosty.