Home again.
Last night after experiencing Avengers: Damage Control, Kyle and I went to an amazing Cuban restaurant in southern Minneapolis. It was a tiny place, but had a big heart which contained by lovely graffiti-strewn walls...
My iPhone's "Night Mode" came in real handy when trying to read them...
My dinner was a vegetarian plate. Seasoned black beans with rice... a Cuban slaw... sweet plantains... and, of course, yuca frita!
Kyle had a shrimp dish that was worthy of an umbrella!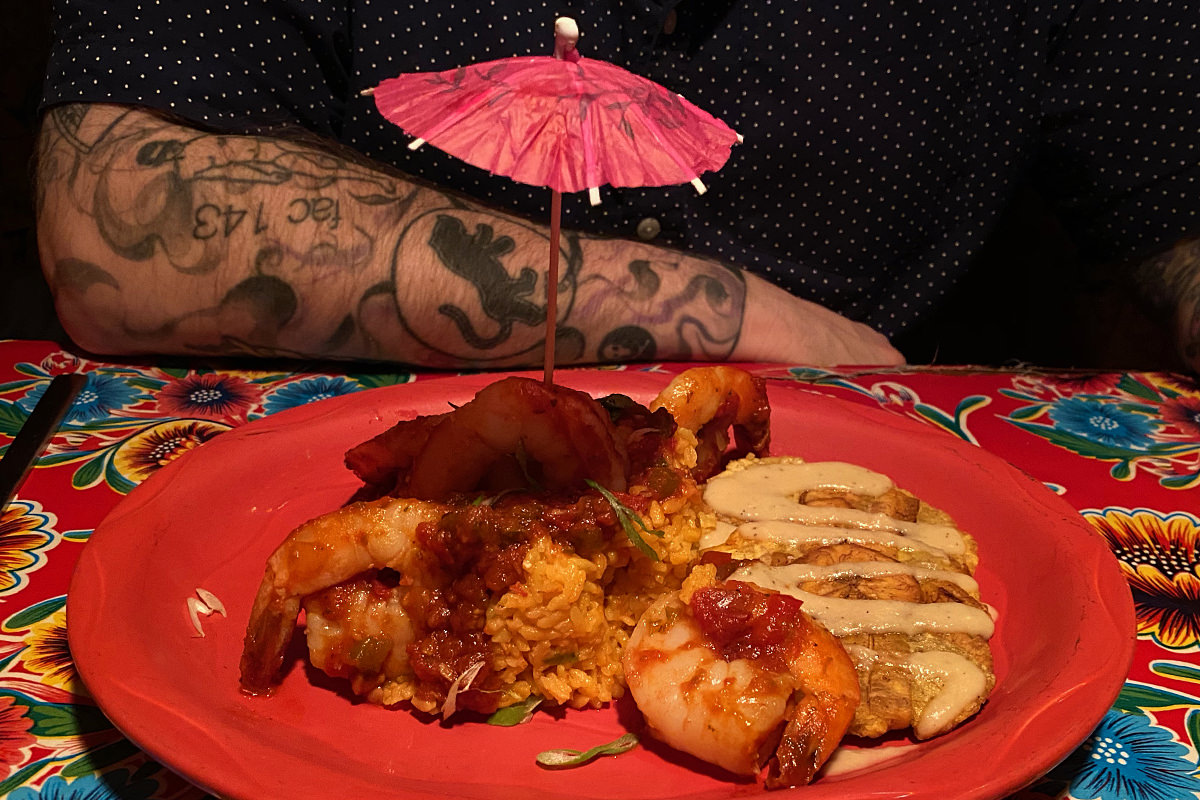 I had to be up and getting ready at 4:30am, so it was an early night for me.
Once my hotel shuttle had deposited me at MSP, I started looking for a breakfast snack. Surprisingly, not much was open at 5:00am. But eventually I ran across Dunkin Donuts which, much to my surprise, had BOTH a veggie option AND Coke Zero! They were using Beyond Sausage on a muffin with egg and cheese. It was fantastic! I wish more restaurants would offer this kind of thing...
Burger King is having one of its best quarters ever thanks to their vegetarian Impossible Whopper causing a surge of 10% in sales. And it's easy to see why. It tastes fantastic. Probably due in part to the fact that it's cooked with real meat products, which I'm fine with because Burger King didn't have to kill any animals for what I'm eating. Apparently McDonald's is working on their own vegetarian burger. Which is kind of silly when the McVeggie Deluxe they once offered at their Times Square location was amazing and they could just do that.
I am genuinely excited to see vegetarian options being adopted like this. They don't always work for my tastes (Qdoba has the Impossible Fajita Burrito which tastes "off" to me) but the fact that I can go to so many restaurants and at least have something I can eat is fantastic. I wish it wasn't made more expensive than the meat options (thanks government subsidies!), but I'll gladly pay a premium if it's something I like. Most places the Impossible Whopper is just $1 more than a regular Whopper... worth every penny, and Burger King gets my business.
Anyway... before I knew it I was back at SeaTac which wouldn't be SeaTac if at least one thing I needed to use wasn't busted to shit...
The drive home was uneventful (thankfully) and here I am hanging with my cats for an hour before going into work at noon. They are, needless to say, happy to have me home.
If, for no other reason, that the heat will no longer be on "Away Mode."