Ugh. Where do I even start?
Bad enough that I didn't get to relax this past weekend. Bad enough that the Fall Harvest movie marathon on Hallmark are all movies I've already seen. Bad enough I have to put up with shitty people trotting out "HAPPY COLUMBUS DAY!" not because they care about Christopher Columbus, but because they want to piss off people who know the brutal truth: the guy was a mass-murdering psychopath, sadistic butcherer, serial enslaver, and overall fucking horrendous bastard who didn't "discover" jack-shit.
And, oh yeah, bad enough that I didn't get much sleep last night.
But that was just a warm-up for what was to follow...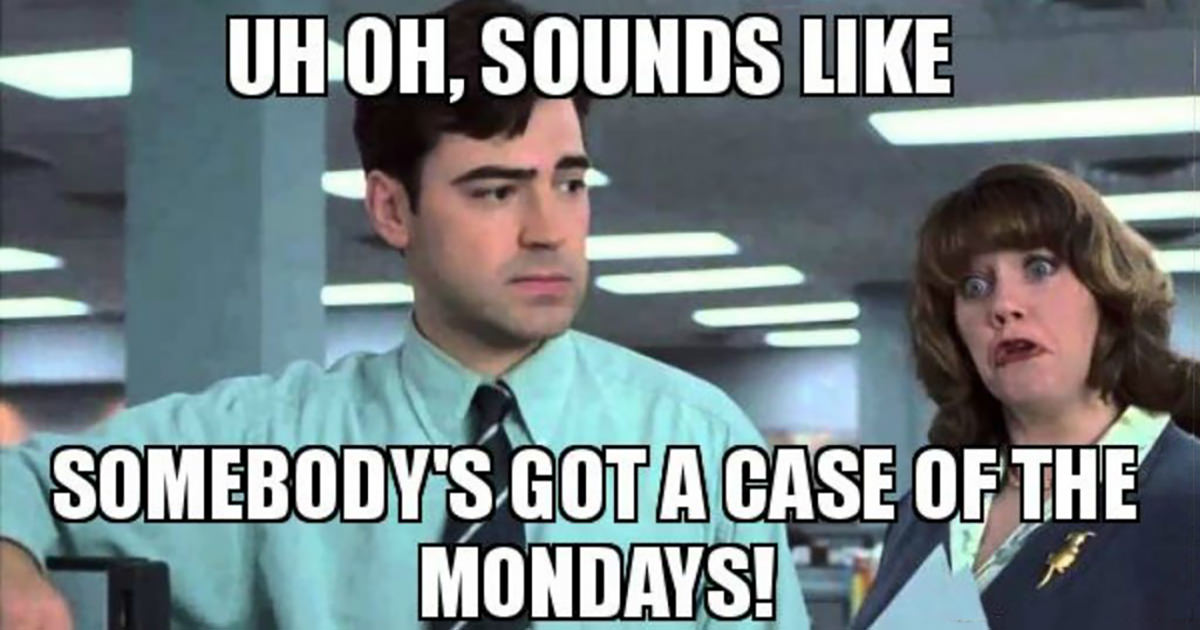 Here's my Monday morning, assuming you care to read about my series of misfortunate events...
At 7:00 I got up and fed my very anxious cats. This is the last good thing that would happen this morning.
Caught up on Facebook for 15 minutes before starting my morning routine. There was a nasty reply left on a comment I made, but I let it go. Life is too short for Facebook shenanigans.
Had my beard trimmer battery die half-way through grooming my face. It won't work while plugged in for some reason, so I had to plug it in before hopping in the shower only half-groomed.
Forgot that I used the last of my bar of soap after I've already shampooed my head. Use shampoo for the rest of my body (as an aside, Aveda Rosemary Mint Shampoo makes your balls feel fresher than they've ever been!).
Trimmer still dead. Climb on Facebook for ten minutes until I have enough charge to finish my face. Another two people have jumped on the bandwagon calling me nasty names. ALL I SAID IS THAT EVERYBODY WOULD BE A LOT BETTER OFF IF WE STOPPED FINDING NEW WAYS TO HATE TO EACH OTHER! But apparently they're happier when denying LGBTQ persons basic human rights.
At 7:45 I go downstairs to take the trash out. Now that it's dark out so early, I wait until mornings instead of at night after cleaning up from dinner. I very nearly step in what I'm assuming is cat puke.
Worried something is wrong with Fake Jake, I run to the security cameras and can't get a good enough look to know if it's him or not. I adjust the security camera to a better angle, then go looking for him. When I find him in the back yard, he looks okay. He's so happy to see me that he scratches my hand wide open.
I go to hose the cat vomit off my sidewalk when I see that the hoses I connected together are leaking (when I repaired the holes where my DirecTV dish was, I had to use a double-hose to reach). I let go of the spray-trigger, go to screw the hoses together tighter, then realize that's not the problem. One of the hoses is split. I turn the hose to see how bad it is only to have it bust wide open. The highly pressurized water blows into my flower bed, which ends up throwing dirt and water all over me.
I decouple the hoses, toss the bad hose, then hook the spray-trigger on the good hose. Turns out the spray-trigger is now cracked and leaking water. But at least I managed to clean off the vomit AND hose myself down so I don't track dirt in my home.
I take another shower. Of course I didn't remember that I forgot to put soap in the shower, so Aveda Rosemary Mint Shampoo is once again delighting my balls.
After throwing my soiled clothes in the wash... AND CLEANING UP THE WATER I DRIPPED EVERYWHERE WHILE CARRYING THEM TO THE LAUNDRY ROOM... I decide to have some toast before heading into work. When I open the refrigerator to get the butter, I see that the bottom has blown out of my sourdough starter jar and it's leaking everywhere.
It was a clean break on the jar and I have plenty of starter left that's salvageable, so bread in my future is assured. I strain everything through a fine strainer to be sure there's no glass fragments, then start cleaning up the disgusting mess in my fridge. When I get to the bottom shelf, I see that I have no Coke Zero left, and I really need a Coke after all I've been through. I do have beer, however...
After spending 20 minutes cleaning, I see that I have smeared starter on my shirt. And why not? Doesn't everybody go through three shirts in the morning?
I pack up my stuff, feed the cats a treat, then head out the door. Half-way to work, I remember that I left my work drive at home. I go back to get it and OF COURSE Jake and Jenny forgot that they just got a treat 5 minutes earlier! They want another one! And because I'm too tired to argue with cats, I just give it to them.
I pull into work and see that one of my wheel covers has broken. No idea how or when it happened. Probably when I got my snow tires put on and I am only just now noticing.
I walk into work a half-hour late. Yay.
Guess these jars aren't as tough as they look. I didn't even close the lid tightly...

And if you think that this was the end of my Monday woes, I got news for you... it wasn't. Now that it's getting colder, I am getting more and more worried about Fake Jake, who isn't as young as he used to be. I worry that the cold might be harder on him as he ages, so I've been trying to find a door for the igloo shelters I put up for him... thinking it might keep more heat inside. Alas, I haven't been able to find any, even though the shelter has holes drilled for one. This morning I finally got a reply from the company who makes it...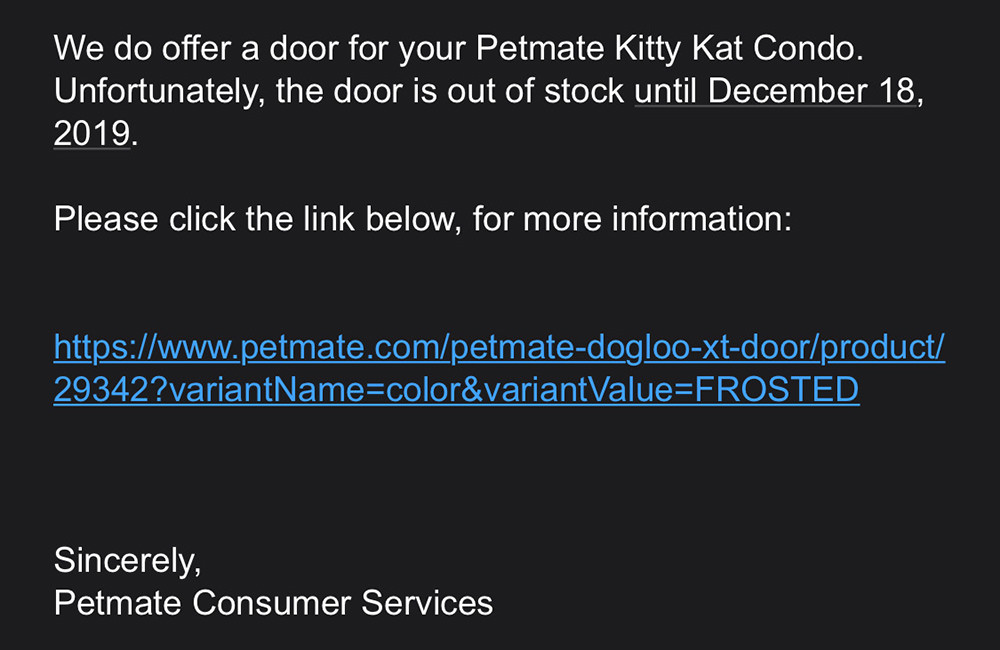 Wait... FROSTED?!? Surely they offer a flap in CLEAR, right? Alas, nope. So I wrote back...
Thank you for your reply. I am, however, dumbfounded that the only door flap you make for the Kitty Kat Condo is FROSTED! It's already hard enough to get a cat to go into a shelter with only one exit because cats don't like to feel trapped. The only thing that makes it tolerable is that they can look outside if they hear something out there. Your door flap being opaque makes this impossible, and has me wondering why anybody would buy it when a frosted flap will just make cats reluctant to go into the shelter in the first place! Oh well. Guess I get to try and make something myself.
I suppose I know what my next project with be when I finally get some free time. Assuming I manage to get some free time.
And keep in mind that all this happened before I started work! The rest of my day was shaping up to be no picnic, I tell you what.
Lastly, just because people apparently need a fucking reminder...
And that's a sanitized version of all the sociopathic shit he did.
Happy Indigenous Peoples Day, everybody.