As I previously mentioned, the organization I work with keeps insisting that I have my measles vaccination verified. Given the way the disease has come roaring back, they don't want us volunteers ending up with it while we're out trying to do good. Since I very much don't want to get measles at this stage of my life, I'm all for it.
So I got my childhood health records together and asked my doctor if I needed to worry. He suggested a measles titer test which will check for antibodies in my blood. Cool.
Yesterday afternoon I dropped by the clinic to get a cost for the test in case my insurance won't cover it (I was told by the charity it may be as high as $60). After I make my request they have to run and get billing codes (5 minutes) then I have to take a seat while they figure out how to bill it out (10 minutes). They then hand me the quote and it's THREE HUNDRED AND SEVENTY-FIVE FUCKING DOLLARS!
So I call my insurance and ask how much of that will be covered. They won't even speak to me unless I have a "diagnosis code" and an "NPI code." So while I'm waiting for my tires to be changed, I go online to see if there's a testing lab nearby that might be cheaper. Google presents an ad for a $12.95 test...


So when I message my doctor and ask for the two codes my insurance is wanting... I also ask if he thinks that a $13 online test would be accurate. He said "The online tests are accurate and if you can get that done for $13 I'd do that."
And so I did.
There's an $8 blood draw fee I have to pay... and there's no draw center near me. But there's one near the airport in Seattle for when I fly out next week, so no big deal...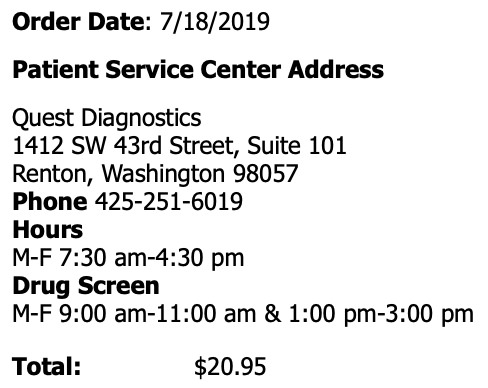 And there you have it. The test is going to cost me $20.95, which means that the actual cost of the test is probably around $10 or less. Which means that my local clinic has a minimum $365.56 markup on it. And I believe this calculates out to a THREE THOUSAND SEVEN HUNDRED AND FIFTY-FIVE PERCENT MARKUP!
And it's shit like this that makes my blood boil when it comes to the American "health care" system.
Our health... our very lives... are not in the hands of doctors any more. They're in the hands of insurance companies. Hospitals have to charge insanely high prices to cover the shitload of costs involved in getting their money out of insurance companies... and then add cost on top of that because they know that insurance companies are so powerful that they'll never agree to pay for the full amount it costs the hospital. If hospitals don't charge a shit-ton of money, they'll end up losing money.
Health insurance companies are massively, massively profitable. They are so profitable that they are able to spend billions buying off our politicians to keep our "health care" in the incredibly broken state it's in now... and has been in for a very long time.
So if you're saying to yourself... "Wow. Sounds like if we'd just eliminate health insurance companies and have hospitals bill patients directly for the actual fucking cost of what they do, we'd all be better off! And that's a fair assessment. Except if you end up with a health crisis that's so incredibly expensive that even fair direct pricing is more than you can afford. Hence insurance can be a good thing.
And yet...
The U.S. spends more on healthcare than any other country — but not with better health outcomes.
And it's the fucking monsters at our insurance companies that took us there.
In the case of my measles antibodies test, I am grateful that I have options. Far, far, far more affordable options. But my next health-related expense likely won't have many options. Possibly even zero options. And, even though I have health insurance now, I could still end up bankrupted if the problem was serious enough. Because health insurance company profits must be protected at all costs, after all.
And what if I end up losing my health insurance one day? What then?
It's questions like this which have me advocating for a single-payer health care system. Despite the lies we're told, it works well for many other countries. Countries which have health care rated better than ours. And I am done buying the lies of politicians who would tell us otherwise when their asses are bought and paid for by insurance company lobbyists...
Australia
Austria
Bahrain
Belgium
Brunei
Canada
Cyprus
Denmark
Finland
France
Germany
Greece
Hong Kong
Iceland
Ireland
Israel
Italy
Japan
Kuwait
Luxembourg
Netherlands
New Zealand
Norway
Portugal
Singapore
Solvenia
South Korea
Spain
Sweden
Switzerland
United Arab Emirates
United Kingdom
Our health care system IS shit. And getting worse. But we don't seem to want it fixed badly enough to do anything about it, so we get what we deserve.
And for some of us... that's a preventable death because we aren't profitable enough to live.
UPDATE: Oh here we go. This is from the UK side of the issue, but it has a scathing commentary on the lies which are being forced on Americans. Thanks to Jan for the video link...