It's the little things that tear you apart, you know?
Last night I headed to bed around 10:00pm. That's earlier than usual, but I'm on the Left Coast trying to adjust to Eastern Daylight Time before I head to the Right Coast.
My plans were thwarted as I was falling asleep around 11:00pm because I noticed there was no glow coming from my comic book storage closet*. This is where Jake and Jenny like to hide out, so I wanted to make sure that I replaced the nightlight before I fell asleep and forgot. Otherwise it's pitch black in there, and even cats with their awesome eyesight need some light to function.
So I headed downstairs to the hutch drawer where I keep the batteries and small lightbulbs to see if I had something.
I did.
Right next to the pile of lightbulbs I bought for my mom's nightstand lamp.
As she started sliding deeper and deeper into dementia, trying to keep everything exactly the same from day to day became a full-time job. But it's something I had to do because even small changes could result in confusion that would spiral out of control. One minute her blanket isn't on her bed where she expected it to be... the next minute she's in a full-blown panic thinking that she "left it at the lake" (wherever or whatever that was).
One of the worst nights came when the bulb for her weird nightstand light burned out. It was weird because it was meant to look like an oil lamp with a chimney, but it had a second light in the base where the "oil" was supposed to go. Depending on how many times you rotated the switch, it would illuminate the upper light, the lower light, or both lights.
When things first started to go wrong she began insisting that the upper light always be on while she's sleeping. I think she felt safer that way. You can see her lamp in this great photo I took of Spanky laying on top of her while she slept...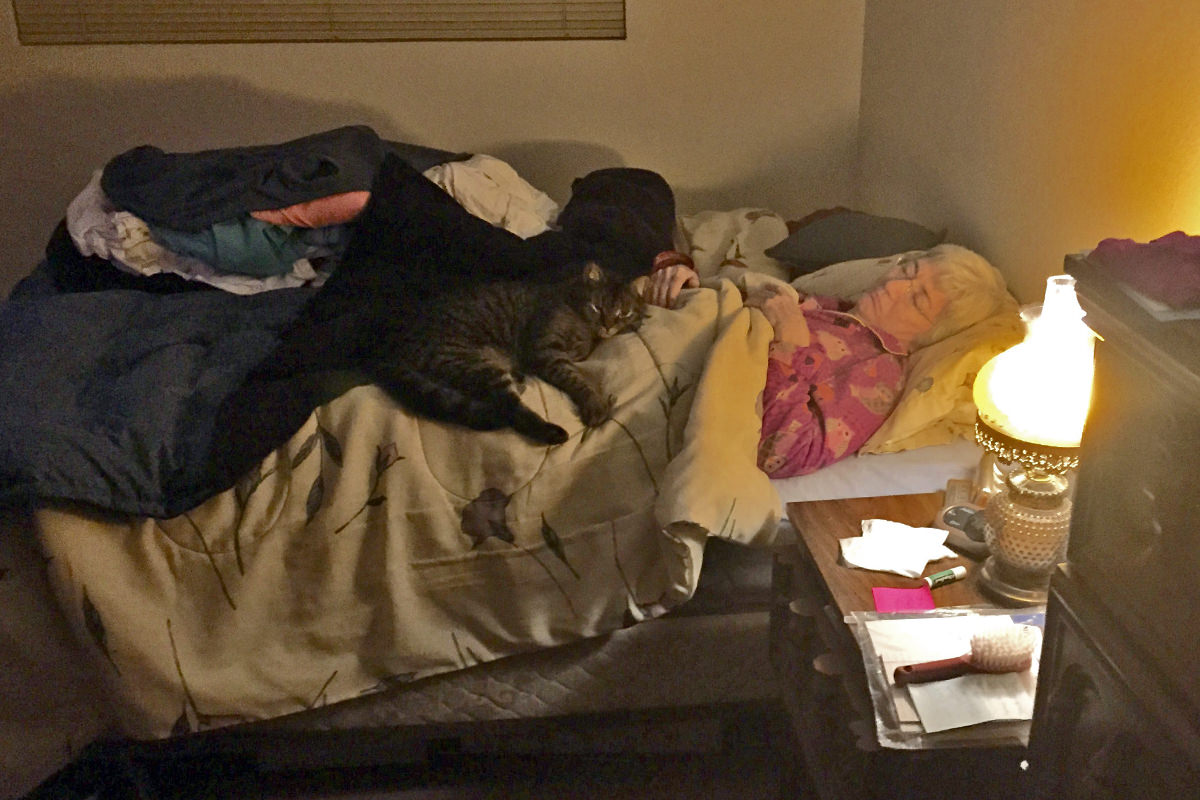 The lamp was small, top-heavy, and prone to being knocked over. I spent a lot of time worrying that she would knock it off her nightstand and break it. The fallout from that disaster would have been catastrophic. I'm not sure where she got the thing, but probably from her mom, and so I'm sure she would notice if it went missing.
One night as I was getting mom ready for bed, I went to turn on the upper lamp and it wouldn't turn on. The weaker bottom light wasn't acceptable, so I had her get dressed so we could go to the grocery store for a replacement bulb. Unfortunately they didn't have the right bulb (it was small and round and weird... just like the lamp itself). Once we got back home I tried explaining that we would have to wait until morning to get a new bulb.
Complete and total meltdown.
She thought somebody broke into her room and stole her lightbulb. This made her inconsolable because she thought they were going to come back and kidnap her. Then she wanted to go to her parent's house (long since gone) because she was convinced that people were going to break into her room and kill her. She was screaming for the police. It... was... awful. Eventually I took her out to the living room and had her watch television until she fell asleep.
The next morning before work I packed her up and took her to Home Depot for a new bulb. They had one left. Not wanting to go through this ever again, I went home and ordered four more from Amazon.
Then something weird started happening. Bulbs that were lasting years were suddenly lasting just a couple months. Not knowing what was going on, I ordered three more bulbs from Amazon. Better safe than sorry.
Eventually I caught her taking the bulb out of the lamp, smacking it repeatedly on the nightstand, then putting it back in. At that point she started having trouble using a fork, so I have no idea how in the heck she managed to disassemble the lamp (which had multiple pieces to it)... let alone put it back together again. Like so many things at the time, it made no sense.
When I asked her what she was doing, she told me that she was "fixing it" because the bulb was too bright and hurting her eyes.
Well, crap.
The weaker bottom light still wasn't bright enough for her, so I ordered a bunch of different bulbs in the hopes that one of them would be a little less luminous...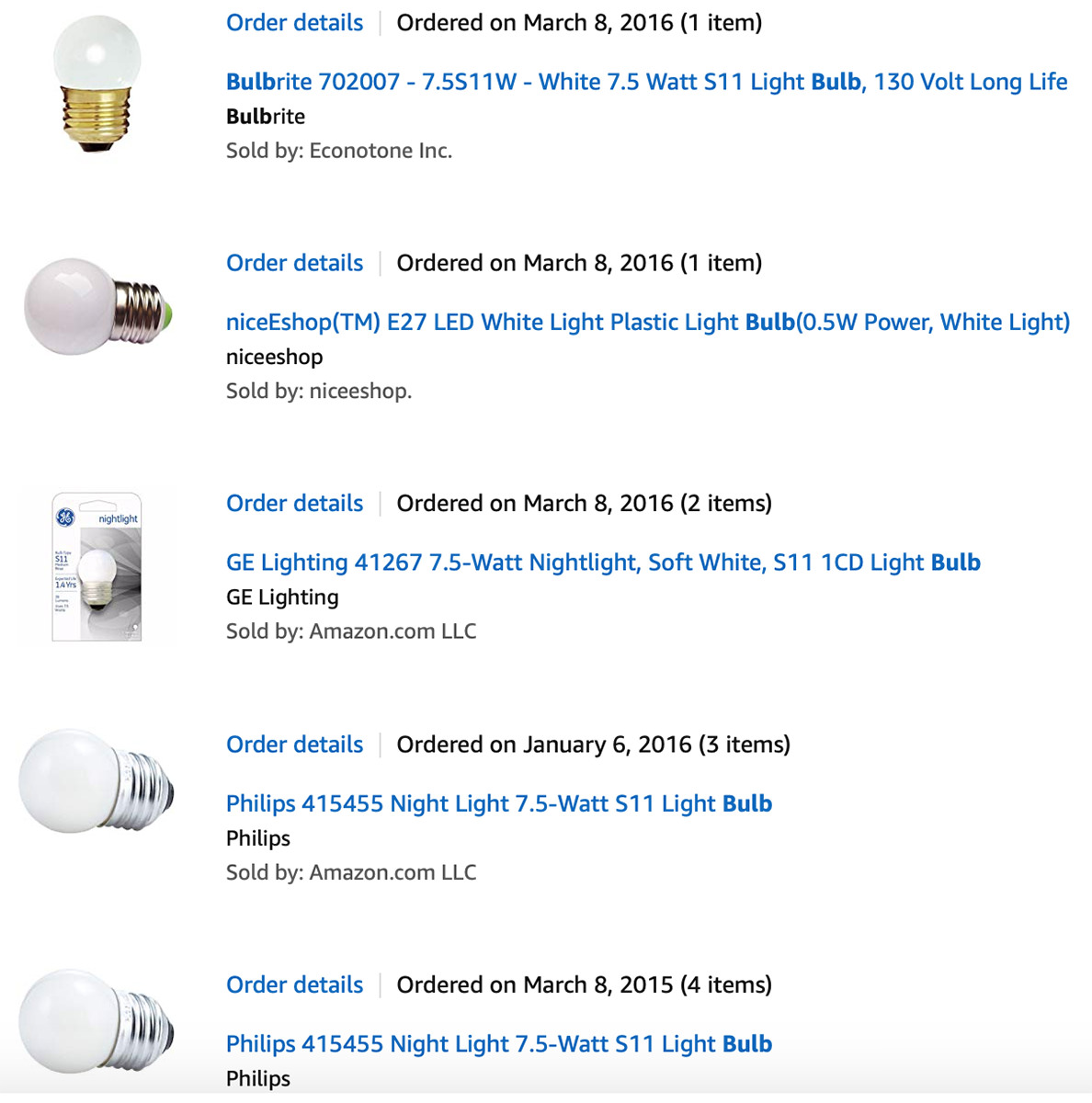 Turns out it was these weird plastic bulbs from Korea that she wanted, so I ordered a pile of them.
• • •
Once I had moved my mom to a memory care facility over the mountains and was able to accept that she was never coming home, I started getting rid of everything in her bedroom. I hired a junk hauler to take away her dresser, her chest-of-drawers, her nightstand, her shelves, her bed, her mattress... everything. I didn't want the reminder. I didn't want to spend weeks trying to sell or donate it. I just wanted it gone.
As for that stupid lamp?
I threw it in the trash and smashed it to pieces with a hammer.
The lamp had become a symbol of all the horrors my mom had to endure way too soon in life, and I thought it would be therapeutic if I were to take out my anger and frustration over her fate by destroying it. This didn't end up making me me feel better about anything, of course. And it would be just my luck that it was some kind of heirloom worth thousands of dollars. But I didn't care then. I don't care now.
Apparently I never threw out all those bulbs I bought though.
And so here they are haunting me.
Like all the things in my life that remind me of her.
Which is pretty much everything, I think.
• • •

*My house is strange. It essentially has two primary bedrooms. The one on the main floor was for my mom and is now a guest room. It's big, has a massive picture window, a bigger closet, and a changing area. Upstairs there's a small bedroom (which my cats have claimed) with a regular closet... and a larger bedroom (mine) with a regular closet and a large storage closet behind the regular closet. That's where I keep my worthless comic book collection in case I ever want to read them again one day...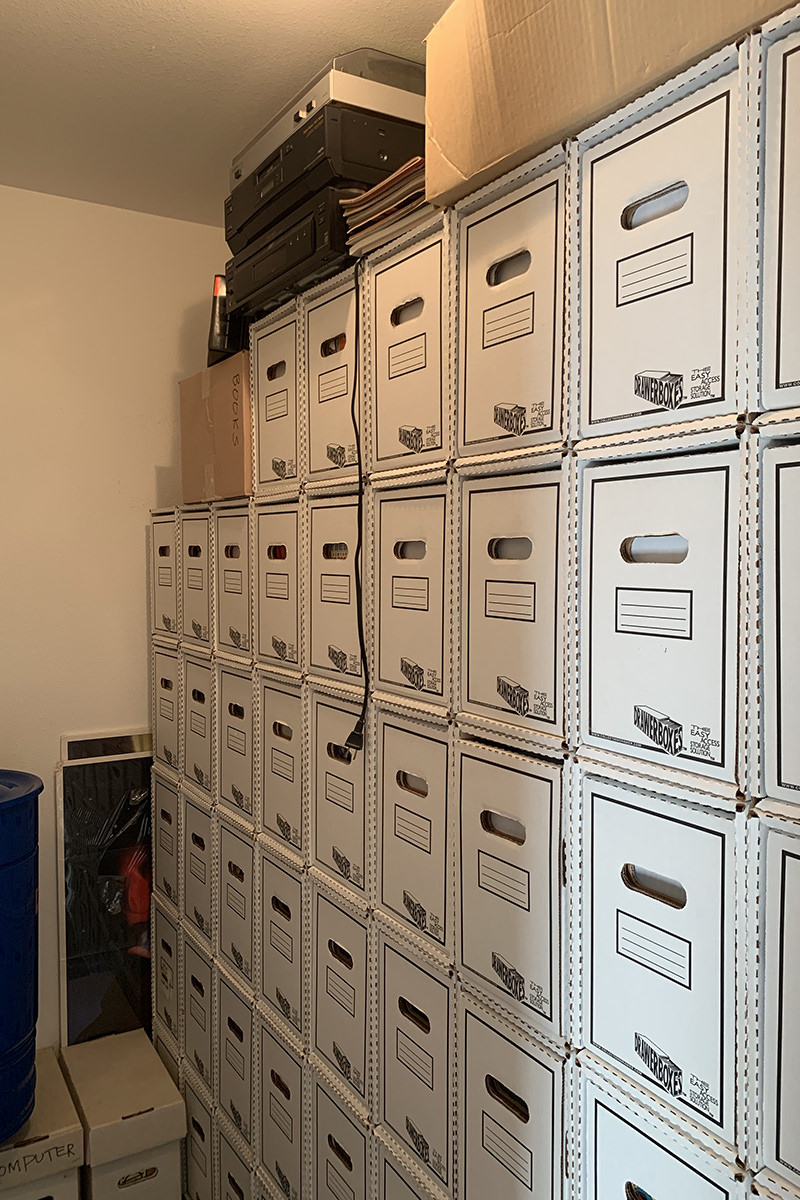 When my kittens were brave enough to come out from underneath the couch after a few weeks, I tried to keep them from going upstairs by blocking off the stairwell. I was not successful. Eventually they had explored every nook and cranny in my home, including the comic book closet (which I keep open all the time because I don't want the paper smell to accumulate).
This quickly became their favorite hiding spot, and remains so to this day. Whenever I have company over, this is where Jake and Jenny are at.
They hop on the vacuum canister, then leap up onto the stacks at the end, then hide behind all the stuff I've got stacked up on the very top (my stereo and old photography stuff). They love it there, even though it gets way too warm in the summer.
I should probably start calling it "the cat closet" instead of the comic book closet.