Hey!
Have you heard?
The latest issue of Thrice Fiction has been released! And you can read it online (or download it as a PDF) absolutely FREE! To see a bunch cool stories and terrific art for the bargain price of free-fitty-free, just click here and enjoy!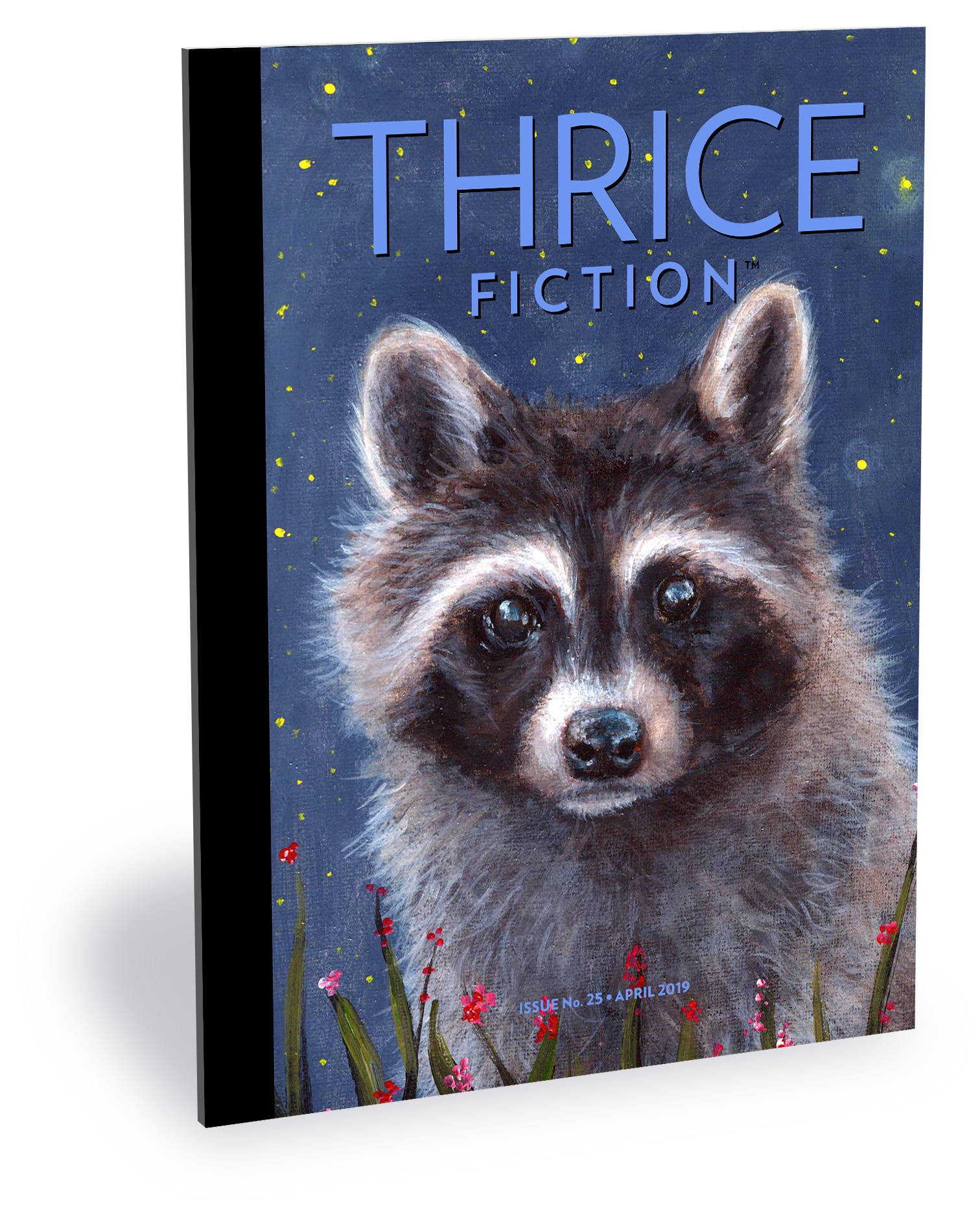 This issue's cover features our raccoon mascot and was lovingly painted by the ever-talented Kyra Wilson!
As always, I'm going to take a minute to talk about the art that I created for the issue. This may involve spoilers, so it's probably best that you read it before proceeding!
Alright?
Alright!
The first piece I created is for the story Convenience by Gregory Wolos. In the story a couple loses their dog "Bark" and all they have left is his collar. Since this happens almost immediately in the story, I didn't think it would be spoiling anything to use that in the image...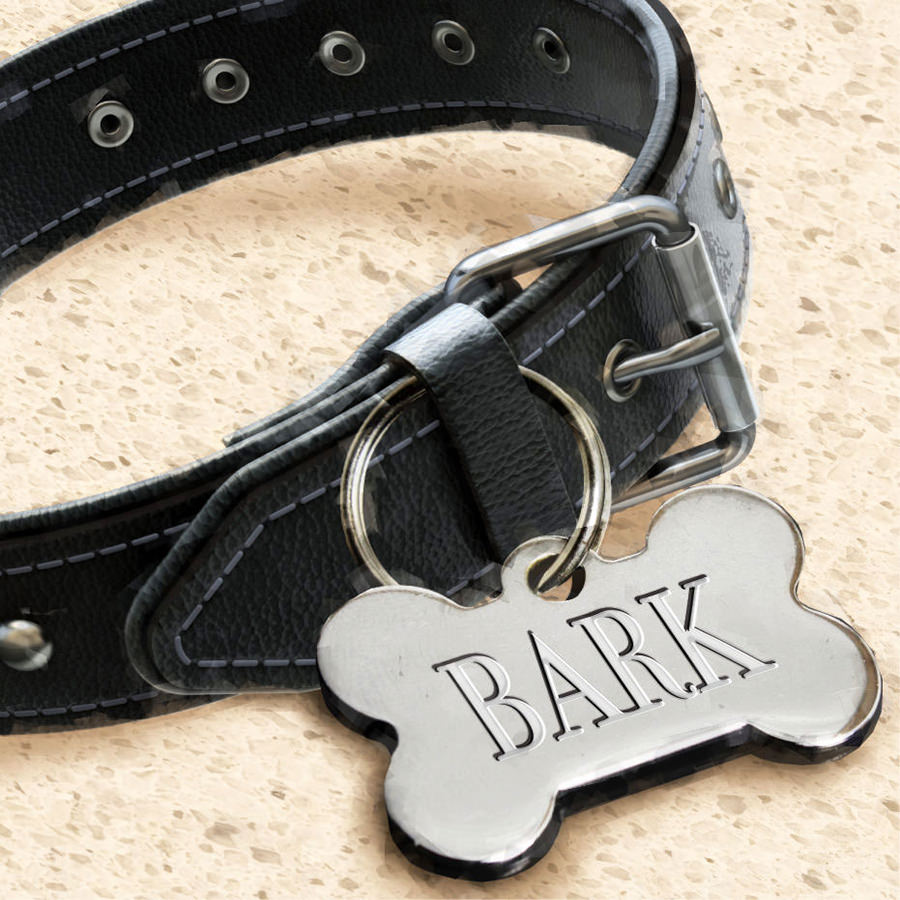 This is a stock photo of a collar that I combined with a stock photo of a name tag (which I had to erase then "engrave" myself) that I then Photoshopped on a formica countertop stock photo so I could add shadows. My goal was to have something look fairly realistic so that it reflected the very real stuff going on in the story.

This next piece for the story Last Wednesday by Djanaina Salamon was not something I felt that I should take on myself. It specifically speaks to experiences of a Black woman, and I felt if needed that voice for the accompanying artwork. I tracked down an artist that was a good fit, but it fell through. I tried to get a replacement, but that fell through. And so... the night before we went to press... I pulled out my laptop to paint something myself...
I used Adobe Illustrator and the brush pallet to "finger-paint" the image, which I wanted to look a bit raw and abstract... but still capture a sense of beauty. The idea here is that she's burning with righteous fury over the microaggressions and other daily injustices that would probably drive a white person insane if we experienced even a fraction of it. I didn't want the fire to be actual fire... that just reads as "anger" to me. I wanted it to appear "holy," in a sense, so that it could be interpreted as "righteous." So I decided to make it silver. I also decided to make it be more of a "glow" than wild flames, so it didn't seem like the woman was out of control. There had to be an internal strength there. Originally, her hair was much shorter... but then I got the idea to make an afro which was a perfect circle, like a halo around her head. In the end, I'm happy with the illustration... but I still struggle as to whether it was appropriate for a white guy to try and interpret something he will never have to experience. I really wish I could have found an artist better suited. But I was my only option if we wanted to make deadline. Such is the life of an art director.

For the story Away, Away by past Thrice Fiction contributor MaryAnne Kolton, I wanted to come up with something which illustrated what I perceived to be the essence of the story. It's the story of a woman thought of as weak and inconsequential by her abusive husband... a "dead fish" as he refers to her... who has to find the strength to do the unthinkable...
MaryAnne was specific as to the firearm used in the story... a Phoenix Arms Semi-Automatic Pistol... and I wanted to be accurate in my illustration. A stock photo of a dead fish was easy to find. But I couldn't find the right pistol at the right angle which could be used. So I called my brother, who works at a gun shop in Montana to see if he could help me out. He didn't have one. But a friend of his happened to walk in that did have one, so I had him prop it up against something of fish-height and send me a photo. I then composited them in Photoshop, painted over everything (being sure that "Phoenix Arms" was visible), adjusted the colors to be almost monotone and bleak, then ran it through some filters until I had what I was looking for.

Ali Azar's story A Drifted Sorrowful Soul was dense with imagery I could pull from... but I couldn't get the idea of a young Iranian boy being inundated with images from the television out of my head. At first I was just going to illustrate it like out of a children's book. But I bristled at the idea of taking such a serious subject and reducing it to a kiddie illustration, so I took my drawing and cut out textures as shapes that I could paste over it...
Every piece of the illustration is a texture except the Iranian flag, which is the real deal (but not really, because you can't see the center identifying mark). As you can imagine, this took a long, long time to construct. But the result is what I was looking for so I guess it's worth it. Kinda childlike... but "real" in the sense that the textures are all real.

For Paul Beckmans awesome bit of flash, it was critical to not give the ending away, which is what makes it so great. So I grabbed an image from the front-end of the story of a running dog and used that. In order to throw readers off balance and make it so they couldn't possibly guess what the story was about, yet be compelled to read it so they could understand what was going on in the picture, I intentionally drew something goofy and simplistic...
I then added old-fashioned halftone dots to the image to make it look like something out of a comic book. For no other reason than I love the story and the illustration I came up with amuses me, this is my favorite work in this issue.

For the cross-spread story of Larry, Said a Voice from Inside by Frank Candeloro, I knew exactly what I wanted to draw. The thing that sets everything in motion... a dying cellphone battery...
To match the previous page, I rendered it in the exact same style. Nothing round. All angles. Despite the simplicity, I love how it turned out.

And there you have my artistic contributions to Issue No. 25 of Thrice Fiction Magazine. If you haven't already, please do check it out... it's FREE, after all.