I am beyond exhausted. Taking care of Jake as he recovers from his fall is a full-time job. A big chunk of my day is spent trying to make sure he doesn't have to exert himself. Whenever I see him hobble up to something and look like he's going to jump up, I go running to lift him up instead.
Day and night.
When what I really need to be doing is working.
Though today I did end up taking time to make some greasy pub fries, which are my favorite thing to eat right now. Last week I documented my efforts so I could blog about it, but then travel happened and Jake happened, so I never got around to it.
Anyway...
I Love fries.
Problem is that here in the USA they usually suck. Either they're undercooked and not crispy... or they've been sitting for too long... or they have no flavor... or they're entirely too salty. Way too many things go wrong, and they usually do.
My favorite fries are from the Netherlands. They really know how to cook a potato! Most places in Europe do. And they're usually cooked-to-order, so they always taste their best.
But here? Not so much. And so... last Summer I started making my own fries. Here's what I've found makes the best fries after dozens of batches and months of trial and error...
Russet potatoes. Nothing cooks up like them. No other potato I've tried works as well. And I've tried a LOT of potatoes.
After slicing, a vigorous rinse in cold water is essential. Agitate them with your hands as the water runs over them.
Soak for three hours in ice water in the refrigerator. Most recipes say overnight. I found no benefit to that, and three hours is perfect...
Fry in small batches so the oil doesn't cool off too much when you add the potatoes.
When you pre-fry for 5 minutes at 300°, USE A THERMOMETER TO CONFIRM 300°! Any hotter and you will brown them, which is bad. After blanching, drain on brown paper bags (preferred because they don't sick as bad) or paper towels in an oven set no higher than 300°...
Increase temperature of the oil to minimum 375°. Though 400° is better if your fryer can go that high. Cook until desired golden brown. I prefer a dark golden because the flavor is better...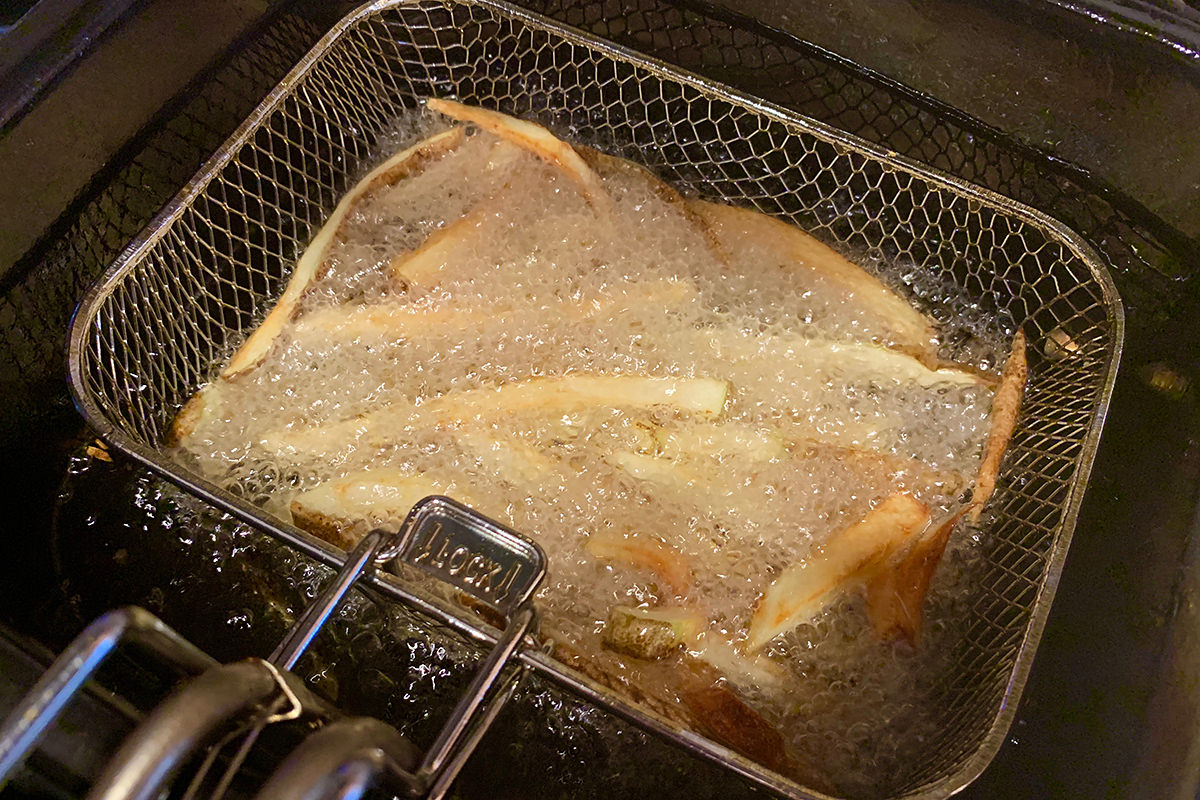 Salt and pepper are essential. A dash of paprika is nice. BUT DON'T OVER-SEASON! You don't want to kill the flavor of the potato! If you like a spicier fry, use seasoning salt or hot pepper salt. But, again, don't over-season! The potato flavor will be buried...
With the skins on, the flavor is so nice that you don't really need sauce... but mayo/ketchup is great!
You need more potatoes than you think. Two large russets per person. Or three if you are having me over to dinner.
Enjoy!
As for oil... I just use the cheapest vegetable oil I can find. I cook with it 3 or 4 times until the refuse accumulation is too high. They recommend that you dispose of the oil in a milk carton. I don't drink milk, so I let it cool completely, pour into a bowl, freeze, then scoop into the trash before I take it out.
And there you have it! Perfect fries you can make at home!
And now it's back to taking care of my poor cat.