I've never been a "Superman guy."
Not that I didn't like the character... on the contrary, I own hundreds and hundreds of Superman comic books. My problem is that Superman, as a character, never made much sense to me. And I never really knew why. I always assumed that it was because I was more of a "Batman guy," having put more stock into the idea that a rich guy wanting to fight crime to avenge his parents made more sense than an alien with god-like powers wanting to be a newspaper reporter.
Then I saw Quentin Tarantino's Kill Bill...

And there it was...
"Clark Kent is Superman's critique on the whole human race."
It wasn't that Superman wanted to be a newspaper reporter... it was that Superman wanted to be human at all. The excuse has always been that he slums with humans as a way to not lose touch with the humanity he found while being raised by the Kents. That's all well and good... but it still doesn't make much sense. He's an adult man. If he's still worried about losing his humanity by now, he might as well give up. "Fake it until you make it" may be a valid course of action for a job... but for being human?
And considering he can toss planets around with his bare hands, how human could he ever really be? I don't get it.
But apparently a lot of people do, because Superman is in a comic book that just hit 1000 issues...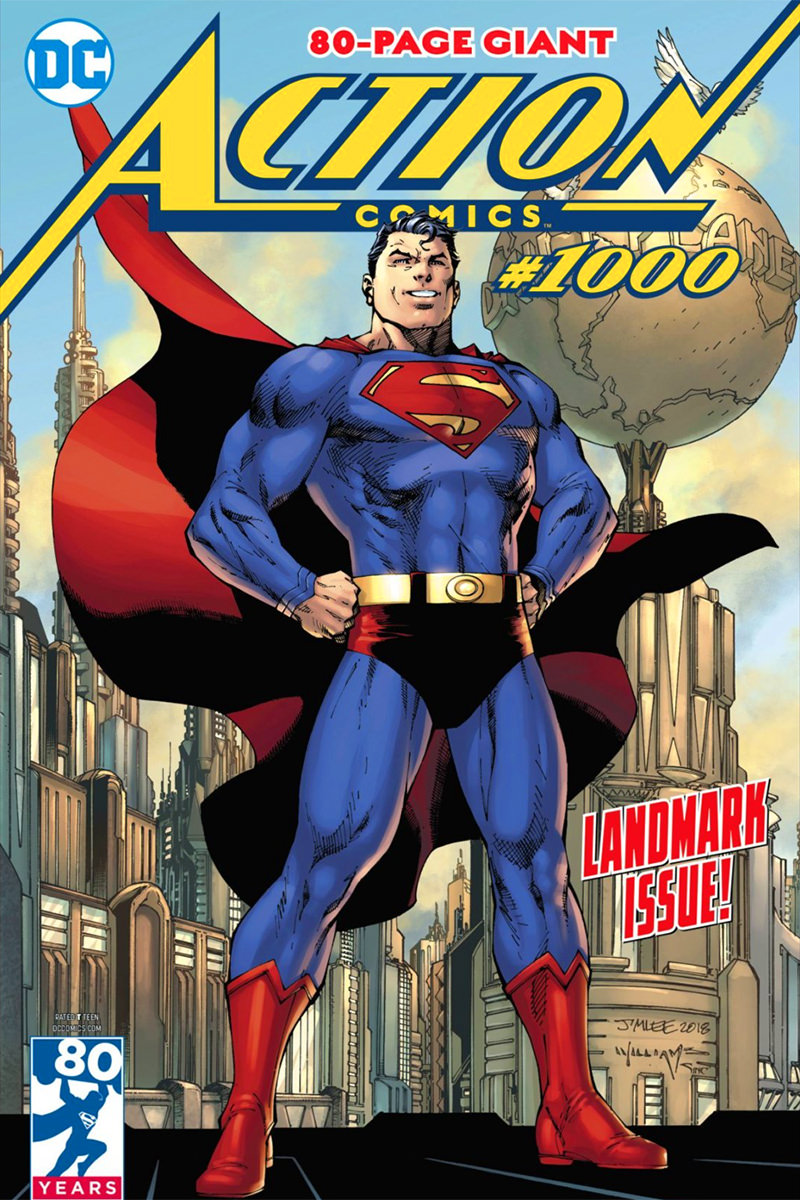 The best Superman stories are always those which come up with a way of finding something new while maintaining the continuity which came before. The best of the best being Alan Moore's For the Man Who Has Everything and Whatever Happened to the Man of Tomorrow? and Grant Morrison's All-Star Superman. There have been others I've enjoyed, but they usually involve some kind of smart take on why Superman is the way he is... not stories that come up with somebody bigger and stronger to pound on Superman for a few issues.
And don't get me started on the current cinematic take on Superman with Man of Steel, Batman vs. Superman, and Justice League, which just plain suck because they are exactly what make a bad Superman story.
But anyway... back to Action Comics #1000...
I haven't been following the character since George Pérez jumped ship after the New 52 reboot years ago. I am aware that there was yet another reboot called "Rebirth" last year, but I haven't read any of it. So you can imagine my surprise when I find that Superman is married to Lois Lane and has a son named Jon that is Superboy. Not that this really affects what's happening in Action Comics #1000, but it's still something that permeates the issue.
The bulk of the issue is a love-letter to Superman by a chunk of very talented writers and artists and it's mostly wonderful. Many of the things you would hope to find in a landmark issue like this are there. And then there's the money-story... Brian Michael Bendis starting his run on the character with artwork by Jim Lee!
And what we get is... meh.
Because here we go again, somebody bigger and stronger to pound on Superman for a few issues. There's a twist, of course, but its one that's of little consequence in the grand scheme of things. In general, I like the stuff that Bendis does, but I'll not be tuning in for this. I'm just not a big enough Superman fan to get involved... especially when DC is probably going to reboot the Rebirth reboot to the New 52 reboot to the Flashpoint reboot to the Infinite Crisis reboot to the Zero Hour reboot to the Crisis on Infinite Earths reboot.
Maybe I'll have a change of heart in the reboot after that. You never know.