I have spent the past 35 years falling in love with everything Apple. It started with the Apple ][ personal computer and continued through the Macintosh then continued right up through the iPhone. I jump head-first into whatever Apple releases, and I've loved it.
But recently things started to change.
After waiting way, way too long for Apple to release a new "Pro" Mac, they came out with a steaming turd in 2013 which looked pretty, but was overpriced and lacking the things that pro users need. Then... THEN... they did the exact same thing with their MacBook "Pro." And it keeps going... they standardized on an expensive Thunderbolt peripheral port, then abandoned it... they developed the brilliant MagSafe power adapter, then abandoned it... Apple TV can't stream worth a crap, even in its 4th generation model, and the remote is horrific... their mice are built to pit and deteriorate... the list goes on and on, and it's nuts.
And the software side isn't much better. MacOS X has developed so many problems that it feels as though it's been abandoned. They dumped Aperture, their photo cataloging software, after luring people into adopting it. They screwed up iMovie so much that a once-joyful program to use is a frustrating joke.
But the final straw for me was HomeKit.
I've long obsessed over home automation, so when I bought a home where I could install home automation devices, I went full-throttle. Apple had been developing their own home automation ecosystem, called "HomeKit," but it was tough to find any devices. And so I held off until HomeKit devices were released.
Then it happened. Schlage released "Sense" HomeKit-enabled door lock. So cool!
Until I got them, that is.
The locks are great, but the HomeKit functionality is garbage. It never works reliably, and half the time I can't even connect... despite having AppleTV's within 6-feet of them (HomeKit uses AppleTV as a hub). But that's not even the half of it. After all my waiting, HomeKit was laughably incapable and feature-poor. Tons of devices weren't supported... or even available if they were supported.
I immediately regretted buying HomeKit locks, and never bought another HomeKit device. And ever since then I've been dying to replace my locks, but couldn't bring myself to walk away from the hundreds of dollars I spent on them.
And then...
Schlage has released a WiFi interface which allows you to control your locks without having to use crappy HomeKit...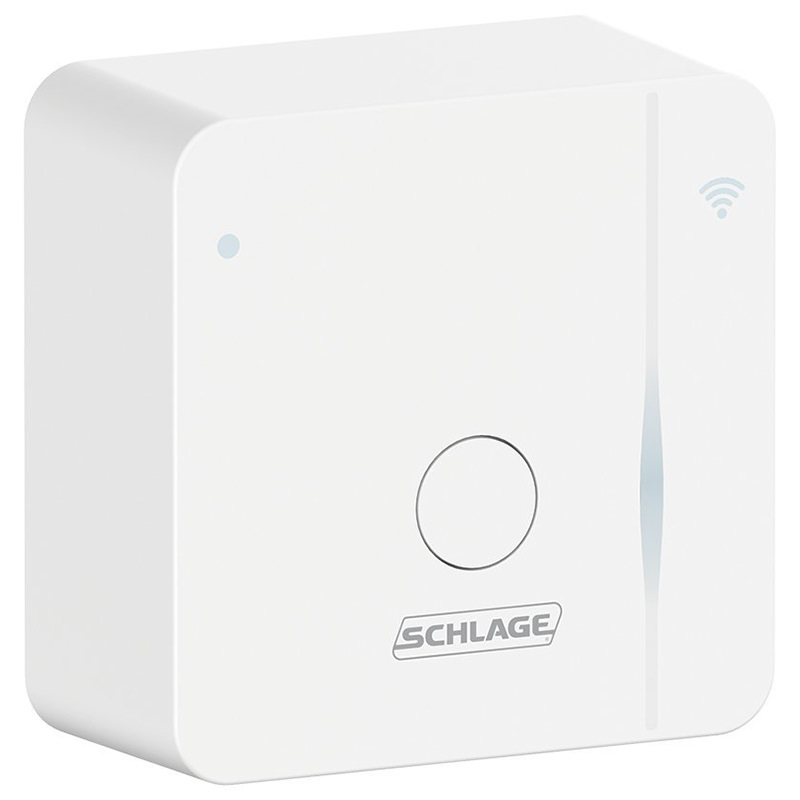 If your locks are set up with HomeKit, you have to reset them to factory defaults and start over again. If you don't, you can't connect them to the WiFi Adapter. Also... they will start screeching an alarm if you try, which I found out the hard way (sorry kitties).
Your lock has to be within 40 feet of the adapter (just like HomeKit, since both use Bluetooth connections). This was no problem for me, and I was able to use one adapter for both my locks (it supports a maximum of two).
Annnnnd...
It works as advertised. Once you set up a Schlage account as a gateway between the locks and your phone's Schlage app, you can control your locks remotely and see their status. Access is blazingly fast and reliable compared to HomeKit. Every once in a while I'll get a bit of a lag, but at least I can always connect.
Then there's the ability to ask Alexa if a door is locked... and then lock it if it isn't (for security reasons, you can't unlock a door via Alexa). I don't know how handy this would be, but it's nice to know it's there. Except when it's not. Because no matter how many times I link and unlink and re-link the skill, Alexa tells me the lock can't be reached... even though both locks show up in my Smart Home list. I've sent an email to Schlage customer service for help... fingers crossed.
And so... good bye to the massive failure known as HomeKit. And good bye to the seventy bucks it cost me to rectify this disaster. But, hey, at least I didn't have to spend hundreds to replace my locks!
My hope is that one day Apple will just bag HomeKit and buy out a company like INSTEON so they have an integrated home automation system that works. Heaven only knows they've got the cash. Until then, I'm just glad to be rid of that one piece of home automation that's never worked for me.