My plan was to wait and review The LEGO Batman Movie after it hit home-video so that I wouldn't spoil anything for those who hadn't seen it. That day is tomorrow. And I'm still hesitant to spoil anything by reviewing it, because it's just so frickin' hilarious and amazing.
Suffice to say, it's about the best thing you'll ever see, and you simply must watch it.
The movie is everything great about LEGO Batman's appearance in The LEGO Movie, but ramped up to an absurd degree...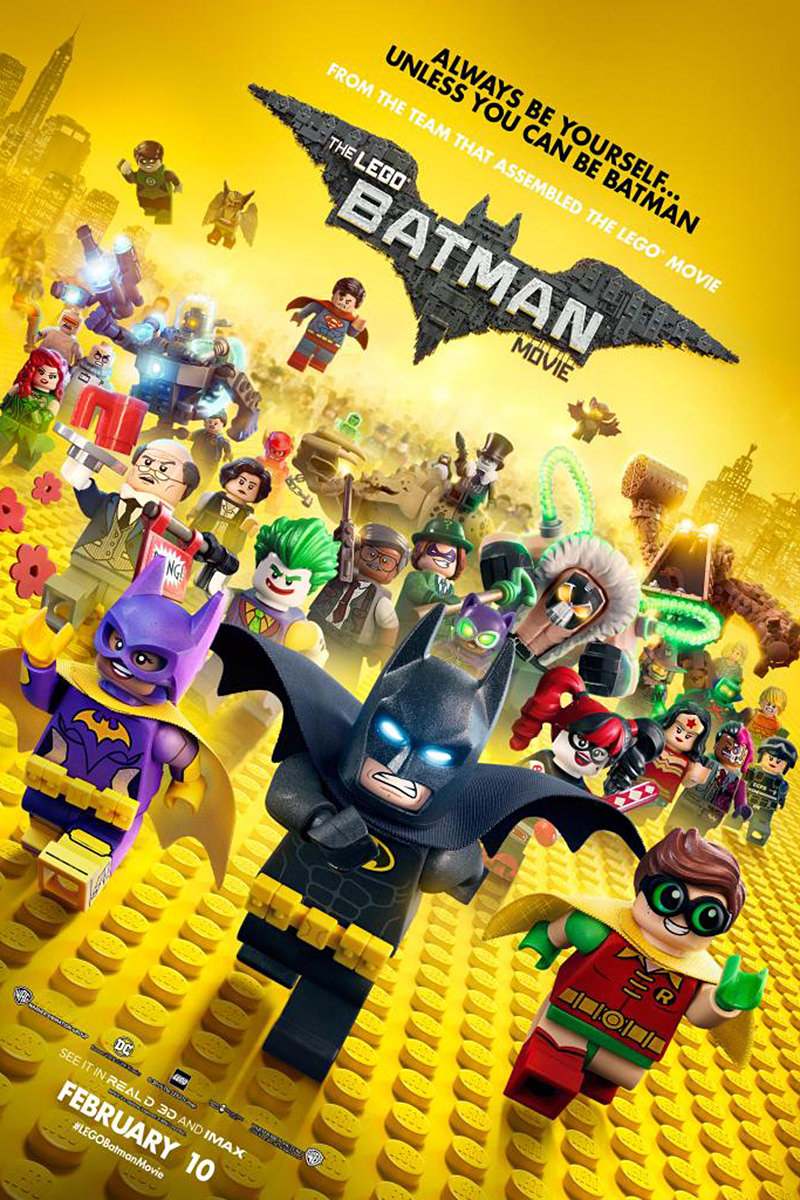 I have no doubt that I'm going to end up watching the film a hundred times when it goes on sale tomorrow. It's that good.
Time to update my "Y2K Super-Hero Comic Book Renaissance" scorecard...
The Avengers... A+
Avengers: Age of Ultron... A
Batman Begins... A
Batman Dark Knight... A+
Batman Dark Knight Rises... A
Batman vs. Superman: Dawn of Justice... D
Big Hero Six... A+
Blade... B
Blade 2... B
Blade Trinity... B-
Captain America... A+
Captain America: The Winter Soldier... A+
Captain America: Civil War... A++
Catwoman... F
Daredevil... B-
Daredevil (Director's Cut)... B+
Deadpool... A
Doctor Strange... A
Electra Woman and Dyna Girl... B-
Elektra... D
Fantastic Four... C
Fantastic Four: Rise of the Silver Surfer... D
Guardians of the Galaxy... A+
Guardians of the Galaxy: Vol. 2... A
Ghost Rider... C
Ghost Rider: Spirit of Vengeance... D
Green Hornet... D
Green Lantern... C+
Hellboy... A
Hellboy 2: Golden Army... A
Hulk... C-
Incredible Hulk... B
The Incredibles... A+
Iron Man... A+
Iron Man 2... A-
Iron Man 3... A+
Jonah Hex... F
Kick-Ass... B+
Kick-Ass 2... B-
The LEGO Batman Movie... A++
Man of Steel... F-
Punisher... C+
Punisher War Zone... C
Scott Pilgrim vs. The World... C
Spider-Man... B+
Spider-Man 2... A
Spider-Man 3... D-
Amazing Spider-Man... D
Amazing Spider-Man 2... D-
Suicide Squad... D
Superman Returns... C+
Thor... B+
Thor: The Dark World... B
Watchmen... B
The Wolverine... B
X-Men... C
X-Men 2: United... D
X-Men 3: Last Stand... F-
X-Men Origins: Wolverine... D
X-Men: First Class... B
X-Men: Days of Future Past... B-
X-Men: Apocalypse... D+