Even through the pain-medication-induced haze I was mired in, sleep last night was fitful.
Around 4:30am the pain medication wore off, so I reluctantly downed another pill in the hopes that I might get a bit more rest before having to go to work. Unfortunately, my body was not having it. Sleep is pretty much impossible when you can't get comfortable, and I was about as uncomfortable as I could be.
And so I turned on Netflix with the plan of distracting myself to sleep as the medication hit. The first thing I see? Hasan Minhaj has a comedy special out called Homecoming King. I love the guy on The Daily Show... really love the guy for his work at the White House Correspondents' Association Dinner... and thought it was worth a shot.
It ended up being one of the best things I've seen...
Seriously. If you are a Netflix subscriber, stop reading this and go watch it. If you are not a Netflix subscriber, then start your free trial and watch it. If you have already burned your free trial, then bite the bullet and pay the $8 to watch. Because Homecoming King is everything you could want in a comedy show... funny, smart, painful, charming, hopeful, devastating, educational, sad, witty, and beautiful.
But mostly funny. Which was the vacation I needed right now.
Because the minute I turned off the TV and checked into The World... I saw coverages of the bombing in Manchester and that Roger Moore had died.
I've run out words when it comes to news of yet another terrorist attack. Except to say that I can't fathom the hatred that fuels somebody to bomb a venue that was filled with kids. It's a horrific act that has me wondering if this planet is quickly getting to a point that it's beyond saving. That any of us... even a terrorist... can do something like this... the case for humanity's continuing existence just gets weaker and weaker.
And then there's 007.
They say that the James Bond you like best is the one you grew up with. For me, that was Roger Moore.
Not that I knew anything about James Bond when I was a kid.
But then come 1977, Star Wars was unleashed on my 11-year-old brain. Needless to say I became completely obsessed, and was so hungry for more sci-fi space opera that I was tuning into anything that even hinted Star Wars. Including the James Bond film Moonraker in 1979. Which sealed my fate as a huge James Bod fan as well...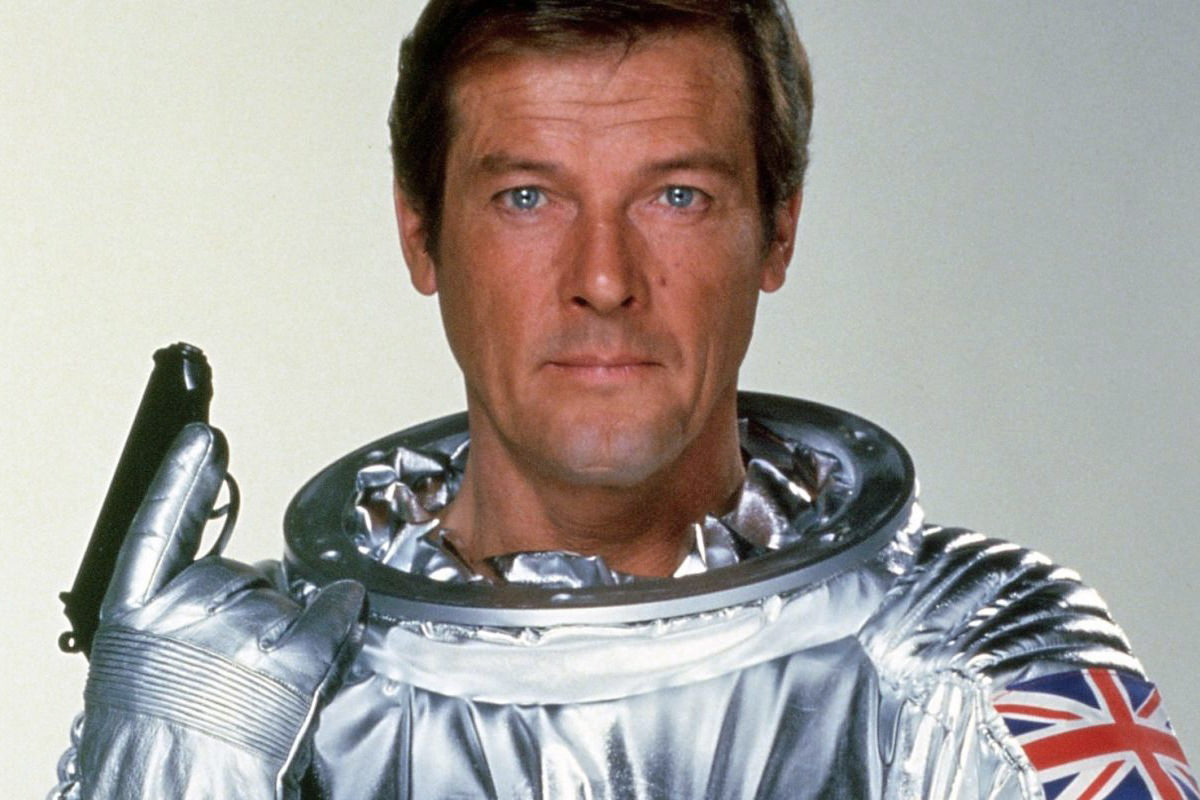 Yes, yes, I know Moonraker is not rated very highly in the Bond canon, but I loved it. I still do. I loved it so much that when VHS rentals were ushered in with the 1980's, my family would rent that giant VHS player so I could see all the Bond movies I had missed. Which, for me were Live and Let Die, The Man with the Golden Gun, and The Spy Who Loved Me. I never much cared to see the Sean Connery films because Roger Moore was the Bond I knew.
Then we got more Moore with For Your Eyes Only (still one of my favorites!), Octopussy (not one of my favorites), and finally A View to a Kill (with the incomparable Grace Jones and a made-for-Bond-villain Christopher Walken!). And while I eventually grew to love Sean Connery's films... enjoy Pierce Brosnan's films... and rekindle my love of the ultimate spy when James Bond was reimagined for a modern world with Daniel Craig... Roger Moore will always be the James Bond to me. Say what you will about his take on the character, it was always entertaining.
Not that Roger Moore defined himself by the character he played. He spent decades working with UNICEF and other children charities. He also used his celebrity to fight against animal cruelty, and is credited with getting foie gras removed from British store shelves (a food born out of horrendously inhumane treatment of ducks and geese).
Sir Roger Moore, you will be missed.