And it's time once again for my annual wrap-up of movies that came out this year.
Or, more accurately, a "wrap-up of movies I saw that came out this year." As always, there's a bunch of movies I never saw that would have probably ended up on my list (we'll get to that later). And here we go...

THE TWELVE BEST...
These are my favorite movies from this year that I actually saw.
#1 Captain America: Civil War
Shocker. My love of comic books was rewarded in two fantastic Marvel films, and it was really tough to decide what should come out on top. I ultimately went with Cap because the movie was just so damn good at giving comic book fans everything they dream about in a film. Hero angst? Check. Cap and Iron Man draw the line over a super-hero registration act that leads them inexorably to conflict. Fresh characters? Check. Not only do we get the debut of one of the most awesome characters in the Marvel Universe, Black Panther, we also get a brand new Spider-Man that's more faithful to the concept than anything that's come before. Super-battles? Check. In what has to be the single best super-hero fight ever committed to film, Team Cap vs. Team Iron Man was flawlessly realized. Having a massive surprise come from Ant-Man in the middle of it all was just icing on the best-tasting cake ever. Granted, the plot was a bit flimsy and filled with coincidence and inexplicable story beats... but I just didn't care. I watched Civil War three times in the theater and another half-dozen on video. I cannot fathom how The Russo Brothers could possibly top this in Avengers: Infinity War, but I'm dying to find out. You can read my review of this epic blockbuster right here.
#2 Doctor Strange
After Black Panther, my favorite Marvel comic book hero is probably Doctor Strange. This year I got to see them both on the big screen, and I was not disappointed. This film is an origin story, yes, but it's not like it could have been anything else. Unlike Batman or Spider-Man whose origin has been told to death, Strange is a bit unknown to the general movie-going public. Fortunately, what we get is anything but Yet Another Formulaic Pile of Origin Garbage. Stephen Strange is compelling in all the right ways before he becomes Master of the Mystic Arts. And he's even more compelling before he becomes Sorcerer Supreme. On top of that, we get some mind-boggling special effects that makes Doctor Strange fresh, exciting, and new compared to all the Marvel films that came before it. Yes, I too am a bit flustered by the whitewashing of The Ancient One as a Celtic white woman (deftly played by Tilda Swinton), but I get why. Yes, I am disappointed that the location was shifted from Tibet, but I get why. Avoiding stereotypes and having to be mindful of global box office means that there will be compromises when putting a ton of money into a film of this magnitude. That Marvel did so without completely destroying it is admirable in the face of realities they had to confront. Much of what they got right has to do with the flawless casting of Benedict Cumberbatch as Strange... whom Marvel wisely postponed filming to get. He had absolutely everything the character needed to succeed in a movie, and Cumberbatch held nothing back. Doctor Strange will be appearing in future Marvel films (including Infinity War) but I want a new solo flick that's unfettered from an origin story. Badly. Here's my review of Doctor Strange.
#3 Deadpool
Given how utterly shitty 20th Century Fox treated the character of Deadpool in the utterly shitty X-Men Origins: Wolverine, I fully admit that I was skeptical when it was announced a new solo movie was on the way. But when Ryan Reynolds (who was "Deadpool in Origins as well) promised that we'd be seeing something faithful to the outrageous character we knew from the comics, I became hopeful. It was a hope that paid off in spades. This is the fast-talking "merc with a mouth" that every Deadpool fan who suffered though Origins deserved. Mercenary Wade Wilson is diagnosed with inoperable, terminal cancer after finally finding the love of his life... and agrees to experiments meant to unleash super-powered abilities that will cure him. Unfortunately, things go terribly wrong, and the rest of the movie is Wilson trying to get a cure for the cure while also exacting revenge on the guy responsible. Absolute hilarity and fantastic action sequences ensue. Even in its quiet moments, Deadpool delivers... featuring perfect secondary characters played by TJ Miller and Leslie Uggams(!!!). Rated R for a reason... many reasons... but totally worth your time.
#4 Rogue One: A Star Wars Story
It's a Star Wars film. It has mind-boggling special effects. It has a return of characters you love and a new character that's destined to be a classic (new favorite droid K-2SO!). It features a plot that doesn't suck. The story is rough... even boring in parts... but serviceable. And, yes, I agree it's the best Star Wars movie since The Empire Strikes Back. So if you're a Star Wars fan, it's a foregone conclusion this movie is going to be on your "Best of 2016" list. That's why it's on mine.
#5 Kubo and the Two Strings
My love of animation embraces all its forms... hand-drawn... computer generated... cut-out... whatever. But the form that consistently blows me away is stop-motion animation, and Kubo is probably the most mind-bogglingly beautiful expression of it yet. Every frame is gorgeously orchestrated for scenes that are a dream to watch. It's just a bonus that there's a really great story behind it all. I will do you the favor of not disclosing anything about the plot. It's enough to know that this film is sheer magic and a must-see. Preferably on the big-screen (and, believe it or not, in 3D)... but if you missed it, home video will have to suffice.
#6 Star Trek Beyond
Rebooting the Star Trek franchise has been met with mixed feelings, and true fans either seem to love it or hate it. I absolutely love it. From the casting, which is a note-perfect nod to the original cast, to the beautiful special-effects, the films soar even when there is a misstep (of which Star Trek Into Darkness probably qualifies). Star Trek Beyond is yet another entertaining entry in the series, this time with an over-abundance of action filling the screen. But there's some real character moments scattered in there too, which is what makes the film work so well. Sadly, Anton Yelchin passed away after filming, which means this is the last time we'll see his perfect take on Pavel Chekov.
#7 Moana
Walt Disney Pictures has been on a roll lately, and Moana is probably my favorite film of theirs since Lilo and Stitch (though Big Hero Six deserves a mention here). The film tells the story of a young woman, Moana, who sets sail on a mission to save her people. Along the way she meets the demigod Maui (Dwayne Johnson) and a fantastical adventure follows. The action is bold, beautiful, and larger than life... all animated to stunning effect with lush, sweeping visuals... but it's so much more than just a pretty flick. It's got great music, plenty of magic, and characters with actual depth. If you love computer animation, you owe it to yourself to see Moana on the big screen.
#8 Finding Dory
Revisiting the Finding Nemo universe was a risky gambit. But Pixar completely nailed it. I hesitate to say that it's a better film than the original... but Dory is a jaw-dropping, beautiful, overall joyful effort that will not disappoint Nemo fans. Having Sigourney Weaver drop in (as herself!) on the flawless voice cast was just perfection on perfection. If you love Pixar animation, here's your film.
#9 The Red Turtle (La Tortue Rouge)
Gorgeous animation from Studio Ghibli that's a warm blanket in visual form. The story is a gripping tale of survival that unfolds like a classic fairytale... but ends up being so much more. I truly hope that this overlooked gem makes a return to theaters after the festival circuit so people can see it as it was meant to be seen.
#10 The Nice Guys
Where in the hell did this come from? I completely missed it in the theater, but caught it on a boring cross-country flight. Boy was I glad to have discovered it, because The Nice Guys everything you love in a Shane Black film. And then some. Russell Crowe hasn't been this compelling since Gladiator. Ryan Gosling hasn't been this compelling ever. If you want to see a smart, funny, sophisticated 70's buddy flick that won't bore you (except when it does)... here you go.
#11 Arrival
Color me shocked. Smart, cerebral, original sci-fi getting green-lit for a feature film? Whatever is Hollywood coming to? Oddly enough, I had read the original short fiction on which this film is based, Story of Your Life, and was not expecting that it would translate well to film given the time-bending aspects of the story. I was pleasantly surprised that they managed to get it right. Or... as close to "right" as they probably could. When aliens land on earth, world governments race to communicate with them so that they can unlock their secrets before other governments get a technological edge. The movie focuses on the American team (of course) lead by genius linguist Louise Banks (played by Amy Adams) and fellow scientist Ian Donnelly (played by Jeremy Renner). As Banks gets closer and closer to deciphering the language of the alien visitors, she finds that her perception of time is being altered. An ambitious adventure in cinema follows that's a true treat for sci-fi fans.
#12 The Jungle Book.
If you had told me that a live-action remake of Disney classic The Jungle Book would hit my "best of..." list for 2016, I would have laughed in your face. But here we are. Filled with incredible CG visuals that bring the story to life like never before... and featuring one of the best "young actors" ever to appear in a movie, The Jungle Book is incomprehensibly great. And the voice cast! Bill Murray as Baloo? Ben Kingsley as Bagheera? Idris Elba as Shere Khan? It never ends. I cannot fathom how Jon Favreau managed to pull off such a feat, but I was completely engrossed in the film and truly didn't want it to end. If you skipped it because you were skeptical, now you know.

HONORABLE MENTIONS...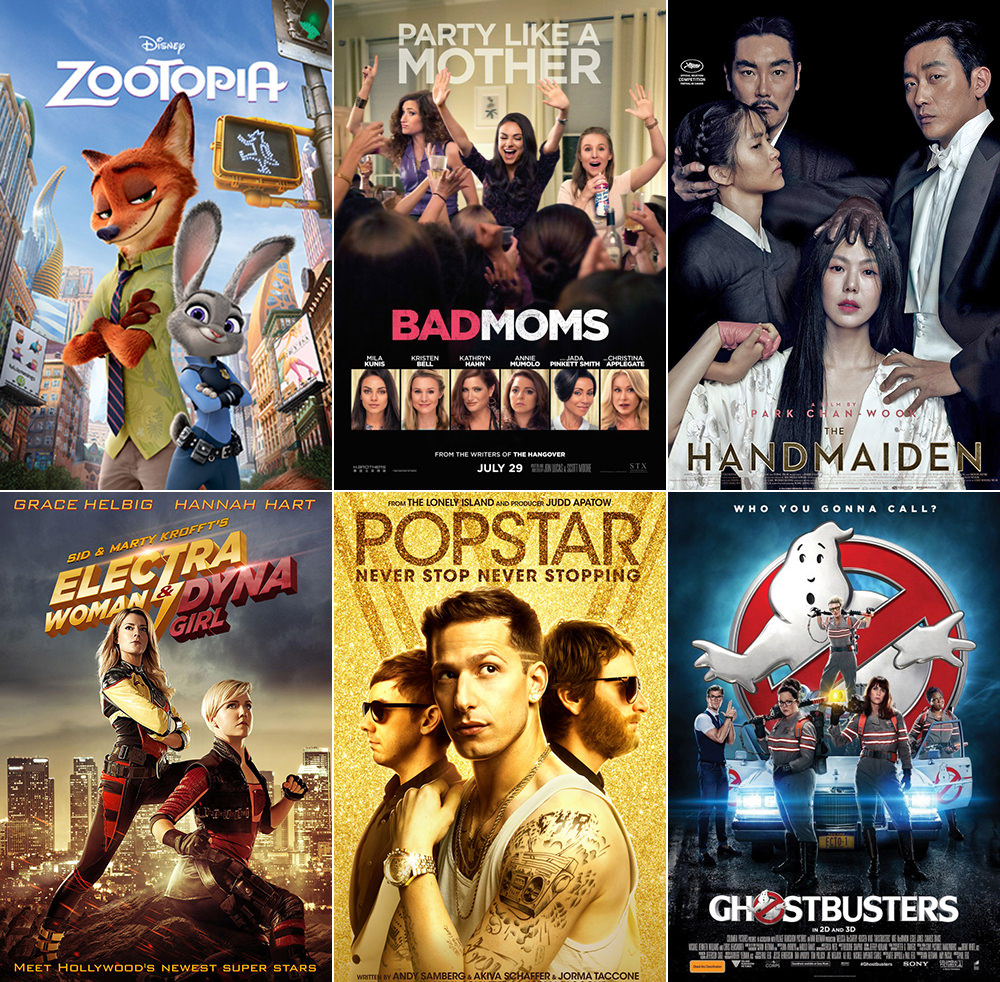 Zootopia
This is the film that ranked very high on a lot of critic's lists... and it's easy to see why. The characters are beautifully crafted and the world they inhabit feels fully realized. Everything is wonderfully animated and the voice cast is flawless. As if that wasn't enough greatness, it has a real story filled with humor and heart that's brilliantly told. I loved the film... a lot... but it just didn't have that sweeping, all-encompassing wonder that I got while watching Finding Dory and Moana. I struggled as to whether Zootopia or Jungle Book belongs in the final spot of my list, but settled on the latter because it was such a big surprise.
Bad Moms
I was a bit let down by the ending, but everything up to that is funny enough that I didn't care. Surprisingly original with perfect casting.
The Handmaiden
This is why people go to the movies... a beautiful story that looks stunning and has a dynamite cast. Yes, there were problems along the way and the ending could have used some work, but this sexy, violent gem gets so much right that it's easy to overlook its flaws.
Electra Woman and Dyna Girl
YES, I LIKED IT! A remake of the Sid and Marty Krofft live-action Batman spoof featuring YouTube stars Grace Helbig and Hannah Hart. It's a funny distraction that respects the source material, but is fresh and new at the same time.
Popstar: Never Stop Stopping
A complete take-down of the Justin Bieber stereotype that somehow manages to be funny and entertaining. There were some parts that didn't work which kept it from being a new This is Spinal Tap, but is overall a terrific effort.
Ghostbusters
Was it as good as the original? Oh hell no. It's not even as good as Ghostbusters 2. But it had some funny moments and excellent special effects to make that made it watchable.

DIDN'T SEE, MIGHT HAVE MADE MY LIST...

Jackie
Natalie Portman as Jackie Kennedy? Sign me up.
Sausage Party
Naughty and animated. A great combination I never got around to seeing.
Moonlight
This is the movie that has been most-recommended to me this year. Can't wait to finally see it.
The Edge of Seventeen
Completely off my radar, but I've heard amazing things.
Passengers
A film starring Chris Pratt and Jennifer Lawrence? Can't help but be worth watching.
Everybody Wants Some
Richard Linklater's follow-up to Boyhood. Who wouldn't want to see that?

NOT AS BAD AS THEY SAY...
Gods of Egypt
Yes, they whitewashed the cast. Yes, the special effects were all over the place. Yes, the story was a mess. But at least they tried to do something different. And for that alone, I was entertained. There were some big ideas here that were actually kind of cool and fun to watch... things just didn't come together in a way to make this compelling cinema.

THE WORST...
Batman vs. Superman: Dawn of Justice
I don't even know where to start. This shitty, blasphemous, idiotic take on two of the most beloved super-heroes in the world was a continuation of Zack Snyder's horrendous Man of Steel. But since it fucked up Batman, it was probably an even worse movie. And while SvB's greatest sin is that it is just no fun (I was bored to tears despite the action beats, which were confusing and senseless)... we did get Wonder Woman on the big screen at last. Gal Godot was perfectly cast and they gave her a look that was amazing. Sadly, she wasn't enough to save this awful, awful mess.
Suicide Squad
This unbelievably tedious movie featured a forgettable assortment of villains forced to be heroes that fight an endless horde of magical zombies. In-between all that is some of the most boring, shitty dialogue you'll find. And, as if that weren't bad enough, Jared Leto's "Joker" was a fucking embarrassment.
Independence Day: Resurgence
Clearly a case of "We're making a sequel to a popular movie, but we haven't a fucking clue what to do, so... SPECIAL EFFECTS IT!" This would probably be the stupidest, blandest, dullest, most unbelievable shitty film of any year... lucky for Roland Emmerich, Batman vs. Superman and Suicide Squad stepped in to take the punches. I'd discuss the story, but not one bit of it was worth remembering, so I can't.