And now is that special entry where I wrap up MY FAVORITE TV SHOWS OF 2016!
Which was kinda difficult to narrow down because alternate programming from studios like Netflix and HBO are changing the game.

THE TWELVE BEST...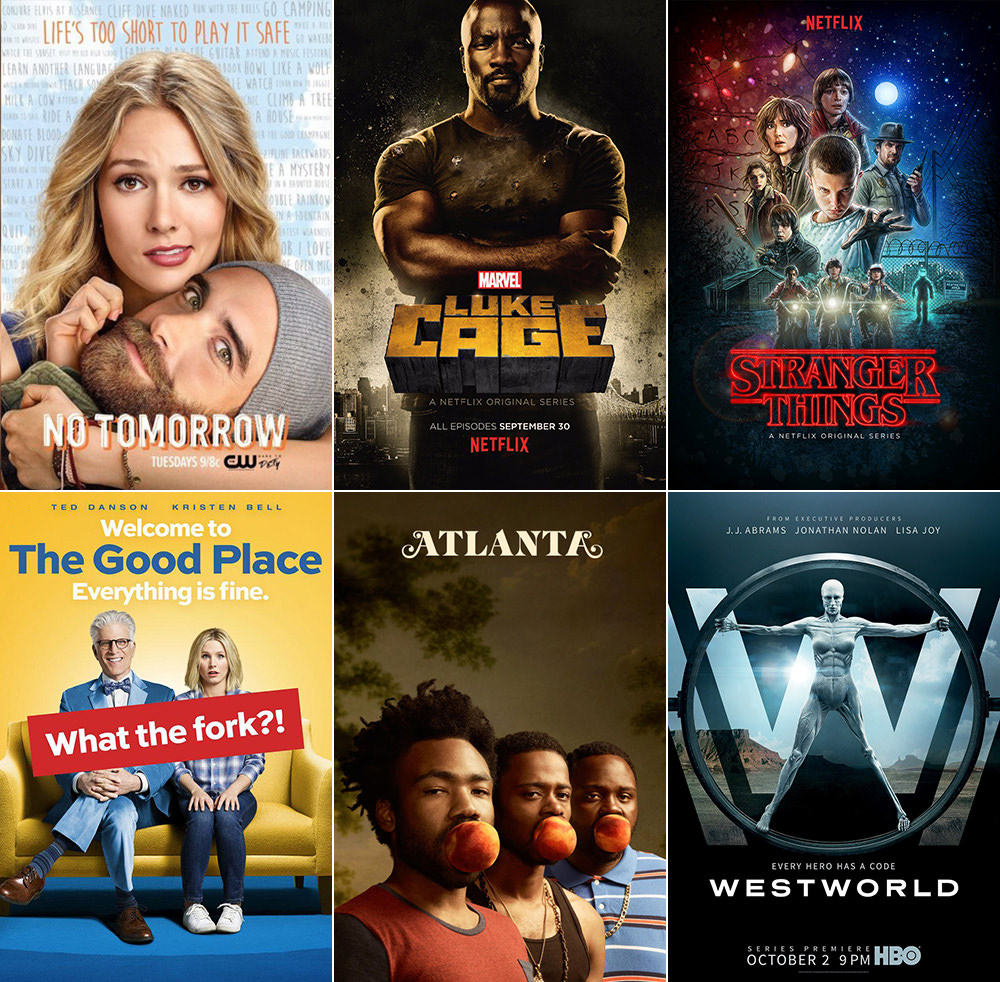 #1 No Tomorrow (The CW)
Girl falls for boy. Boy believes the world ends in eight months. They learn to live like there's no tomorrow while falling in love. Easily my favorite show currently on television, it's not just the central romance that's worth watching. The secondary characters are all fully-realized and equally interesting.
#2 Luke Cage (Netflix)
Sweet Christmas! After the genius of Netflix's take on Marvel's Daredevil and Jessica Jones, I was expecting that Luke Cage would be good. But not this good! It's just so wonderfully fresh and different... largely in part to the strong presence of its Harlem location and a jazz-appropriate soundtrack. And don't get me started on the flawless casting... Mike Colter IS Luke Cage! Adding Alfre Woodard to the mix is just gravy.
#3 Stranger Things (Netflix)
I ignored this show when it first appeared... until everybody and their dog started telling me I should watch it. The fact that it's so 80's nostalgia perfect would be reason enough for me to love it, but the story is actually pretty darn entertaining... kind of a cross between ET and The Goonies with spooky overtones. How the Duffer Brothers managed to get a team of young actors this good is almost a bigger mystery than the show. Then they added Winona Rider, which is all you really need to know.
#4 The Good Place (NBC)
I fully admit that I did not warm to this show quickly. But I stuck with it because Kristen Bell is a national treasure and everything she does is entertaining. Then the show found its footing and I fell in love with it. The humor of Kristen Bell's character ending up in "heaven" when she really should have gone to "hell" is fluid... almost ethereal in spots... but then it turns a corner and it's punching you in the face. And that's what makes the show so special. No show made me laugh in 2016 more than this one.
#5 Atlanta (FX)
Is there nothing that Donald Glover can't do? I didn't really understand what the show was about, but tuned in just to see what Glover was up to (he was half of my favorite thing in Community). So glad I did. Atlanta is seriously good television that has some of the most amazing, depth-filled characters you'll find. It's got humor to it, but it's a stabbing kind of funny that doesn't detract from the story. If you haven't given the show a try, just watch that first episode and try not to get hooked.
#6 Westworld (HBO)
When I found out that Anthony Hopkins and Ed Harris were attached to HBO's Westworld remake, I was intrigued. Actors of this caliber do not tend to gravitate towards shit. Then I saw that other terrific talents such as Evan Rachel Wood, Thandie Newton, and Tessa Thompson were onboard as well. What was going on here? I had to know. Turns out that HBO got a fantastic, mind-bending, thought-provoking story that is worth watching. Beautifully shot and having true depth to it, Westworld opens the discussion about whether man can be destroyed by his own creation... and whether that's actually a bad thing. But then adds enough twists to insure you'll never quite know the answer.
#7 Black Mirror (Netflix)
Kind of a Twilight Zone for a modern era, Black Mirror is a collection of thought-provoking stories of the near-future. If you take my advice to watch, I have a suggestion. Start with Episode 2 of Season 1 (skipping Episode 1), watch the remainder of Season 1, THEN watch that first episode before proceeding to Season 2. The reason is that the first episode is so freaky and "out there" that you will probably get the wrong idea of what the show is capable of. But once you've seen the other episodes, you'll be able to appreciate the first one for what it is in the grand scheme of things.
#8 The Night Manager (AMC)
A John le Carré adaptation that is firing on all cylinders. If you're into spy thrillers, this is a mini-series that's worth a look.
#9 The Crown (Netflix)
As a royalphile who's fascinated by the British Royal Family, I often find myself watching documentaries and series that are informative but boring. This is something different entirely. Following the reign of Queen Elizabeth II, The Crown is a beautiful mini series that will be broken down into six series of ten episodes each. If successive seasons are as terrific as this one, I'm set for the next five years.
#10 Lucifer (FOX)
I'd call this show a guilty pleasure," but I'm not feeling much guilt for being a fan. Especially with this latest season where "Mom" comes to town, which has been some of the best fun you can have with a television show.
#11 The Americans (FX)
This is a show that flows in and out of my "Best Of..." list, but is consistently great television and is always worth watching. The opening of Season 4 this year blew the roof off the show (again) and upped the intensity to a whole new level. Given its complexity, I don't know that I would advise jumping in the middle... you really need to start at the beginning... but it's such a great show that you'll be glad you did.
#12 London Spy (BBC America)
And now for something completely different! When Danny has a random encounter with Alex, it's love at first sight. But then things start to go terribly wrong when Alex turns up dead and it's revealed that he wasn't who he claimed to be. This plunges Danny into a rabbit hole of espionage as he tries to find out the truth about what's happened. The resulting story is a slow-burn thriller that is entertaining despite its flaws (of which there are many). In the end I don't know that the show was particularly great, but it was memorable in a way most shows in this genre are not. This is most likely due to the haunting talents of Ben Whishaw.

FIVE MORE WORTH WATCHING...
Preacher (AMC)
As a fan on the comic book of the same name, I didn't have much confidence that Seth Rogan would do it justice as a television show. He was the one who screwed up The Green Hornet, after all. So imagine my surprise when the adaptation turned out to be pretty darn good! Dominic Cooper has a handle on Jesse Custer, which was essential... but Joseph Gilgun and Ruth Negga as Cassidy and Tulip O'Hare is what pushes the show to the next level. Disturbingly funny with just enough horror to keep things interesting, Preacher should appeal to even non-fans of the book.
Wrecked (TBS)
Spoofing the epic shit-show that Lost turned out to be seems like it would be an easy chore. In reality... not so much. But then comes along Wrecked, a comedy centered around a group of plane crash survivors stranded on a mysterious island... and it kinda works. By no means a "smart" comedy, it relies on easy laughs and situations that are far from brilliant, but the characters manage to make it worth watching. Especially Todd (Will Greenberg) whose selfish and eccentric nature are gold.
Game of Thrones (HBO)
This past year is kind of wearing me out on the whole show, but it's still incredibly compelling television. Apparently it wraps up in two more seasons, which will be a welcome alternative to things being drawn out to tedium, but it's anybody's guess as to whether we're going to get a satisfying conclusion. Will it all be worth it in the end? The series of books are still far, far from being finished, so we're heading into unknown territory.
Elementary
This modern take on Sherlock Holmes is still going strong. Johnny Lee Miller and Lucy Liu still have amazing chemistry. The mysteries are still well-written. And, if anything, this latest season has been one of the best yet... stripping away distraction to focus on what makes the series so good. Could have easily made my top-twelve if there wasn't so much excellent fresh programming being released.
Dirk Gently's Holistic Detective Agency (BBC America)
To be honest, I'm not sure if I liked this series or not. It's quite different from the Douglas Adams books, and not always in a good way. Still, it's bizarre, fresh, and overall interesting enough that I'm glad I watched it. And it was rather smart how it all came together at the end, which is always a good thing. If "regular" television is boring you, this might be the ticket.

ANIMATION WORTH YOUR TIME...
Archer
The show that never disappoints. The fact that we only get three more seasons before Adam Reed packs it in is terrifying.
Bojack Horseman
Hands down the most bizarre mix of comedy and tragedy you will ever see, the third season of BoJack was its most ambitious yet.

CANCELLED BUT NOT FORGOTTEN...
Limitless (CBS)
My favorite show from last year started the second half of its first season strong. Indeed, Stop Me Before I Hug Again (airing in January) is one of the best episodes of the entire series. But then things went terribly, inexplicably wrong. A trip to Russia started a spy arc that disappointed. We got more of Brian's stupid, stupid family. And then the writers lost their minds completely when they had NZT (or a knockoff of it) go public in the last two shows. How in the hell they planned on recovering from that serious misstep we will never know, because CBS performed a mercy killing and cancelled it. From how things ended up, I'm not sure this was a bad move... but I will still miss the show. When it was good, it was the best thing on television.

MY MOST OVERRATED...
The OA (Netflix)
Holy shit what a disaster. After a non-stop barrage of people telling me to watch, I finally relented. And hated most everything about it. From the plodding, never-ending boredom that stretches out over eight long, grueling episodes (seriously, they could have done this in three) to the wacky interpretive-dance insanity that injects itself into the tedium, I slogged through every episode while wishing death would take me. Any time I complained about the show, people were telling me "you just don't understand its genius" which is code for "don't question this incomprehensible bullshit." Yeah, I get what they were attempting to do... and kudos for trying to put an original spin on a show that was far better (Stranger Things), but no thanks.
Fleabag (Amazon)
A critical darling that is firmly cemented in the top five of most every critic in the known universe, I just could not get into this show. I don't like any of the characters and didn't find the humor to be all that entertaining.
This is Us (NBC)
There is nobody I know who isn't head over heels in love with this show. I just don't get the appeal.
South Park (Comedy Central)
A show that's been on my "Best Of..." list since I've been making "Best Of..." lists completely shit the bed this year. Rather than concentrate the funny on individual episodes, this year we got an inexplicably crappy multi-part epic centering around internet trolling, Denmark, and the presidential election. Of course there were funny moments (this is South Park, after all), but this entire season has been a horrific disaster that never seemed to crawl out of the wreckage.

UTTER SHIT...
MacGyver (CBS)
What a total and complete pile of shit. The original show was a romp of ingenuity that was held together by the charms of Richard Dean Anderson. The revamp is a dumbed-down wankfest headed by a character so unlikeable that I can't fathom how I am expected to root for him. On the contrary, I spent the entire show hoping MacGyver would die so the supporting cast could be the focus.
Marvel's Agents of SHIELD (ABC)
After bitching endlessly about how unremarkable and dull this show is when it has potential to be slaying week after week, I was given renewed hope when it was announced that Ghost Rider would be making an appearance this season. Didn't help. Still mired in talking-heads-we-have-no-budget-for-what-counts tedium that has me racing to fast-forward through the bulk of each episode. Just give it up already. I'd rather have Coulson back in the movies where he was far better utilized.