When Apple came out with the iPad Pro, I was intrigued. Not because we were getting a giant iPad... but because it was accompanied with "Apple Pencil," which is what Apple calls their touch stylus.
So I went to the store to give one a try and ended up taking a pass. Not because of Pencil, which was amazing (as you'll see), but because the iPad Pro was just too big. I like drawing/painting/sketching while laying on the couch watching TV, and the big iPad felt like it was more of a table-top tool.
Fast-forward to earlier this month, and Apple announced that a smaller model of the iPad Pro would be released on March 31st.
And it's glorious...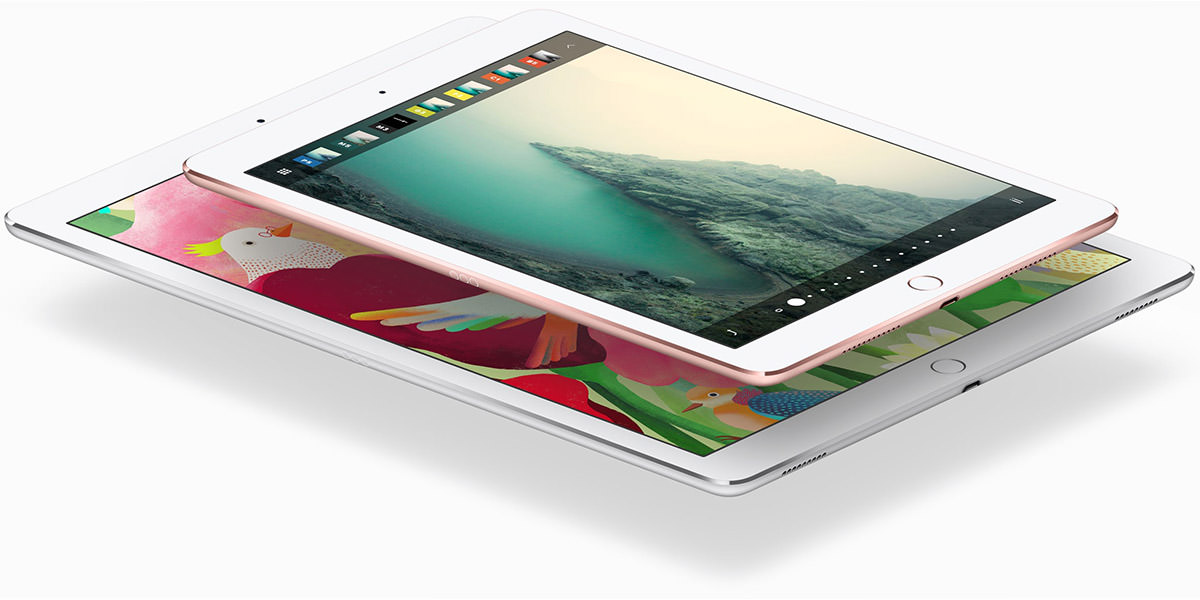 There are a lot of iPad reviews out there, so I'm just going to give a quick run-down on what matters to me...
The Apple Pencil stylus is incredible. I've used a lot of display tablets over the years, including the high-end Cintiq Wacom models, and this is the best I've ever seen.
Seriously. If you're an artist, go to an Apple Store and try out Pencil.
The glass is so thin on iPad Pro that it's more like drawing directly on the tablet instead of drawing above it. This is a huge step forward, and makes all the difference.
No. Lag. None. Even when rapidly scribble-shading, it keeps up.
The sizing is perfect for couch-drawing. I admit that there are times I'd like to have the larger drawing surface of the original iPad Pro model, but I'm ultimately happy with the smaller model.
iPads and iPads have genreally had shitty sound. All that changes with this model. You get four speakers to orient stereo sound in either horizontal or vertical orientations. And it's really good sound!
I'm not one to take photos with an iPad, but that may change. The camera on this thing is awesome. Low light performance is quite good. Not as handy as my iPhone for quick snaps... but it's nice to know I have iPad as an option if I need a shot.
Apple's "TrueTone" sensor evaluated room lighting and adjusts the display tint to fit in with your surroundings for a more natural visual. I didn't think much about it, but tested how it works under the Edison vintage lights in my dining room which are very warm... sure enough, it's a noticeable (and welcome!) improvement.
I never bought an iPad Air model, so I wasn't prepared for how thin this thing is. It's very nice, and the weight it comfortable to hang onto.
The multi-tasking is a nice addition, but it doesn't seem terribly practical for the 9.7" model as opposed to the larger 12" version.
The Apple Smart Keyboard is a better than trying to type with the on-screen keyboard... but not by a lot. The only real benefit is that you're not obscuring the screen with the keyboard. Otherwise it's just too cramped for easy typing, and almost impossible to use unless it's sitting on a sturdy flat surface.. This is where the 12" model with its full-size Smart Keyboard is a better choice if you're doing a lot of typing.
The Smart Keyboard does not protect the back of the iPad. You need a separate piece for that.
For the most part, I am very, very happy with the iPad Pro... and ecstatic when using it with Apple Pencil and an app like ProCreate that can take advantage of it. This is easily, hands-down, no-bullshit the best stylus tablet experience I've ever had. The fact that it's not tethered to a computer is just icing on the cake. If you're an artist who is considering going digital... or are already a digital artist looking to upgrade, stopping by an Apple Store and checking out the iPad Pro is a no-brainer.