If you take away one thing from Home Automation Week (now in Part Nine of Seven Parts!) it should be to avoid Apple's HomeKit home automation platform like the plague. It's no secret that I think it's utter crap in its current form, and the fact that automation companies aren't really flocking to the platform is a sure sign of "too little too late."
Yes, I love the idea of controlling my home with Siri, but Amazon Echo is probably more convenient for that anyway. Yes I love Apple's dedication to privacy and security, but what does it matter if you don't have all the automation options available that you might want? Yes, I love the idea of having absolutely everything tied to a single system instead of being in pieces but, again, it's only nirvana if you actually have all the pieces you need for that one system.
But the biggest reason to completely avoid HomeKit is not what's missing... it's about how what's there doesn't fucking work.
My Schlage Sense door locks are HomeKit compatible. But I never use any of the HomeKit features. Siri is just too fucking slow at unlocking doors to have her do it. I'd rather use a key or punch a code. But even worse than that? HomeKit's remote access features DO. NOT. WORK. My locks are supposed to use my 4th Generation Apple TV to communicate with the outside world, but they don't.
If I'm at work and want to know if I remembered to lock my front door? I'm supposed to be able to ask Siri. Siri asks my AppleTV back home. AppleTV then asks my lock. But unless I'm within Bluetooth range, this is all I see...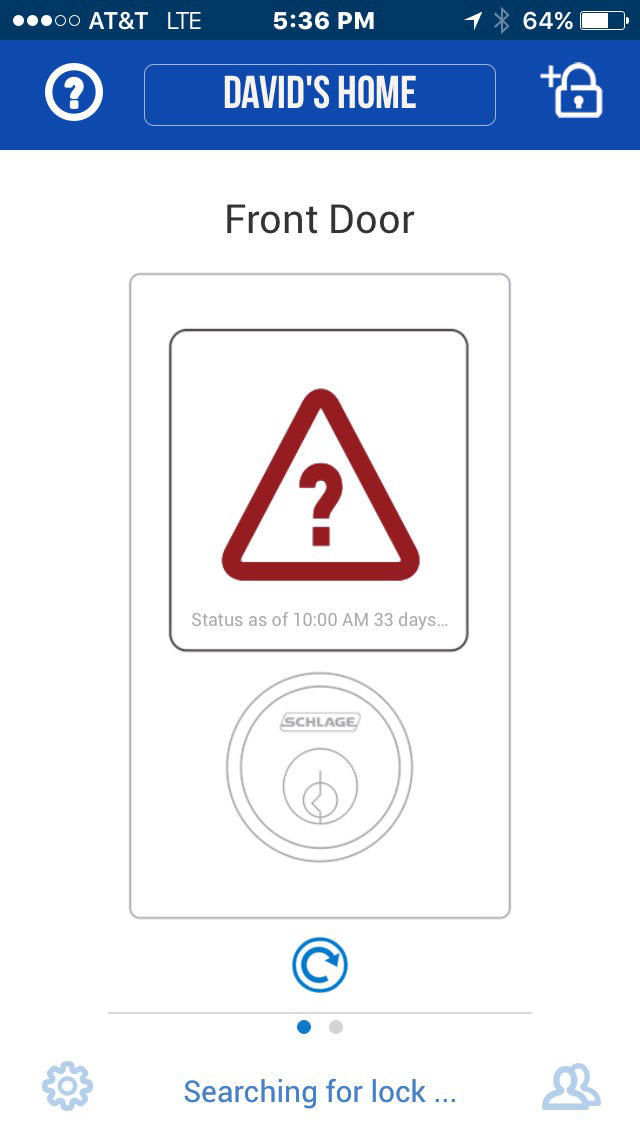 Maybe my front door isn't close enough to my AppleTV and doesn't have the range to report what's going on? Possibly. So I check my back door, which is two feet away from my AppleTV...
Nope! And it doesn't matter how many times I reset my AppleTV or login and logout of my iCloud account. NOTHING I have tried has gotten remote access to HomeKit to work for my locks.
My Ecobee3 thermostat? Also HomeKit compatible. Surprisingly, it can be accessed remotely via Siri voice control. Probably because it isn't having to go through my AppleTV and has full WiFi-enabled control via its app. Funny thing is? I'd rather use the app. Again, Siri is a little slow to act... and often gets my Ecobee3 requests wrong for some reason.
So... lesson learned.
If you're going to get something that's HomeKit compatible, be sure that it has its own remote access app that doesn't attempt to route crap through your AppleTV... because, for me at least, it ain't happening.
Which means as much as I love my Schlage locks, if I had known then what I know now, I would have picked a different non-HomeKit solution that actually works remotely as intended. As it is now, the status of my door locks is always unknown unless me and my phone is standing next to them. Pretty useless.
Maybe one day Apple will fix the AppleTV hub remote-access problem. Maybe one day Siri won't be so damn slow to do anything. Maybe one day HomeKit won't be a pile of shit. Maybe. One day.
In the meanwhile, I reiterate... do not be blinded by the Apple Reality Distortion Field when it comes to making decision about home automation. At every turn I've found that the non-HomeKit solutions which can be paired with reliable in-app remote access and a link to Amazon Echo are far, far superior to stuff that's tied to Apple's home automation platform. Yes, having to go through multiple apps and having no unifying system can take a little extra effort at times, but it's not at all a deal-breaker. If you're organized, it's not even that big of a deal. If you have Amazon Echo, I'd argue you're actually better off than using Siri.
I guess not even Apple can hit a home run every time.
But HomeKit isn't even a base hit.