Get your travel on, because Bullet Sunday starts... now...

• United? My chosen airline, Alaska Air, can't get me to Portland, Maine. Usually, this is not a problem... I just fly into Boston and spend an hour-and-a-half driving up. But winters in New England can be unpredictably harsh, and I wanted to get as close as I could to my destination. Delta's total flying time was absurdly long and the cost insanely high. United was much more reasonable on both counts, so I decided to go that route... despite having no status with the airline. It was a huge mistake. I haven't been this miserable flying in a long time. And they lost my luggage.

• Seated. The only GOOD thing to happen this flight? There was an empty spot next door, so my OREOs had a seat all their own...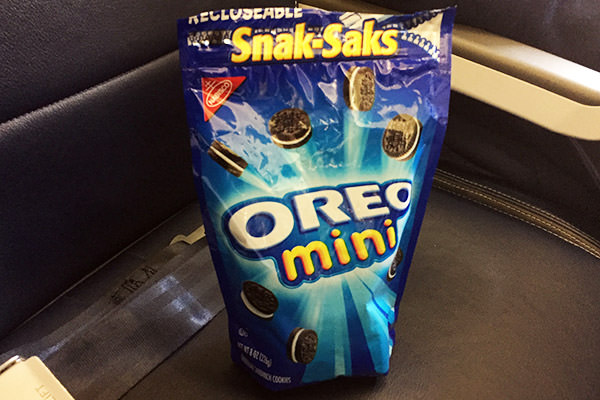 Better than getting crushed in a seat-back pocket, that's for sure.

• Rent. Still don't understand how rental car companies think that giving you any car other than the one you reserved is "an upgrade." It's not. If the car you receive is a completely different size, that's a DOWNgrade. And I don't care if you're not charging me for it... this is still not the car I was expecting.

• Hotel. My favorite lodging chain, hands-down, is W hotels. Amazing properties that are usually out of reach for my budget... but an amazing surprise when I can swing it. If I can't get into the W, I look for another Starwood property I like... Aloft hotels. They're sorta like a budget version of W, and always nice. Unfortunately, there aren't a lot of them around. Which means I'm usually compromising. My favorite compromises of the moment? Hilton Garden Inn and Hampton Inn. I've been pleasantly surprised by both chains, and started patronizing them faithfully after "regular" Hiltons took a massive price hike. Right now I'm in the Hilton Garden Inn Portland Jetport, and will be moving to another Garden Inn tomorrow when I reach Auburn. After that, I'm not sure where I'll be... but I am pretty sure of what hotel I'll be staying in. When you travel a lot, that kind of consistency is gold.

• Water. Okay... it's gold most of the time. Perhaps not tonight. The first thing I do after I've tossed my luggage in the shower is to remove my shoes (helpful hint: tossing your luggage on a bed is a potential bedbug hazard that's best avoided). Unfortunately, I didn't notice that the refrigerator was leaking a huge pool of water on the floor, and walked into it with my one pair of socks. Since I have no idea when I'll see my luggage, I'm now stuck with wet socks that have been streaked with brown goo. Good times. Good times.

• Lost. And since I don't have any idea when I'll be getting my bag, tomorrow morning I'll have to rearrange my schedule and head to... THE MALL... =shudder=. Fortunately The Maine Mall has an Eddie Bauer... the only place I seem to be able to consistently find Tall Sizes off the rack. Their clothes are constructed okay, but the styles they have seem to have taken a nose-dive in the past couple years. Hopefully I can find something I'm happy with, because I really don't need any more unhappiness coming my way this trip.

And... back to Maine... and sleep.