For anybody not wanting to read my lengthy full review of Marvel's Daredevil, which is currently streaming its 13 episodes on Netflix, I'll just sum it up thusly...
Daredevil is a surprisingly violent show that's a very good adaptation of the Marvel comic book upon which it is based. Featuring some flawless casting with Charlie Cox as Hell's Kitchen lawyer by day and vigilante by night Matt Murdock... plus the ever-incredible Vincent D'Onofrio as brutal "Kingpin of Crime" Wilson Fisk... this series exceeded my every expectation and is well worth your time.
Assuming you can handle a show that's bloodier and more vicious than just about anything else out there.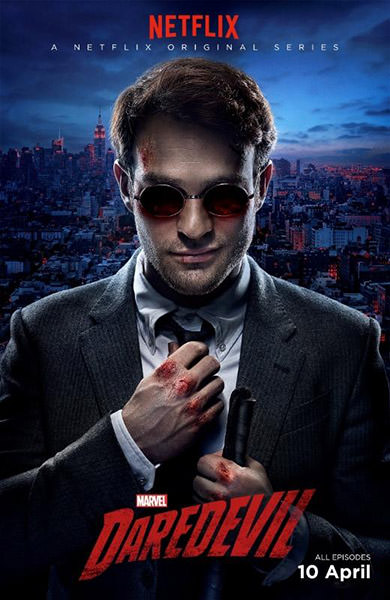 Before we get on with things, I'm just going to put something out there because it's critical to understanding my appreciation of what Netflix has managed to do with Daredevil: I hate... HATE... Marvel's Agents of S.H.I.E.L.D. Sure it has Clark Gregg and Ming-Na Wen in the cast (two actors I love to pieces), but everything else about it is total shit. The show's greatest sin is that it's boring as hell. Scenes which should be action-oriented where people are ACTUALLY DOING SOMETHING are instead dumbed down to lengthy expositional dialogue. Apparently, the show-runners don't have the budget to film what they need to film so they resort to talking heads. Over and over and over again. Then draw out plot points that should last one or two episodes to a half-dozen or more. And I get it. Network television demands 22 episodes a season, and you have limited monetary resources to spend over all that time. So a show like Agents of S.H.I.E.L.D. which demands expensive action shots to tell its story instead gets watered down to the point of pointlessness.
Then came Marvel's Agent Carter.
It was exceptional in every way S.H.I.E.L.D. is not. But it lasted only eight episodes.
And I think that's the key here.
Netflix spent a good chunk of money over a limited number of episodes instead of dragging things out to pointlessness. Sure, there's lengthy, dialogue-intensive scenes here, but they're not shoe-horned in with the intent of watering things down to meet a budget. They're critical to the overall narrative of the show. And that's the point... everything to do with Daredevil feels deliberate, planned, and (most important of all) necessary.
That's why it's so darn good.
So... minor spoilers, and all that...
Living amidst the violence and corruption of New York City's Hell's Kitchen, Matt Murdock's life is forever altered by two tragic events. The first is an accident which costs young Matt his sight (but enhances his other senses to super-human levels). The second is when his father "Battlin' Jack Murdock" (a boxer on the take) is murdered for not taking a fall.
Trained by the enigmatic "Stick" to be a stealthy ninja-like avenger, Matt hones his fighting skills to perfection and uses his gifts to become the ultimate crime-fighter.
Yada yada yada... Matt essentially becomes Batman.
Kinda.
Murdock is morally questionable in how he goes about his night-job that he could almost be considered a villain in his own right.
And speaking of...
When it comes to a "villain" for the series you have to use quotes around the word "villain" because Wilson Fisk is not your typical straight-forward comic book antagonist. In the comics, Kingpin is a (literally) larger-than-life criminal who masquerades as a legitimate businessman. In the Netflix show? It's more complex. Just like Matt Murdock, Fisk wants to make Hell's Kitchen a better place. But his approach is different in that he's willing to wade into the criminal underworld and do a lot of awful things to make it happen. And here's where it gets tricky. Unlike Matt Murdock (who admittedly likes pummeling evildoers in the name of justice), Fisk regrets having to get his hands dirty. In the beginning, anyways. As expected, Vincent D'Onofrio is excellent in the part, but he inexplicably plays all his dialogue with a hokey gruff voice (Holy Christian Bale, Batman!) which is distracting at times.
The supporting cast is pretty great. Deborah Ann Woll as Karen Page is very good and adds an additional human element to the show that's much needed. Elden Henson as Foggy Nelson I'm not so fond of, but it's probably not the actor's fault. The character is borderline stupid at random moments for no good reason, and I just couldn't warm up to him. Two stand-out characters that caught me a little by surprise are Vondie Curtis-Hall as reporter Ben Urich and Rosario Dawson as Claire Temple. Curtis-Hall (who I remember forever from a bit part in Eddie Murphy's Coming to America) is digging deep to flesh out his role. And it shows. Ben Ulrich is trapped in a profession that's rapidly disappearing and trying to hold on to his journalistic integrity on the way down. It's more than a little mesmerizing to watch. Rosario Dawson, who always seems more than capable in the roles she takes on, is at the top of her game in her limited screen-time as Claire (Holy Night Nurse, Batman!). Which is important because I'm assuming she's going to roll into Netflix's Luke Cage series down the road (she's an important part of his life in the comic books). Please please please let that be the case. And lastly, Scott Glenn's appearance as "Stick" was everything you knew it would be.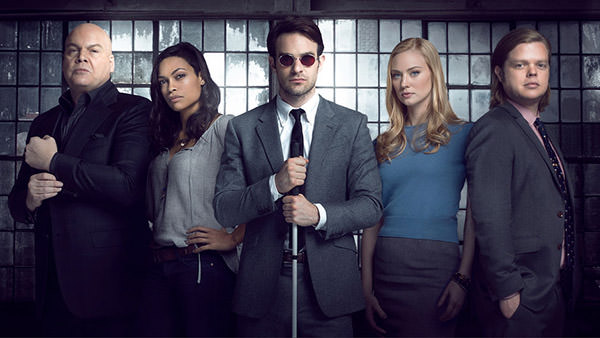 Moving on to the best character in the entire series... Hell's Kitchen, New York City. Daredevil is actually shot on location, and it adds a huge amount of atmosphere to the show. Partly because you can't fake NYC in the grand scheme of things, but mostly in the way that the city is shot. It's not quite noir, but it gets there from time to time and is always beautiful to behold. In the end, the authentic backdrop went a long ways towards selling the believability of the show.
Something that Daredevil surprised me with is having the balls to forgo yet another boring origin story in episode one. Instead, the details of how Matt Murdock became the titular character are artfully dispensed throughout the run of the series. His "powers," for example, are hinted at from the beginning... but aren't officially laid out until Episode 5. His training with "Stick" isn't revealed until Episode 7. To say I'm a fan of how it all played out is a massive understatement. Daredevil may not be as recognizable and well-known a character as Spider-Man (who got two frickin' origin movies!), but it doesn't matter. WE GET IT ALREADY! We've seen enough super-hero movies to know how the game is played. We know how super-powers work. There's no reason to spell it all out every dang time. Just jump into the action and reference back to how you got there... as needed... IF needed.
Another thing I like is the occasional nod back to the show's comic book origins. While at dinner, Wilson Fisk's date talks about "a tall man in a white suit and ascot" who once seduce her. A not-so subtle jab at his original appearance...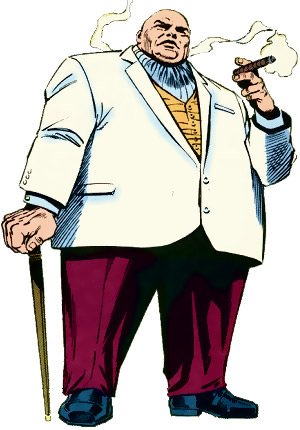 For all that Daredevil got right, there are a few things that they got wrong, however.
First of all, the show went to extreme lengths to distance itself from the Marvel Cinematic Universe, which makes no sense at all. I was fully expecting them to at the very least reference the "Battle of New York" from the first Avengers movie (DAREDEVIL FRICKIN' TAKES PLACE IN NEW YORK CITY!!!), but it didn't surface. Or maybe it did and I missed it? I dunno I was working a lot as I was watching. All I do know is that they really should have made stronger ties to everything else "Marvel" out there. Instead all we got an off-hand remark about Captain America's helmet and a reference to Roxxon Oil. Lame. That's the shitty way DC Comics is handling their properties... Marvel's strength is that everything is connected. So it would be nice if that was acknowledged.
The other thing they got wrong with Daredevil was the costume. Matt Murdock started out in a Frank Miller/John Romita Jr. inspired "Man in Black" outfit, which I was begrudgingly okay with. Mostly because I kept assuming there would be a payoff when Daredevil actually becomes Daredevil in his classic red outfit. But when the moment came, the costume was hardly a payoff. And since Netflix has already plastered photos everywhere, I don't think I'm spoiling anything when I show it here...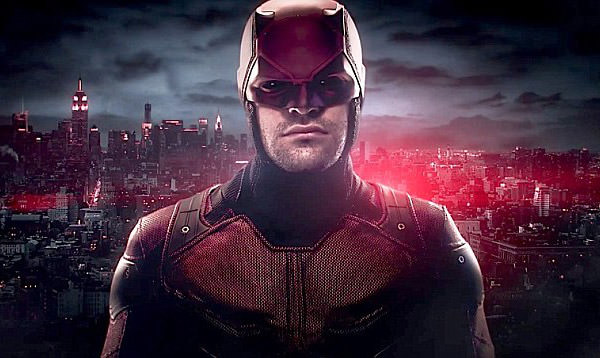 While I think it's a bit over the top, I'm okay with the body armor. Whatever. But the mask?!? Awful. Just gut-wrenchingly awful. His eyes are practically recessed because they built it out so badly. Yes, Matt doesn't need eye holes to actually see, but it looks ridiculous. PEOPLE DON'T KNOW THAT DAREDEVIL IS BLIND, so isn't everybody thinking "How in the hell does he SEE out of that thing? I know I am. But what makes it go from "awful" to "tragic" is the stupid styling on it. Why in the hell are there those big triangular ridges above his eyes? Why is the forehead so flat? He looks like a frickin' neanderthal. It's just so horrible. Bash the Ben Affleck Daredevil movie all you like, but at least they knew how to make a Daredevil costume...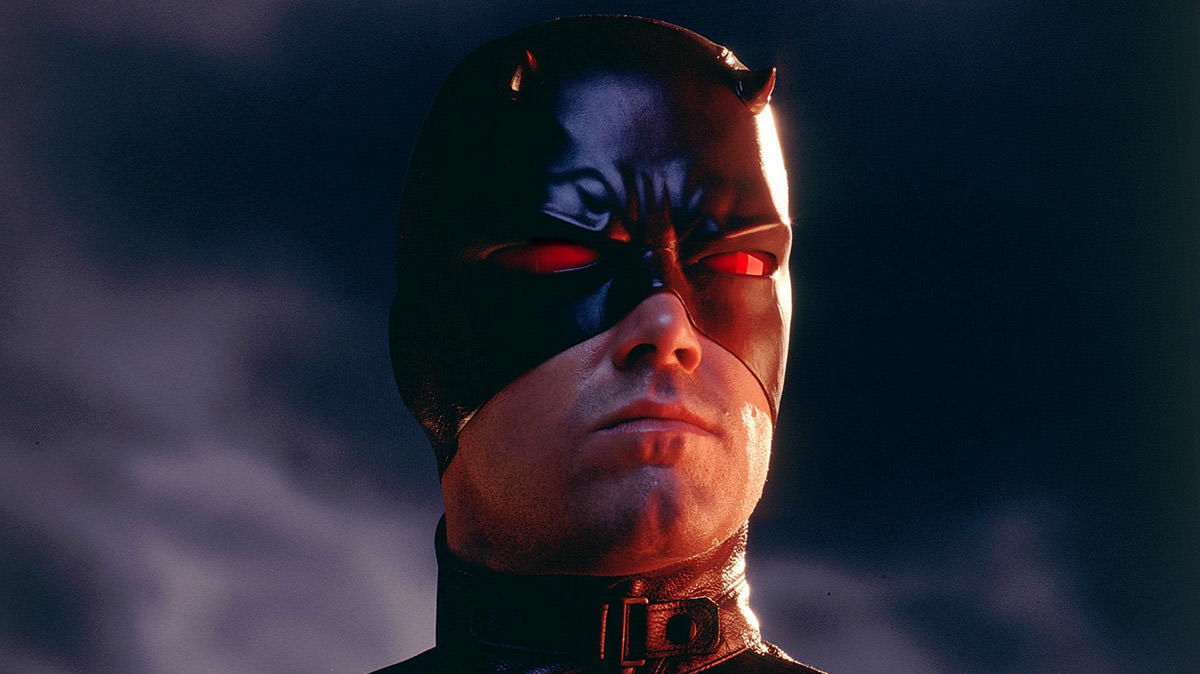 Oh well.
Ultimately Daredevil a very good effort that I really enjoyed and bodes well for the three remaining series in Netflix's contract. Next up is A.K.A. Jessica Jones with Kristin Ritter. After that is Luke Cage (YEAH!!!) with Mike Colter. And lastly, Iron Fist, which I don't think has been cast yet. Then all four series wrap up with a massive Defenders crossover that should be pretty great.
Especially if it features a guest-shot of Benedict Cumberbatch's Dr. Strange and Mark Ruffalo's Hulk... both of which were regulars in the comic book version of the team.
Hmmm...