Because my entire day yesterday was spent catching up on work, I had the Apple Worldwide Developers Conference keynote running... but couldn't pay very close attention to it.
And so... today's the day I get to channel my inner Mac Whore and talk about new happings at everyone's favorite fruit-named tech company. If the thought of that bores you, here's your chance to escape! But don't come back until the day after tomorrow, because that'll be Part Two.

OS X YOSEMITE
The successor to OS X Mavericks, OS X Yosemite, was presented by Craig Federighi, the Senior VP of Software Engineering at Apple...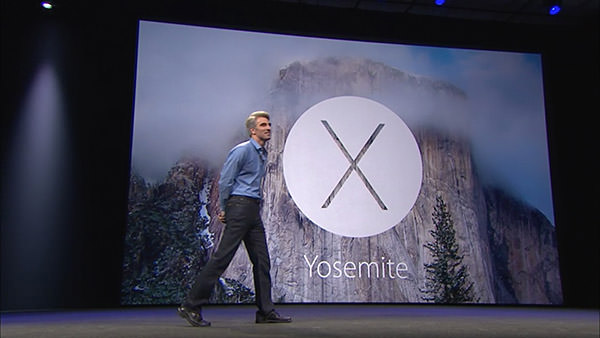 The guy is incredibly charismatic and engaging... reaching to near Steve Jobsian heights with his presentation skills. He's also darn funny, injecting wit and humor into his speech at a breakneck pace.
The look of Yosemite is very much a continuation of iOS7. All aspects of the OS from the controls to the icons have been simplified, saturated, and flattened. In addition, transparency effects have been liberally sprinkled all over the interface elements. Which is something I'm not thrilled about because I find it unnecessarily distracting. Hopefully users will have the ability to disable the transparency like they currently can with the menu bar.
Federighi seemed especially proud of the new look for Yosemite's trashcan...
Personally, I don't give a shit what the trashcan looks like... I only care that it works. Which it currently does not in Mavericks. It will show as "empty" even when there's files inside. Hopefully somebody bothered to fix this incredibly basic and incomprehensibly ignored bug.
After talking trash, we moved on to the system font, which is no longer Lucida Grande. I don't know what the new typeface is called, but it's very pretty and easy to read. And as exciting as that improvement is, the next improvement is something I've been begging for... DARK MODE... where the menu bars and menus are darkened so they don't distract from what you're working on...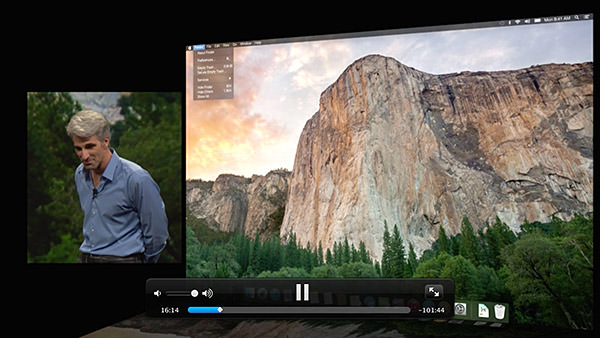 The window model for Yosemite continues to add functionality for title bars and devote more space to content, which is nice. Apple has also changed the way window controls work... with the green button now taking the window full-screen. Something I could get behind if they WOULD ONLY HAVE AN OPTION TO KEEP THE MENU BAR VISIBLE! I frickin' hate going full-screen because fighting the disappearing menu bar drives me insane. I need to be able to see my clock... my battery level... the date... all that important stuff that's so handy to have available... at a glance.
Notification Center is getting the ability to add widgets, which will finally make it useful to me.
Spotlight, Apple's search system for OS X, is getting an upgrade... and this time it looks more than just cosmetic. All I care about is that it's not a flaky pile of shit like the interface is now (How many times do you end up launching the unintended result? For me, it's practically daily). The addition of Sherlock-esque internet data for searching is a welcome throwback.
Next up, Apple puts the smack-down on DropBox by releasing an online storage option of their own called iCloud Drive. I don't know how it will be an improvement over DropBox, which makes cloud storage so drop-dead easy, but I'll definitely be taking a look.
Federighi then took a look at Yosemite's update for OS X Mail... currently the most-hated app I use every day. It is a buggy, slow, and overall shitty email client that looks downright embarrassing when compared to what Microsoft has going on with Outlook. He promises that they have worked very hard to make improvements with the basic functionality, which would be very nice. A new feature for Mail is "Mail Drop," which allows the seamless sending of files up to 5 gigs via iCloud Drive.
Safari is a world-class browser, but Apple's not resting on their laurels. They've added a number of new features for convenience, speed, and improved battery life... but the standout for me is being able to spawn separate windows for Private Browsing instead of it being an "all or nothing" game.
And then came the first surprise of the day... something Apple is calling "Continuity"... which works towards providing a seamless experience between MacOS X and iOS. The crowd erupted in applause when Federighi announced that FINALLY you can "Air Drop" between MacOS X and iOS. This omission has been categorically absurd and, if I had been in the audience, I would have been screaming "IT'S ABOUT FUCKING TIME!"...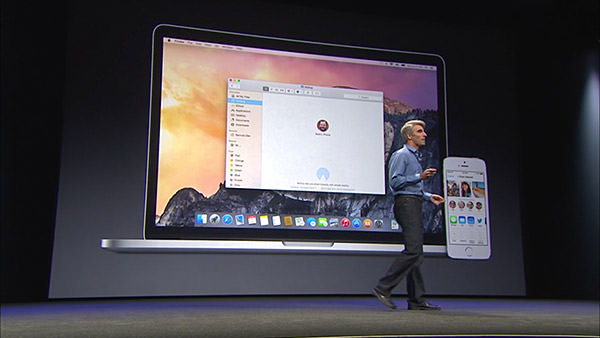 But Apple didn't stop there, because next came a new feature called "Hand-Off." This nifty bit of tech means your Mac and your iPhone (or other iOS device) now has proximity awareness of each other. You can start composing an email on your Mac, then hand it off to your iPhone so you can keep composing as you walk out the door. Additional features, like being able to answer an incoming call from your iPhone on your Mac or use your Mac to make calls through your iPhone is dead-sexy. That Federighi demoed this by calling a "new employee" — Dr. Dre — was just the icing on the cake.
And there's where Apple wrapped up their look at just some of the new features that will be available with the new MacOS X.
The beta for Yosemite has been released to developers already. Non-developers can join the beta program later this Summer. Then everybody will be able to grab a free copy come Fall.

Tune in tomorrow when I unleash my commentary on Part Two of the keynote... with iOS 8.