I didn't think that Helsinki was that much closer to the North Pole than home, but I was wrong. Sunset here is around 10:30pm, which means it's light out until 11:00pm. Usually I like the idea of wandering around a city at dusk because the light is so fantastic for photos, but can't seem to get motivated to go for a walk an hour before midnight.
But anyway...
Yesterday I made such grandiose plans for today.
Finland has hundreds of islands floating off its coast, so I was keen to take some kind of cruise that would let me see some of them. The cruise I found is a three-hour excursion up the coast to the town of Porvoo, and seemed to be exactly what I was wanting. Just look at all the cool islands and stuff along the way...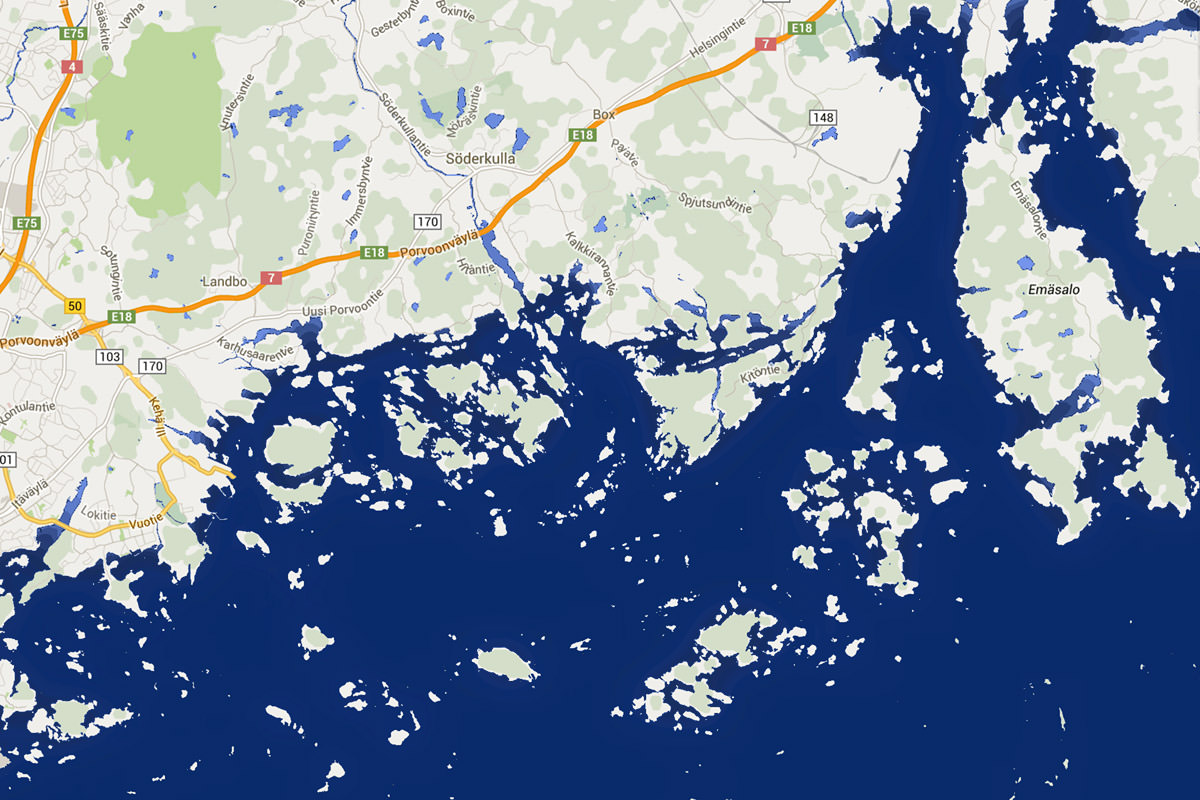 Map taken from Google Maps!
But then I woke up this morning and the last thing I wanted to do was climb on a boat for three hours, then slog around a tourist-trap city for two hours, then spend another three hours on a boat back to Helsinki. There just isn't enough islands in all of Finland to make that sound appealing. Especially after the trip to Estonia yesterday.
So I down-sized my plans and thought that a 90-minute harbor cruise would be a better option for me.
But as I was getting ready to walk to the South Harbor, I admitted to myself that even 90 minutes on a boat crawling with tourists was too much.
So I down-sized my plans once again and decided to eat lots of Finnish pastries today.
The pastries here are pretty amazing. I especially like the Karelian pies, which have a thin crust filled with some kind of sticky rice and an egg glaze on top... not overly sweet, but tasty. Today I went for something different, and ended up with the Finnish version of a cinnamon roll, and some kind of twisty sparkly donut that had anise (licorice) flavoring...
After wandering around the neighborhood shops for a while, I decided to go back to the hotel for a nap before lunch. Since I'll be headed home this weekend, I might as well start prepping myself for the time change.
But mostly I just felt like being lazy for once.
Lunch was pizza at a really good Italian joint just down the street from my hotel. As I was waiting for my order to cook, I looked up and saw the Chick-Fil-A cows drawn on a chalkboard next to a sketch of Sophia Loren for no reason at all...

Random stuff like this really makes my day.
But not quite as much as stopping in the corner market for a Coke and some chips only to find Cheese Balls with a penis-shaped mascot and MINIPUSSI...
Delicious! And just right. I'm so glad I didn't splurge and get the MAXIPUSSI.
After my late lunch, I wandered around the city some more, snapping a few pictures for duck soup. It was all good until I got back to my hotel and found out that my camera somehow got set to 32-BAZILLION ISO, so everything was all grainy...
Lesson learned. Check your ISO every time you take out your camera. I'm just thankful that this happened on shots that I already had... if it had happened for my entire Estonia trip I would be freaking out.
When it came time for dinner, I just wasn't hungry enough to justify paying $40 for something to eat. Instead I decided that I wanted an OREO McFlurry for dinner. Unfortunately, the local McDonalds didn't have OREO. I was given choices of "licorice" or "powder" or "Smarties candies." Licorice didn't sound appetizing as a McFlurry flavor. Powder had me concerned that it was a cocaine-based flavor, and I needed to get my sleep tonight. So I went with Smarties, which are kinda like M&M's back home... but not really, as the flavor is different (and the chocolate firmer, but smoother and less sugary). It was totally delicious, and my day had been made.
Until I was walking back to my hotel and got attacked by this thing...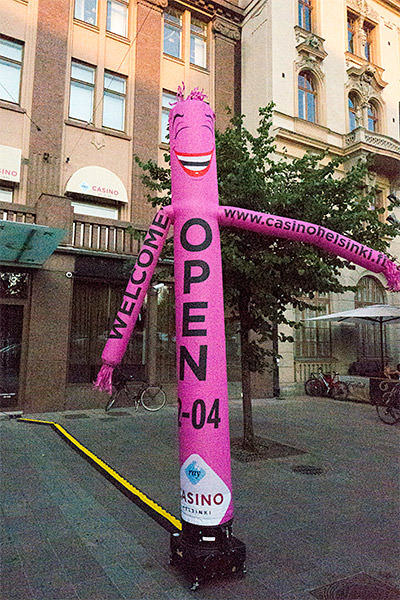 As I was making my way past it, the tube deflated and smacked me on the head. I took a step back and was getting ready to beat the crap out of it, but decided I didn't want to spend my last night in Helsinki in jail.
Turns out advertising here is just as annoying as it is back home.
Except when it isn't, because most times I find Finnish and Estonian ads to be oddly subdued. They definitely want to keep your expectations in check...
American Ad: WE'VE GOT THE BEST FUCKING FOOD IN TOWN!
Finnish Ad: Probably best in town.
American Ad: THE BEST FUCKING ELK SOUP YOU'LL EVER EAT!
Estonian Ad: Decent bowl of elk soup.
I'll bet the ads for escort services here are a real hoot.
And now I suppose I should start packing my suitcase and getting ready for my flight back to DutchyLand tomorrow. Given how utterly lazy I've been all day today, that's going to take a major effort.
Maybe I should just do that in the morning?
Yeah. This can totally wait until morning.
The morning where I'll be all "ZOMG! WHY DIDN'T I PACK THIS SHIT UP LAST NIGHT? NOW I'M GOING TO MISS MY BUS TO THE AIRPORT! AAAAAAHHH!
I never learn.