And so it begins again.
For the past three months I've stuck pretty close to home. Sure, I flew to my sister's house for the holidays in December, made a quick trip to Spokane for work in January, and took a wonderful trip to Oakland to visit friends and get a tattoo in February... but the bulk of my Winter was spent taking a vacation from travel.
Now the vacation is over, and the next nine months are back to travel as usual.
A part of me is sad about that. It's just so nice to stay in one place for a while... but, on the other hand, holy crap am I happy to get back to big city living. I've only been in Chicago for three hours now, and I already feel a change coming over me. This is normal. This is the way life is supposed to be. This is where I belong. At least until I've been on the road for nine months, at which time I'm sure that I'll feel the same way about being home in Redneckistan. But until then, I'm quite happy to be metropolis-hopping.
One of the things I love about being in cities like Chicago is the food. But perhaps not in the way you think.
It's not because the city is filled with five-star fine-dining options... though I do enjoy treating myself to five-star cuisine from time to time... no, it's the variety of things I can get here that I can't get back home.
Case in point... can you guess where I was dying to eat in Chicago the minute I landed?
Not a five-star restaurant, but instead a local fast food chain of Mexican grill restaurants in the Chicago area. Heaven only knows I can get pretty good Mexican food back home... but I can't get Burrito Beach. And I love Burrito Beach. Their grilled rice & bean burrito tastes amazing, and I'm a huge fan. It costs under $5. And it was delicious.
Another thing I'm craving? A Chicago-style vegetarian hot dog. Can't get a veggie dog back home... and certainly not Chicago style for $4.18... or any price. Tomorrow is the day, and this is what I'll be dreaming of tonight...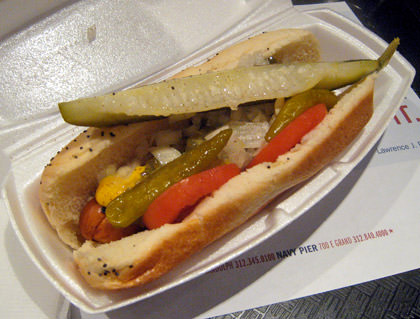 Yet another food I'm dying for? A falafel sandwich. Just a simple, $4.99 falafel pita sandwich. Back home, most people don't even know what the fuck falafel is. It's one of my favorite foods on earth, and yet there's no place that serves it in all of Redneckistan.
I could go on and on (don't get me started about the amazing pizza here).
People make fun of me because I travel all the way to big cities and, for the most part, don't take advantage of the haute cuisine that's available. But it's not because I'm cheap... or can't appreciate it... or am opposed to it... it's because I'm too busy stuffing myself with all the simple foods I just can't get when I'm at home.
Hell, it used to be that my favorite restaurant in all of New York City was McDonalds Times Square because they had a McVeggie Burger.
When it comes to the food you love, the price doesn't really matter.
Even when it means the price is five dollars.