I am so tired of throwing money away on crap.
I buy a new pair of jeans, and the zipper-pull breaks off the first time I wear them. The landline phone I have at work broke within the first week. My car has been a piece of shit from day one. It goes on and on. As I was cleaning out some old storage boxes this past weekend, I ran across tons of crap that was either broken or not working as advertised. I saved it all in the hopes that one day it might be fixed and become useful so I didn't waste money, but I was only fooling myself.
And it never ends. For the past week when I change the channel to Comedy Central, this is what appears on my television...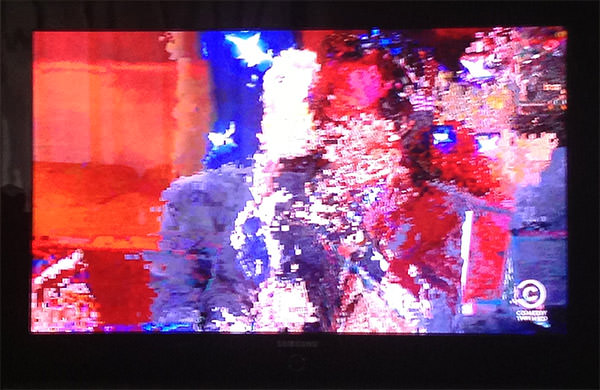 It's Stephen T. Colbert! I guess... the sound is all choppy too.
Any time this has happened in the past, the cable company is all "Uhhh... I dunno... it's probably not our fault... maybe you should call Comedy Central."
Really? Why in the hell should I be the one to call? YOU'RE the one that takes my money each month, assholes!
And, of course, they don't provide a credit on your bill for service failures either. Which is irritating, but not nearly as irritating that they just don't give a shit.
Of course, I'm paying them to not give a shit, so I guess it's all my fault in the end. Too bad satellite isn't an option for me. But maybe buying the shows I want to watch from iTunes and dumping cable is.