There's a grave disturbance in The Force, but never fear... because Bullet Sunday starts now...

• Rancor! My love of all things LEGO Star Wars is well documented. But LEGO has stepped it up a notch by releasing a new version of the cool Gamorrean Guards that I'm only just now seeing. As ugly as the old version was, this new version is cute as hell..

Photo from Warehouse 19, Sweden
Awwwww! You can get one in the "Rancor Pit" set, which conveniently interlocks with the Jabba's Palace set (how sweet is that?)...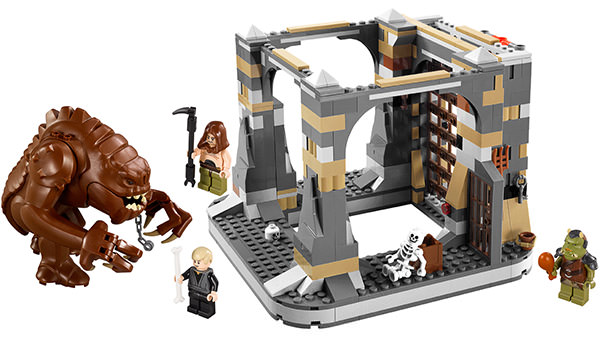 Now that Disney owns Star Wars, I don't know how worried I should be about the license that LEGO had with LucasFilm to make awesome sets, video games, toys, and such. Since most of the cool stuff that's happening with Star Wars is coming from LEGO now-a-days, I hope that Disney is smart enough to keep a good thing going.

• Infinity! Speaking of Disney... they unveiled their mysterious "Project Toy Box" gaming universe at long last. And it's not anything quite like anybody expected. Called Disney Infinity, it copies the whole Skylanders concept from Activision where players collect real-life toys and play with them inside a video game. The result is somewhat... muddy. In order to have characters from all kinds of different animated styles plus live-action characters be able to interact with any semblance of sanity, a brand new common "Disney Aesthetic" has been created. In some cases it's very good (characters from The Incredibles look great)... in some cases it's a pleasant surprise (characters from the Pirates of the Caribbean films look pretty cool in their animated form)... and in some cases it's pretty bad (my beloved Sully from Monsters. Inc. looks like shit). Overall, I guess I'm just "meh" over the whole idea...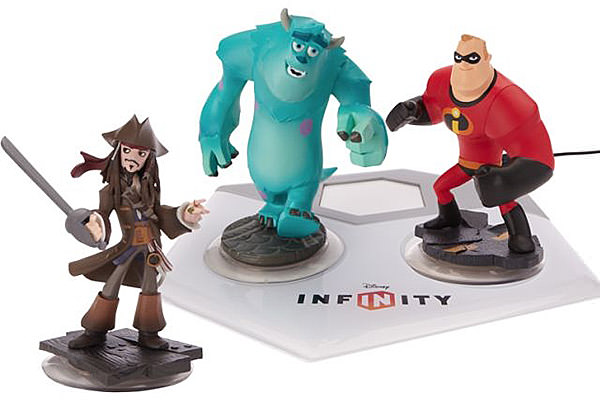 ©Disney and ©Disney/Pixar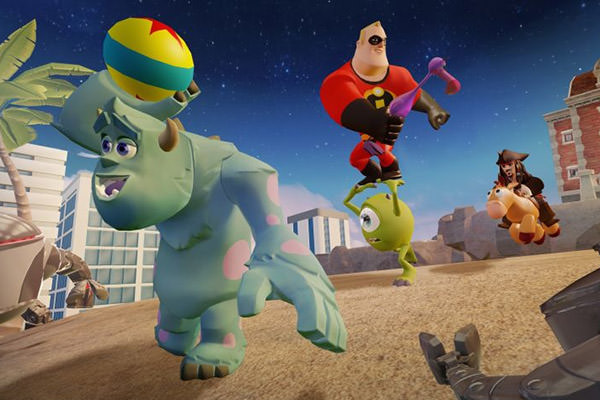 ©Disney and ©Disney/Pixar
Where things may become interesting is when Disney starts leveraging more of their vast array of properties and licenses. They've got LucasFilm, which means you could theoretically have Indiana Jones and Luke Skywalker playing along with Captain Jack Sparrow and Perry the Platypus. They also have Marvel Comics, which means Spider-Man, Iron Man, Thor, and the entire Marvel Universe may eventually drop in. They've got all the various Disney Channel properties available... which means we could finally get that Hannah Montana vs. Darth Vader deathmatch battle we've all been dreaming about...
And don't forget all the Buena Vista movie characters and ABC Television characters that Disney has in their pocket. With that in mind, you can see where Disney's gaming universe might become something monstrous and huge.
I'm not sure that it's something I'm going to buy into... especially since Mickey Mouse isn't even available yet... but I will be following Disney Infinity with no small amount of interest.

• Ads! I hate television commercials. Partly because they interrupt the shows I'm watching... but mostly because they're all annoying, stupid, and just plain suck. Which is why when a GOOD television commercial comes along, I nearly die of shock. It's so rare that this happens... especially outside of the Super Bowl... that I feel compelled to congratulate the people responsible. The latest commercial I'm loving is this very clever ad from TD Ameritrade...
Clever. And smart. And effective, if theirs is a service you're looking for.

• LIES! I really hate Subway® because of their Subway® Sandwich SpokesWhore, Jared Fogle®. And now I find out that they LIE about the size of their shitty sandwiches! It's probably been happening for years, but somebody finally called them on it...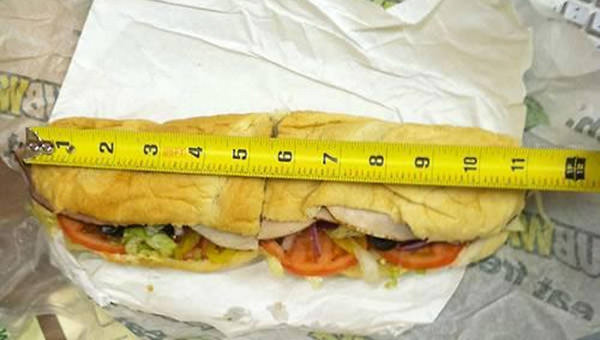 Footlong® Photo by Matt Corby
And Subway's® lame response? "With regards to the size of the bread and calling it a footlong®, 'SUBWAY FOOTLONG®' is a registered trademark as a descriptive name for the sub sold in Subway® Restaurants and not intended to be a measurement of length." This is despite the fact that in their annoying commercials there are people holding their hands up to indicate that a "Footlong®" is INDEED a unit of measure that's a foot long (as noted by BuzzFeed)...

I wish there was some way that Jared Fogle could be blamed for this scandal so he could be brought to trial and sentenced to death. Justice has been denied us long enough!

• Stream! I don't know how it is that I've never heard of "Can I Stream.it?" before, but what a frickin' amazing service! You type in a movie or TV show, and it will tell you if you can rent it, buy it, stream it, or otherwise get it over the internet from a variety of services (including the iTunes Store and Amazon)... or even purchase it on DVD or Blu-Ray. As if that weren't enough? If it's not available, Can I Stream.it? will even notify you when it's released in the format you choose...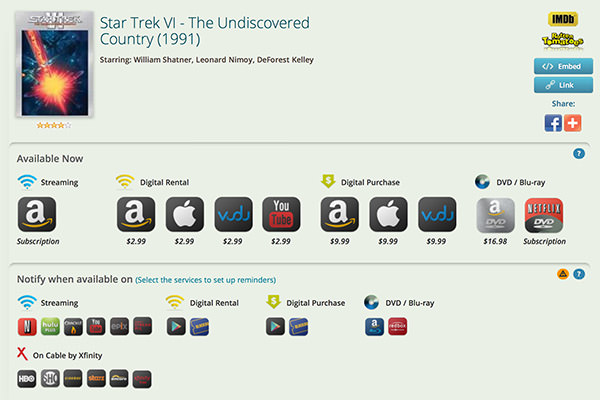 How handy is that? If you're looking to fill in your digital library or find out if something you want to see is available for rental, "Can I Stream.it?" is worth checking out!

And that's all she wrote for Bullet Sunday. This week. Don't worry... Bullet Sunday will be back next week. I promise. So don't leave angry comments... or threatening comments... or weepy comments... Bullet Sunday is still going strong, never fear! See you at next week's Bullet Sunday for sure. Totally.