Holy crap.
Seriously... HOLY CRAP!
The new Man of Steel movie poster has been unleashed on an unsuspecting world, and boy oh boy is it a steaming pile of shit. If this... this... is how the people making this movie see Superman, then we're all fucked. And so is the film...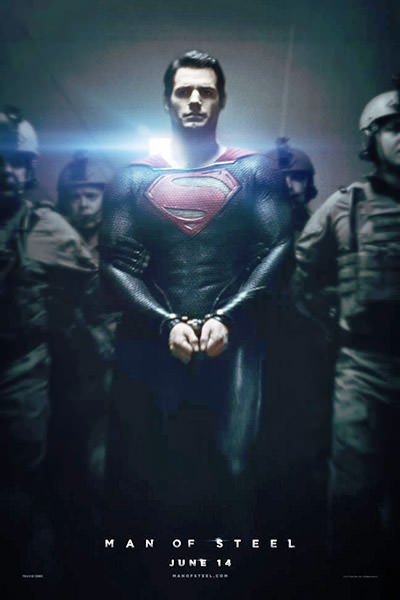 Are you frickin' kidding me?
Look, anybody writing Superman has to wrap their head around one concept and one concept only.
He is a god.
But a god who was raised as a man, so he walks amongst them.
But not really.
Because his powers and abilities are far beyond what any mere mortal can fathom. The problems he has to deal with are on a scale that dwarfs the understanding of any man. Because he's not a man... as much as he aspires to be a man. As much as he tries to pretend he's normal by dressing up as Clark Kent.
So having the movie poster for a Superman film which shows your "Superman" in handcuffs like a regular guy... being dragged down to our level... it's a complete betrayal of everything that makes Superman be Superman. And I don't for the life of me understand what director Zack Snyder is trying to say with it. Superman could bust out of those fucking handcuffs and beat every soldier around him senseless in seconds. Fractions of seconds. So is this symbolic? A way of saying that, despite all his power, Superman is just a man? He's not above the law? Well, barf... who would want to watch that movie?
Superman is not Batman. He's not fighting insanity in the gritty streets of Gotham City.
He is a god.
Who clings to the humanity that his earthling parents instilled in him.
All while being the most powerful being on the planet.
He's about as far removed from the "gritty streets" as you can get. And, yes, he IS above the law.
Superman is above everything.

Except in this movie, apparently. I mean holy crap, Superman was better portrayed in the LEGO Batman video game. This... this... is just pathetic.