Beware of stray casings... because Bullet Sunday starts now...

• Chips! Chips Ahoy! is not a cookie brand that I enjoy very much. When it comes to mass-produced bags of chocolate chip cookies, I'd rather not go there. And, if I have to, I'd rather go with Famous Amos. But then I saw that Chips Ahoy! has a new Holiday version that I had to try...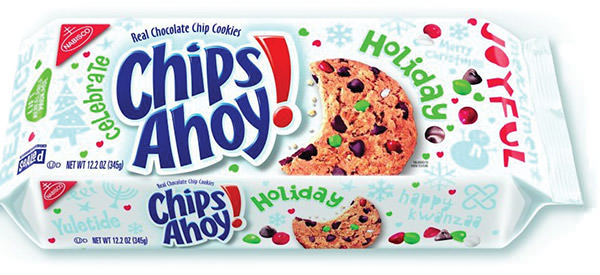 They're just like regular Chips Ahoy!... with the addition of candy-coated chocolate chips. They're crunchy and delicious. As are the cookies. If you see them in your local store, they're worth checking out!

• Killers. Forget The Walking Dead... the scariest show on television bar none is a series on Biography Channel called Killer Kids. This highly disturbing mess features documentaries on, you guessed it, killer kids. As in kids who kill their entire families and stuff like that. It is mind-bogglingly, unbelievably horrific, and I accidentally came across it while channel-surfing the other day. If you want nightmares, by all means please tune in.

• Split. Speaking of The Walking Dead... remember the good ol' days when there was no such thing as a "Mid-Season Finale?" Well, it's more and more common now to break up a television into two chunks, airing the first half when the TV season starts in September/October... then withholding the remaining shows of the season until February sometime. It sucks. Especially when The Walking Dead just aired their mid-season finale and now we have to wait until NEXT YEAR to see what happens. Booooooo!

• w00t! And while I'm talking about television, I would be remiss not to mention that the BBC is going to adapt an amazing book by Susanna Clarke, Jonathan Strange & Mr Norrell, into a six-part series...
The story is about a kind of alternate history where magic existed, but died out. And now its back as the Napoleonic Wars are heating up. What ensues is more than magic, and one of the best reads you'll happen across.
Obviously, I love this book. So this series could be a very good thing. Or a very, very bad thing. Director Toby Haynes has worked on some nice episodes of Dr. Who, so I have high hopes. All I can say to the BBC and all involved... please, PLEASE don't fuck it up. This chance won't happen again.

• Twain. I've had zero interest in taking in any of the big Vegas shows that have taken up residence on The Strip. Celine Dion? Pass. Cher? Pass. David Copperfield? Pass. Donny and Marie? Double Pass. Barry Manilow? Oooh... Pass? I've come very close to flying down for a Penn and Teller show a couple times, but ultimately decided against it. But now Shania Twain is playing at Caesar's and I can't help but be intrigued. I'm not a big fan... and I really don't like Country music... but I've always been fascinated by Shania and have enjoyed her music...

Shania "Still the One" show photo by Getty Images.
What I don't know is if I like the idea of attending her show enough to spend $55 for crappy tickets... $250 for decent tickets... let alone the cost of a hotel and airfare. Apparently I've got two years to make up my mind, so I guess I won't stress about it.

Annnnd... I'm spent. Another very busy week awaits.