I own thousands of DVD and Blu-Ray discs. This is a consequence of my love for movies and television, and my desire to own those videos I love so I can watch them again whenever I want.
But DVDs and Blu-Rays take up space, and I'm running out of room on my shelf. Now-a-days I am more likely to buy my videos from iTunes to watch on my Apple TV or iPad. Heck... I'm more likely to rent my videos from iTunes to watch on my Apple TV or iPad. But not always. DVDs and Blu-Rays often have supplemental material that enhances my enjoyment of the movie/series, and so I still find myself buying discs of my most favorite movies/series to get all the goodies I can.
Besides, most Blu-Ray movies are available in "combo-packs" which includes a digital copy of the film. This is the best of both worlds, because then I get the supplementary material to watch at home, and the film added to my iTunes account to take with me. Sweet!
But it was a situation too good to last.
Because movie studios stopped offering iTunes codes for the "digital copy" and switched to this stupid fucking "digital locker" scam called "UltraViolet." And, let me tell you, Ultraviolet is one of the biggest fucking turds to ever plague consumers. It's so bad that I categorically refuse to buy any Blu-Ray that has Ultraviolet attached.
The latest casualty? The Dark Knight Rises...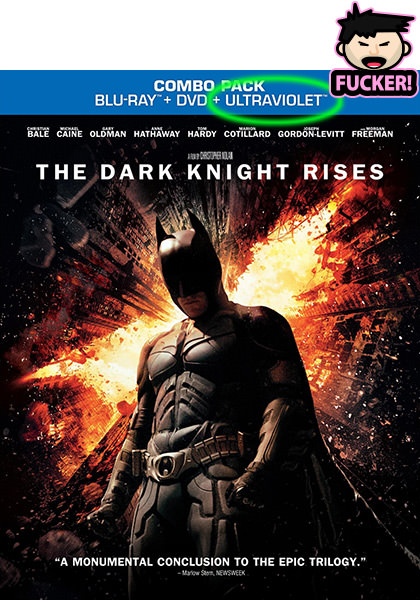 FUCK YOU, WARNER BROS. PICTURES! FUCK YOU UP YOUR GREEDY CORPORATE ASSES!
And so...no $24.96 Blu-Ray for me. I'm instead going to pre-order the iTunes HD "Extras" version for $19.99. I don't know if it contains all the "extras" that are on the Blu-Ray but, as much as I want a physical copy on my shelf, I seriously don't give a fuck. The future is DIGITAL... and if movie studios aren't going to give me what I want, i.e. digital copies in iTunes... NOT shitty "Ultraviolet digital locker"... then the physical disc I covet isn't worth having.
And what's next? iTunes copies of the movie will be "edited for content" and you'll be forced to buy the Blu-Ray Ultraviolet crap if you want to see the entire film? I wouldn't be surprised. Any money-making plan, no matter how fucking insane, seems to be fair game to greedy executives. If movie studios continues this downward slide, I'm not going to "buy" movies at all. There are so many better alternatives to paying a company to fucking shit on you.