Before you start celebrating that I finally made it home, you might want to chill for a minute... because Bullet Sunday starts now...

• Hostess. I haven't eaten anything from Hostess in decades. They use disgusting LARD in their products, so once I became a vegetarian they were scratched off my shopping list. But, as a kid, I loved Hostess products. Lemon Pies. Ding Dongs. Cupcakes. Twinkies. And Ho-Hos... oh how I loved Ho-Hos. Everything they made was magic...
So you can imagine how the news of their impending doom is a conflict for me. On one hand... who gives a rat's ass that people won't be able to buy their unhealthy crap any more? But, on the other hand... Hostess's unhealthy crap is an American childhood right of passage! Not that I have any doubt somebody isn't going to buy out the production rights for all those classic Hostess products... it's only a matter of time before people can buy Twinkies again. But something will be lost in the process. It always is.
If I'm lucky, it will be the lard that's lost.
Because, seriously, who the fuck eats LARD these days?

• Elementary. As I've said before, I did not have high hopes for yet another reimagined Sherlock Holmes. Especially when they moved it to New York and cast Lucy Liu as a female Dr. Watson. But, much to my surprise, I liked the show. And yet... the bigger surprise was yet to come. The show keeps getting better with each new episode. The mysteries have rapidly evolved into some of the best-written, most clever, least gimmicky, stories I've seen on the small screen. And, of course, Johnny Lee Miller and Lucy Liu are fantastic...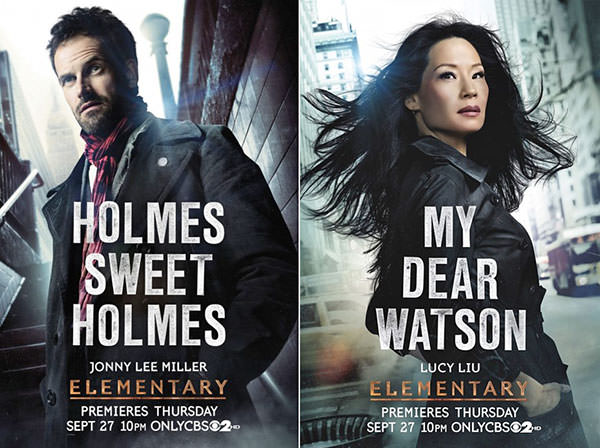 If you're not watching... I urge you to reconsider. This is some seriously great television.

• Five-0. Speaking of amazing television... I watched the Hawaii Five-0 reboot off and on when it first started, but the show didn't hook me enough to become a regular thing. Sure it had pretty scenery and the stories were okay, but it just seemed so "by-the-numbers"... like the cast weren't interested enough to make it feel "real" or whatever.
But something happened in the middle of the second season. The characters started clicking. The writers seemed to finally figure out what made everything feel "real." And now? Hawaii Five-0 is can't miss television for me. I love this show. And the biggest part of it is the chemistry between Alex O'Laughlin and Scott Caan. The smartass banter between them ranges from amusing to hilarious, but there's a warmth there that feels absolutely genuine...

Photo by Frederick M. Brown/Getty Images
And now we're in the show's third season where every episode has been gold. Seriously some of the best-scripted action on television, and well-worth your time to tune in.*
*Assuming that completely obvious non-stop Microsoft product placement doesn't drive you insane. Seriously, Microsoft must be providing free blowjobs and millions of dollars to all the producers and writers of this show.

• Maps. When Apple released their replacement for Google Maps, I hopped on the bandwagon to declare them a bad move. But most of my criticism came from the botched 3-D renderings and missing places I ran across (or didn't run across, as it were). Things just seemed so half-assed and "un-Apple-like."
But then I started using their turn-by-turn navigation just to see how goofy it was... and was floored to discover that Apple Maps provides better directions than Google Maps. My favorite thing about Apple's directions? They consider what side of the street your destination is on. Google regularly leads you to places while not giving a shit what side of the street it's on. This means you sometimes have to cross over traffic on busy streets... if you can cross at all. Apple? They provide a route that puts your destination on the right so there's no fighting to turn across the street...
So, yes. Apple Maps have some problems. And their navigation isn't perfect (I hate it when Siri says "KEEP LEFT" only to send you into a left-turn-only lane or something), but the more I use the app, the more I love it. And don't get me started on the beautiful vector maps. They load very quickly and are cached MUCH better than Google. Losing your internet connection in rural Georgia isn't nearly the tragedy with Apple, because your maps still work... they just cache so much of the area because the vector art is so small and efficient. Google turns the screen grey if you venture into a new location without internet. Not the best solution. So if you've been avoiding Apple Maps because of the negative hype... you might want to give them a second look. You might just be pleasantly surprised like me!

And... I'm going to have to cut bullets short, because I'm falling asleep as I write them. It's been a lonnnnng week.