And here we are with a Very Special Edition of "Bahamian Bullets on Monday" where I answer questions and write observations from my time in the Bahamas. So don't flip that calendar... because Bullet Sunday starts... now...

• Money! Bahamian dollars are completely interchangeable with US dollars, since the currency of the Bahamas is tied to the US exchange rate... until you leave the Bahamas... at which time any Bahamian dollars you might be carrying are practically worthless. Not that you'll see many Bahamian dollars. Thanks to the massive tourist trade with the States, you'll see a lot more US money than anything else. A friend asked me to get her a Bahamian $3 bill as a souvenir, but I couldn't find one...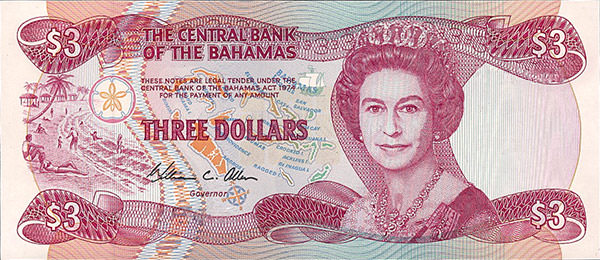 Eventually I managed to trade for a $1 bill that a jitney driver collected, since it was the only currency of the Bahamas I ever saw. I don't understand why the Bahamian government doesn't just print a bunch of $3 bills that souvenir shops could put in a plastic sleeve and sell for $5 each. Everybody would win. The government would be printing money that would rarely be circulated (thus bringing money into the country for nothing), and shop owners are getting a big return on an investment that never loses value.

• Jitney! I have no idea about "the jitney that the Sex and the City characters rode to The Hamptons"... but the "jitney" here in the Bahamas is a nickname for the local shared bus service (the name "jitney" having migrated from the US). From what I can tell, anybody with a bus can get a permit to run designated routes around the islands. Since I was staying at Cable Beach, I rode the #10 each day which runs from there to Downtown Nassau and back. In my case, they were a cheap ($1.25) alternative to a pricey taxi ($15.00+tip). But you do get what you pay for. Jitneys are almost always older vehicles, and many are busted to shit...
And I mean that literally... some of them are falling apart. The one I rode to dinner last night didn't have working air conditioning. But that's okay, because the door was broken and wouldn't close, so we had plenty of fresh air blowing in...
Despite being a bit dangerous, it was a beautiful old broken-down door with a lot of history...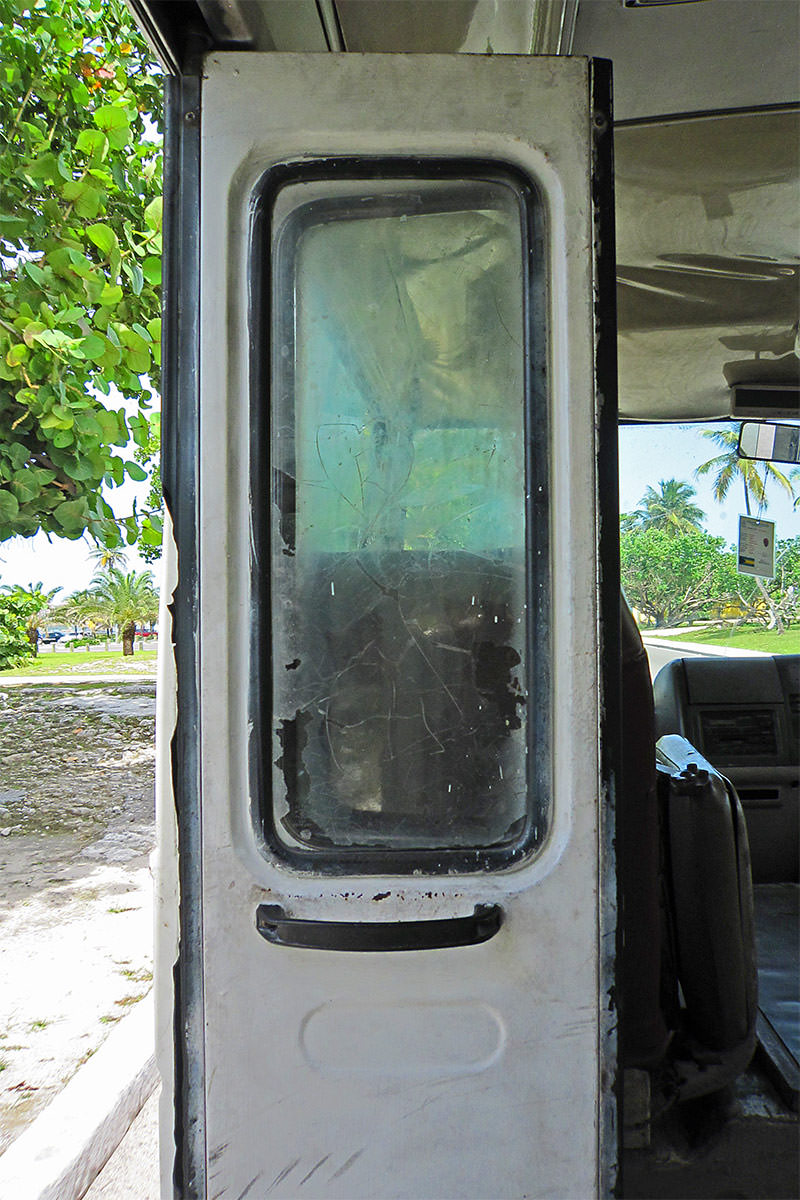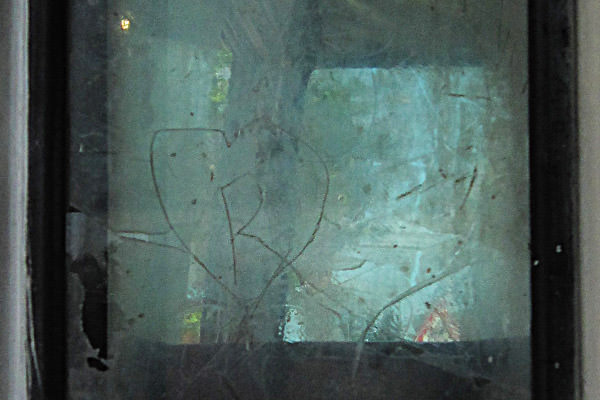 And speaking of danger, you could literally be taking your life in your own hands when riding. When I stepped into my seat, my foot went through the floor. The plate snapped back up, but I spent most of the trip wondering if my seat was going to fall through...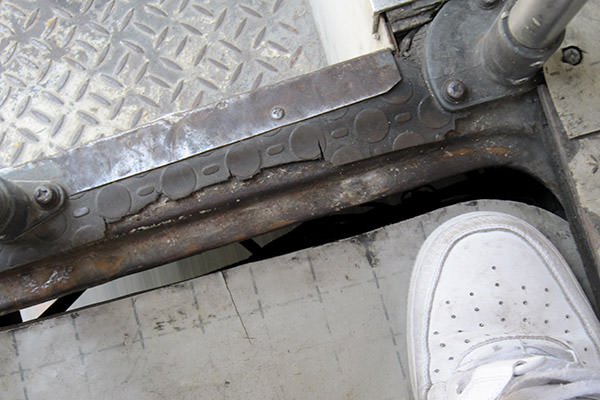 Jitneys are a cheap way to get around and are everywhere. They're also fairly convenient, stopping many places along their route. But since the bus doesn't leave until full (and I mean really full, since seats fold down into the aisles), you sometimes have a bit of a wait at a start-point, but it's a small price to pay for the money you save.
I heard a few stories about how jitneys are not very well regulated, and it's not unheard of for drivers to be drunk or on drugs while operating their vehicles. Even worse, there have been incidents of violence and rape reportedly involving jitney drivers. It's probably not a good idea to ride in them at odd hours or in remote areas, but I had no problems at all the half-dozen times I rode them. Scary, broken vehicles aside, the drivers I saw were always courteous... helpful even... and seemed competent in their jobs. But I was on a major tourist route, so I can't really speak to what things are like around the rest of the island.

• Mural! I was asked about the little pirate guy who closed out my post on day one. He's not mine... he's part of a mural downtown...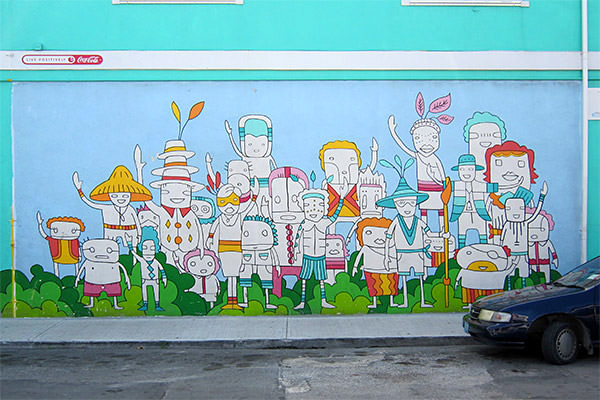 It's called "Hello Nassau" by "Thundercut" and is part of a public murals project sponsored by Coke...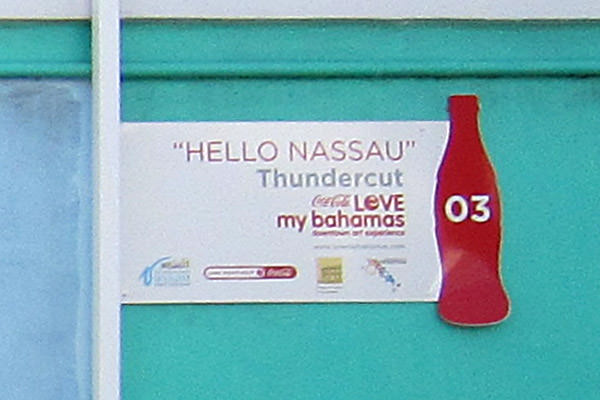 There are a few of them around that I saw...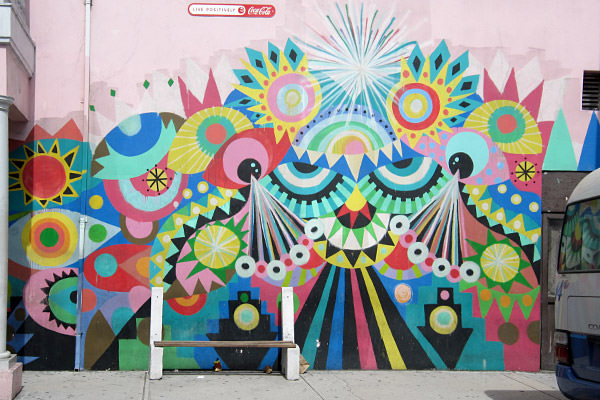 Pretty cool, huh?

• Resort! While I was in the lobby of the Sheraton using the wireless internet (since my new MacBook Pro Retina doesn't have an ethernet port for the wired internet in my room), I watched a guy have a complete meltdown because he went to pay his bill and found out there was a $40 per day "Resort Fee" that was due. I had gotten a discount rate, but even then I was notified about the fee. Sure, it's kind of a bait-and-switch deal to be reeled in at one price and then have to pay a huge add-on fee, but it was clearly stated, and so I knew to expect it.
Then I got to wondering if Sheraton doesn't tell you about the fee if you book from their site, because that would make me pretty mad. But, nope, they absolutely show you the final price (and if you click on the total, you see the $40 fee added)...
But what if the guy booked at a third party site? I usually book my hotels at Orbitz, so I gave them a try. Nope, they too show the "Local Charges Due at Hotel" right after the price, which works out to be that $40 per night...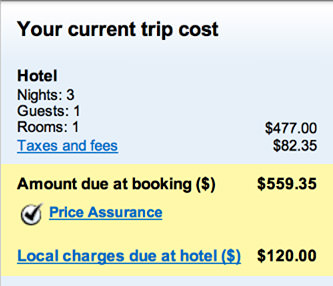 Then I checked Expedia. And here's where things get strange. They don't show any fees or taxes attached to the rate at all when you are reviewing what they have available...

But then you scroll down and see something remarkable... they claim the resort fee is already included in the rate! The same $159 rate that Sheraton and Orbitz are adding a fee to!

Thinking that this is a trick because the "total price" isn't displayed until the next page, I clicked onward...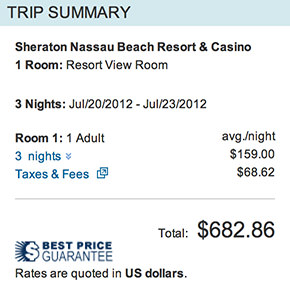 There we go! They add the $40 resort fee in with their "$68.62 a night Taxes and Fees." Which means that their "Best Price Guarantee" is bullshit at $682.86 when Orbitz would total $679.35 (even though $120 of that would be paid directly to Sheraton at check-out).
I can't check all the hotel booking sites, obviously, but it really doesn't matter. If the guy booked through Sheraton, Orbitz, or Expedia... he knew the total rate. If he booked at some other site that didn't warn him about the resort fee, he should be yelling at them... NOT THE POOR GIRL AT THE RECEPTION DESK!
In any event, it's word to the wise to always always always check the fine print whenever you book a hotel, car, cruise, or whatever. Shady stuff like this is getting more and more common as companies use hidden fees to avoid paying taxes... or to make their rates look better.

• Return! When you land at Nassau's airport (which isn't anywhere near Nassau, curiously enough... it's on the other side of the island), there are at least a half-dozen signs telling you that when you return to the airport, YOU NEED TO ARRIVE THREE HOURS EARLY IF YOU ARE TRAVELING TO THE UNITED STATES. There's even a sign posted on the baggage carousel where you wait for your luggage that's staring at you in big letters.
When it was time for me to fly back to the good ol' USA, I followed instructions and arrived THREE HOURS EARLY. I was kind of glad too, because the line at customs was quite short, but still took me 35 minutes to clear. Had the line been all the way to the door, it could have easily taken me two hours to get through it.
So there we are sitting on the plane when an announcement is made. There's 15 people still stuck in customs, so they're holding the plane.
EXCUSE ME?!?
Why in the fuck did I bother showing up three hours early then? If I would have know that I could have just ignored the signs and showed up whenever the hell I wanted to, I would have slept in an extra hour!
Then, after a half hour, they announced there were still eight people in line for customs, and it was moving slow because there was only one counter open... so we were just going to continue to wait for them.
ARE YOU FUCKING KIDDING ME?!?
Everybody who arrived at the airport THREE HOURS EARLY... AS INSTRUCTED... was already on the plane. Why in the hell are we still waiting on people who couldn't be bothered to get to the airport on time? How is this our fault? I don't give a shit if customs decided to close ALL the fucking counters... people who showed up on time made it through... BECAUSE THEY SHOWED UP ON TIME!!! Stop blaming customs for the problem... they weren't the ones who made the people show up late to the airport. AND STOP PUNISHING THE PEOPLE WHO FOLLOWED INSTRUCTIONS AND MADE IT TO CHECK-IN THREE HOURS EARLY LIKE THEY WERE TOLD TO!
I am sick and fucking tired of companies pandering to the lowest common denominator. All it does is remove consequences for idiots who can't be bothered to follow the rules like everybody else. Well, guess what? If you keep removing consequences for being stupid... people are going to continue to do stupid shit. Do you think any of the people that showed up late to the airport will bother to be on time next time? Of course not! And why should they? You're just going to hold the plane for them!
Is it any wonder that this country is going down the crapper and American companies are going bankrupt? Keep rewarding stupid often enough, that's all you're going to have left.

And, on that tragic note, I've got a couple hours work that needs doing before I can turn in for the night, so I must bid you adieu...