HOLY CRAP WHAT A FRICKIN' AWESOME MOVIE!!
I don't want to spoil it for anybody, so I'm not going to give away anything. Except to say that The Avengers is a comic book lover's dream that even people who don't care for comic books will enjoy.
Which is not to say it's perfect. There are definitely some moments where it dragged a bit. But, unlike the crappy trio of original X-Men films which wimped out in every way possible, The Avengers attempted to show the brutal reality of what it would be like when a super-hero team come to life. And it totally worked...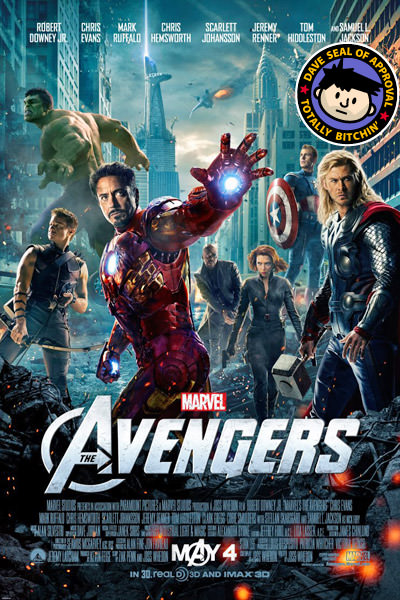 Writer/Director Joss Whedon just eclipsed every other comic book super-hero film ever made. And I loved, loved, loved it.
With one small exception.
Which I can't talk about without RUINING THE FILM FOR ANYBODY WHO HASN'T SEEN IT.
So absolutely DO NOT read the extended entry until you've seen the movie. Seriously, you just can't go any further if you haven't seen the film. Even if that's going to be on DVD two years from now. Which it shouldn't be, because this movie is screaming to be seen on the big screen.
But before we get to that, time to update my whole "Y2K Super-Hero Comic Book Renaissance" scorecard as follows...
The Avengers... A+
Batman Begins... A
Batman Dark Knight... A+
Blade... B
Blade 2... B
Blade Trinity... B-
Captain America... A+
Catwoman... F
Daredevil... B-
Daredevil (Director's Cut)... B+
Elektra... D
Fantastic Four... C
Fantastic Four: Rise of the Silver Surfer... D
Ghost Rider... C
Green Hornet... D
Green Lantern... C+
Hellboy... A
Hellboy 2: Golden Army... A
Hulk... C-
Incredible Hulk... B
The Incredibles... A+
Iron Man... A+
Iron Man 2... A
Jonah Hex... F
Kick-Ass... B+
Punisher... C+
Punisher War Zone... C
Spider-Man... B+
Spider-Man 2... A
Spider-Man 3... D-
Superman Returns... C+
Thor... B+
Watchmen... B
X-Men... C
X-Men 2: United... D
X-Men 3: Last Stand... F-
X-Men Origins: Wolverine... D
X-Men: First Class... B


Look, I know how it is. If you haven't seen the film yet, you're probably thinking "I hate comic books so I'm never going to see this film. I don't care if it's spoiled." But you're wrong. You WILL see this film because the hype will be so huge that you'll have no choice but to see it. And it is SO worth seeing. Seriously, The Avengers is massively entertaining and everything you want in a film. So do yourself a favor and don't read any further.

DUDE! I'm not joking here! If you haven't seen the film, for God's sake, turn back now! Because if you go any further, you'll just end up hating me when you eventually see it and I love you too much to have you hate me. Just go away and come back after you've seen The Avengers. Please.
Okay. Now that you've been warned how your life will be ruined if you read this before seeing the film...
Joss Whedon may very well be one of the greatest writers ever to pen a story for film and television, but he's also as predictable as a clock... he kills characters to provide emotional impact to his stories. And usually it's a beloved character so the impact is maximized. The minute I heard he was going to be taking on The Avengers, the first thing that popped into my mind was "Thank heavens! This is going to be awesome!" The second? "Who's he going to kill?"
The answer was pretty easy to guess. It would be somebody all the movie's characters knew and all of them cared about... which meant Agent Coulson, who appeared in every previous film (except Captain America, which I'll get to in a moment). Played by actor Clark Gregg, Phil Coulson was a small role that always made a big impact... both on other characters and, most importantly, on the audience. I knew he was a dead man before a single frame of the movie had been shot.
And the minute Coulson was shown being all buddy-buddy with Tony Stark and Pepper Potts at the beginning of the film, I was sure I was right. The second he started with the geeky hero worship of Captain America (the only film he didn't appear in prior to The Avengers), I was positive I was right. Coulson's love of super-heroes and Captain America was just the manipulative linchpin Whedon needed.
So the big shocker in the middle of the film wasn't even remotely shocking. At least not to me. And probably not to every other Whedon fan on earth. Which is why Whedon shouldn't have used his signature story-crutch... It would has been more shocking if Coulson hadn't died.
And yet... Coulson himself explains why he had to die to give the team a reason to pull together, and it completely and totally worked.
Especially when Thanos made his cameo appearance during the credits... how much are we betting that insane Death-worshipping Thanos resurrects Coulson as a tool against Earth's Mightiest Heroes in The Avengers 2? This is the comic books, after all.
And in order to be a GOOD comic book super-hero team-up film, The Avengers needed to do two things... 1) Give each of the heroes an important individual role so they can act as a true team when they finally get together. 2) Have the heroes battle each other when they first meet. And holy shit did Whedon make it happen. But what elevated the film past "good" and made it truly great was the humor. This film was damn funny. The scene where The Hulk meets a very arrogant Loki will go down in cinematic history as one of the funniest moments ever seen in film.
But you knew that because you saw the movie, right?